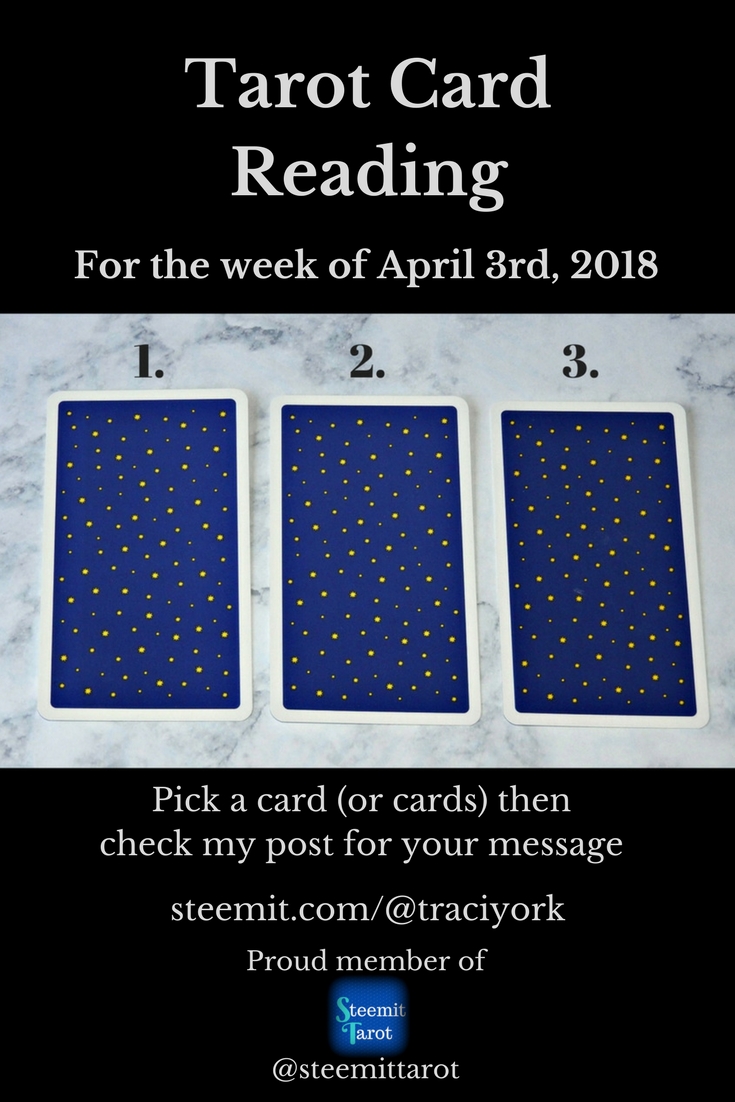 A little bit about my work-in-progress, @steemittarot
For an amazing variety of readings, deck & card information, and other cartomancy coolness, check out the hash tag or scroll through the @steemittarot feed.
If you work with cards (not limited to RWS Tarot), and want to jump in with a reading, deck review, or other Tarot tidbit of your own, just use #tarottuesday as one of your five tags. No promises, but at the very least, @steemittarot will try to resteem your post.
We have a Discord channel! Feel free to join us over at the Steemit Tarotl.
Now without further adieu, here's my reading for the upcoming week (beginning today, April 3rd, 2018) ...

Happy Tarot Tuesday, Steemians!
Here's a quick roundup on how I put this reading together every week -
I use my very old & extremely well-loved Universal Waite Smith Tarot Deck to draw the cards. Then, because the cards are definitely not ready for their closeup, I photograph the cards using my stand-in Radiant Deck. Oh, and yes - it's a new picture of the back of the cards every week.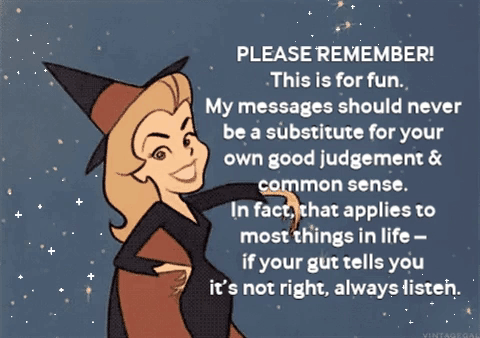 via GIPHY
On with the reading. Pick the card (or cards) that you're drawn to, then scroll to the bottom of this post for the card reveal and my short interpretation of what to expect in the upcoming week. If you're drawn to more than one, or want to use all three, go for it! 😊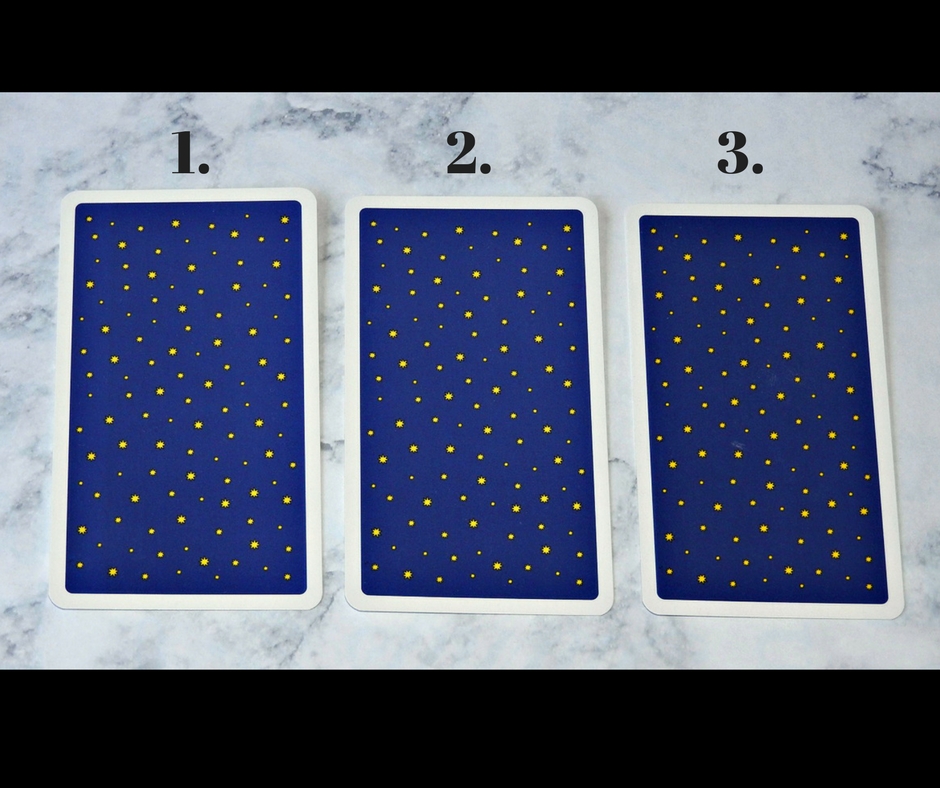 Okay, you've picked your card (or cards), right?
So, a couple weeks ago, it occurred to me that since there are TONS of brilliant musicians here on Steemit, why not use one of the gazillion songs I fall in love with each day for my "Jeopardy Music"?
This week, I've actually managed to pick one that hasn't reached post payout yet! I'd already fallen in love with another song by this magical artist and originally planned to use it for today, even though it's two weeks out. But when I stumbled across this one a few days ago, I knew I'd save the other for another week, and use this gorgeousness instead.
As I was saying, now that you've decided on a card, or cards, while you're scrolling, please enjoy Morning Light (Original Song) by the incredibly talented and beyond sweetheart of a person, @yidneth...
"Dry your eyes, oh lost child,
No one heard you cry
Hold still, time might ease
Night can trick you when darkness brings
that old forgotten fear
It drinks you to the marrow, a load that doesn't allow
your feet to run away
And lies spread on lies, but no one seems to care,
at least it looks that way...
I know the sun will rise, and it will shine the same
for sinners and for saints...
I guess I have to learn
the lessons life may bring
the way that things can turn
Face your fate
even if it's unfair
there's no one you can blame
And lies spread on lies
and no one seems to care
at least it looks that way...
I know the sun will rise, and it will shine the same
for sinners and for saints...
oh Morning Light... don't delay!" ~ Priscilla Hernandez
Alrighty, here's the big reveal! Your card is...
drum roll
This!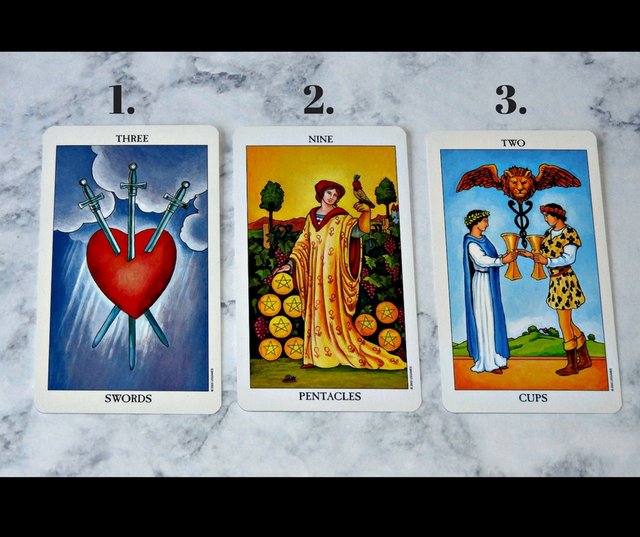 1. Three of Swords
Yikes!
Every time I see this card as my daily, that's the first word that pops into my head. Today is going to be a day of finding out things you really don't want to hear, but in the end, they will be extremely healing. Like lancing a wound, you will get some pretty cutting truths, but at least you will finally have the facts, even if they aren't the ones you want. Let the poison in your heart drain out, then you can begin to heal. Give yourself some time to wallow, listen to your favorite emo song (like
Closure by Chevelle
), then take a deep breath and move on.
2. Nine of Pentacles
Retreat from the world.
You deserve a break today, so get up and get away, to ... nope, not
that place
. Unless, of course, you go grab a bag of
Mickey D's
and bring it someplace to enjoy in solitude because up next on the menu is, "Escape, with a side of pampering." It can be as fancy as a day of
mani pedis
and wine, or as simple as a quiet room with a great book (the chocolate and coffee go without saying). Indulge, indulge, indulge - plenty of time for reality tomorrow.
3. Two of Cups
Makes the world go 'round.
While it's easy to see this is a card about love, what's not so obvious is that it also represents other relationships, not just the romantic one between two (or more) people. This could be a recent furry/feathered addition to the family, a passion for a creative process (writing, painting, knitting), or even something as simple as discovering a new favorite show to binge-watch (like
Farscape
or
Jessica Jones
). It's also a reminder that the first, most important love we should have is for ourselves. As the late, great
Lucille Ball
once said, "Love yourself first and everything else falls into line. You really have to love yourself to get anything done in this world."

So, what did you think of your message? Feel free to shout out in the comment section with your thoughts, or any questions.
Bright blessings to you in the week ahead!
[NOTE - The graphics in this post were created via Canva, but the Tarot card pictures were taken by yours truly. Also posted on my WordPress blog - Free Tarot Card Reading for the Week of April 3rd 2018]

Thanks for stopping by!
All words and images are mine (unless otherwise indicated),
and can sometimes also be found on my various social media sites.
Speaking of...

I have one billion many homes on the interwebz. Here are a few -
My posts may occasionally contain affiliate links. If you click through,
I might get a wicked small commission, with no extra cost to you.

 





Join us @steemitbloggers
Animated Banner Created By @zord189