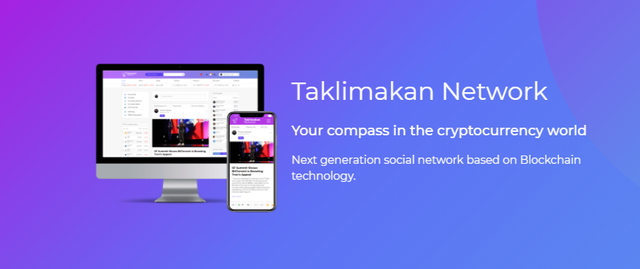 Introduction
The Fever about cryptocurrency is increasing, people have heard about it, and more and more people want to find more about it, and find a way to be a part of it. When blockchain technology came, so many things changed, for better, we say. So many businesses have improved, so many companies have started using crypto currencies in their work. The new ideas are coming every day. People want to invest in the new projects. We have the biggest tool in the world, and it is called the Internet. The internet is an enormous base of information where we can do anything. Internet has connected the entire world.
Because of the access to the internet we are able to get information about one of the most incredible crypto-project which is known as TAKLIMAKAN NETWORK
Do you like trading cryptocurency but feel skill trading is still mediocre or even still often loss due to lack of skill or trading knowledge, well this time I will introduce a platform where on this platform can be a place of learning for beginner traders to improve skills or trading they are to a higher level or can be a guide and reference before deciding to invest in the world of cryptocurency.
So on this review I will discuss one of the project Taklimakan Network , This project is a success at the time of pre-sale because it managed to collect 3.316.000 USD . what features are offered on this platform, roadmap project, etc.
Taklimakan Network
Taklimakan Network is an investment and business education platform that provides an opportunity for users to increase their level in the cryptocurency industry and learn practical trading skills.
the platform is decentralized and intended to be a source of liaison between investors and traders both beginners and experts as well as analysts.
On the platform, every user can choose a crypto investment mentor, follow the webinar and full access to the blockchain technology library which includes descriptions of various investment methods and trading instruments in the crypto market, educational materials are structured and distributed based on the user's level of knowledge.
Taklimakan Network will be your mentor in the world of cryptocurrency, leading you to the best way to manage your personal finances.
The purpose of the founder Taklimakan Network is to create a community of experts. The platform will connect leading crypto analysts, experienced crypto investors with beginners and provide them with the tools necessary to leverage that knowledge for their own benefit.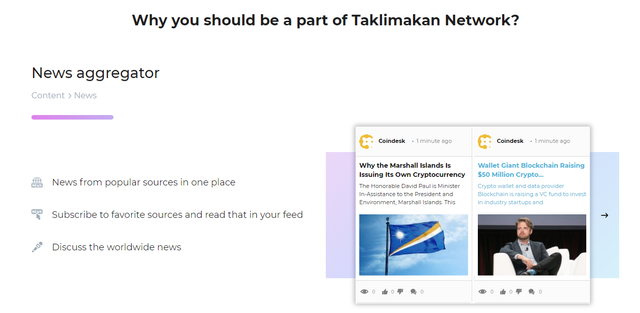 MAIN FUNCTION PLATFORM
This platform will benefit both beginners and experienced traders. The most important feature of the platform is news aggregation, moderated by analytical services from platforms, education centers, market analytics and trading tools, analytical reviews / reviews and special instruments for managing crypto portfolios.
Aggregation of general information and news on currency crypto
‣ Education Center.
‣ Center of platform analysis - unique tools and experts.
‣ Material asset management developed by experts.
‣ Trading instruments for crypto currency analysis.
‣ Material moderation analysis services developed by expert platform.
‣ Market signals and subscription reviews.
‣ Personal portfolio creation, monitoring of cryptocurrency trends, analysis and comparison of cryptocurency assets.
The Taklimakan platform is created by leading professionals of financial software developers, especially to:
Crypto-Enthusiasts
If you are a crypto enthusiast - you get access to educational materials, webinars, selected products for trading, and the opportunity to communicate with experienced analysts and experienced traders.
Investors
If you are an Investor - you can use expert recommendations for trading and investment independently, based on the opinions of experienced traders and analysts. Also you can find someone to entrust your capital management.
Experts
If you are an expert or an expert (trader or analyst) you can use a platform to earn revenue, share with customers with your reviews / reviews of cryptourency, you can make money and improve your ranking to the community.
That's a bit of a picture of the Taklimakan Network platform, now let's get to know the TAN or tokens that will be used on the platform.
TAN (TAKLIMAKAN NETWORK TOKEN)
TAN is an internal payment token from the Taklimakan platform. This Token is used for all platform service payments, including analytical materials, market signals, education courses, and subscriptions (subscriptions) paid.
Here is the token TAN circulation scheme on the Taklimakan platform.
USE OF TOKEN TAN
Subscribe to analytical material and services
Users can use their tokens as a means of payment to subscribe to analytical material released by experts and also gain full access to materials and practical lessons from the education center.
Commissions fees to use expert strategies
To gain access to trading strategies, users must pay a commission to use ready-made solutions and analyst advice.
Reference bonuses and contributions
Platform users can obtain additional tokens by participating in referral programs and receiving bonuses for content and offerings on local CPA networks.
Stake for voting
Every member who has a TAN token in their account has voting rights to select innovations within the platform.
Deposit membership to access the news platform
After the trial period ends, access to news and material will be accessible to users who have a certain number of TAN tokens in their account.
About Exchange
TAN TOKEN Aready on 2Exchange Right now ,You can buy and sale in this exchange
Also TAN TOKEN Already on CMC (Coinmarketcap)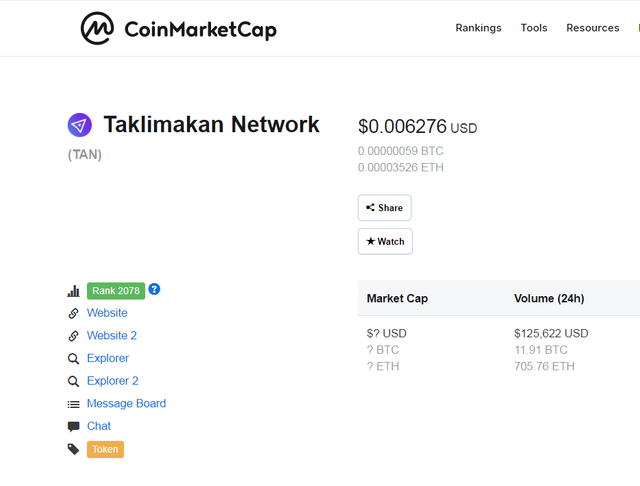 Learn More About TAKLIMAKAN NETWORK Kindly Please Visit link below,Thanks !
Website : https://taklimakan.network
ANN: https://bitcointalk.org/index.php?topic=2426759.0
TG: https://t.me/taklimakan_en
FB : https://www.facebook.com/taklimakannetwork/
Bitcointalk name : A. Rahman Rizaldi
Profile link : https://bitcointalk.org/index.php?action=profile;u=2077823
Eth : 0x8dB030833dF70E33d14C1d52B40db38056874e10