«Take It Easy!» 🏃 contest for Actifitters on Saturday, May 11 | FREEX Tokens Giveaway To Participants!
Dear Steemians and Actifitters, just take it easy again!


The next friendly contest for Actifitters «Take It Easy!» will take place on Saturday, May 11. And all you are very welcome to join!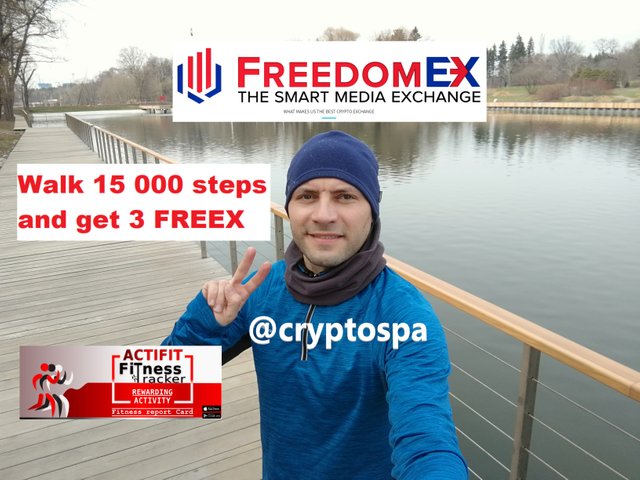 ---
The sponsor of the contest will be again the Steem-centric cryptocurrency exchange FreedomEx.io (@freedomex).


FreedomEx.io will give away FREEX tokens to all participants in the contest who will be able to take over 15 000 steps.
FREEX tokens are exchangeable for STEEM and other cryptocurrencies on exchanges such as FreedomEx.io and Steem Engine. At the moment 1 FREEX is traded at a price of about 1 STEEM.
So, if you are an #Actifitter you can participate in this friendly contest, but you have to prove that behind your account is a real person. It means on your Steemit page you should have at least one post with picture of your or a @dtube video in which you show your face.
Last week over 30 Actifitters participated in this contest and 26 of them were eligible to receive 3 FREEX tokens:
@alexvanaken, @axeman, @behelen, @blacklux, @blueeyes8960, @bluengel, @chesatochi, @cryptoprima, @cryptospa, @crypt-skip, @flaxz, @guurry123, @homesteadlt, @ketcom, @mickvir, @mushanov, @practicaleric, @publicumaurora, @quitterer, @silvertop, @theb0red1, @travoved, @trincowski, @vasigo, @wil.metcalfe, @yanipetkov
The rules are very simple:
Until 1:00 p.m. (UTC) Saturday, May 11, you have to write in the comments under this post that you want to participate in the contest.
On Saturday, May 11, at the end of the day you have to post to STEEM your Actifit Report Card for May 11, in order to prove your activity, and come back to your first comment in this post (by which you have claimed that you are going to participate in my contest) and give a link to your Actifit Report Card for May 11.
All Actifitters who take over 15 K steps will receive 3 FREEX tokens for free!
That's it!
---
BIG THANK YOU! to @freedomex for being a supporter of the contest!
Participants in the contest will receive their FREEX tokens in their accounts on the cryptocurrency exchange FreedomEx.io. If you still don't have an account you can sign up just by e-mail. It is very easy!
I will be very thankful if you sign up via my referral link: https://auth.freedomex.io/accounts/sign_up?ref=IDEEBA3BDA8A
---
Good luck to all participants!
p.s. If you have any questions don't hesitate to ask. Just write in the comments.
---