Take-A-Pic by @olivia08 Round 36 Theme - TREE: The Beauty of God's Creations
In this old-growth trees rise upward forever, the canopy above is distant, like clouds of green. How their roots spread into an embrace of the earth. The trees send their green glow into the ether, their calming perfume, their oxygen-enriched air. That big tree in the center field is called the FERTILITY TREE. It is located in UPLB (University of the Philippines in Los Banos) on the football field.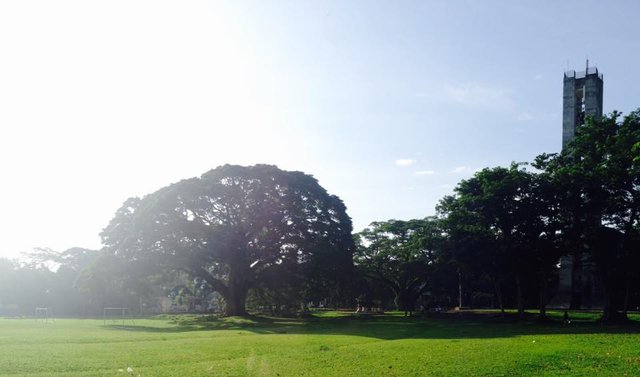 ---
Thanks for dropping by @diosarich
---
This is my entry for the initiative @olivia08. Thank you.
---

☆・:˜"°•ڰۣڿ♥ڰۣڿ•°"˜・:・゚☆☆・:˜"°•ڰۣڿ♥ڰۣڿ•°"˜・:・゚☆ ☆・:˜"°•ڰۣڿ♥ڰۣڿ•°"˜・:・゚☆

☆・:˜"°•ڰۣڿ♥ڰۣڿ•°"˜・:・゚☆☆・:˜"°•ڰۣڿ♥ڰۣڿ•°"˜・:・゚☆ ☆・:˜"°•ڰۣڿ♥ڰۣڿ•°"˜・:・゚☆

---
Note: This is an Invitation to join #ccc for Guaranteed 👍= 👍 Daily Income 💵 = 💵 and Payout 💸 = 💸 for Newbies (2.0) 🐟 🐟 🐜 = 🐜 🐛 = 🐛 in #ccc 👣 = 👣 and Follow 👣 = 👣 the Honor Code 🏅= 🏅 - the Creed (Conditions and Limits Inside) AND the latest update <<< please click to read.
---