Ever thought about investing in real estate? You probably have, even I have! But if you are someone like me who has a dream and is a work in progress, then you might want to check out this cool upcoming project!
Swarm.fund is here to turn little investors like us into full blown real-world monopoly players. There's a saying that, "The things you can't do alone, you can achieve those with a team and a dream." And that's exactly what swarm.fund is all about.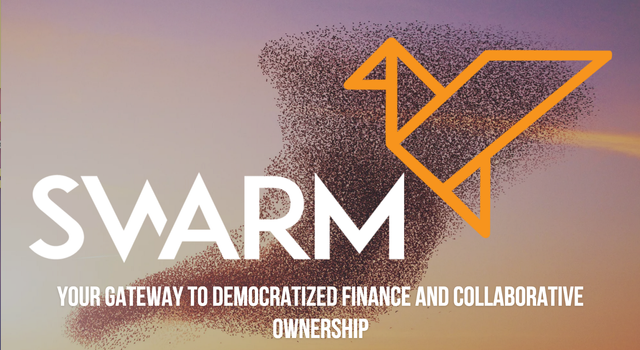 What is Swarm.fund?
Using the power of block-chain technology, Swarm.fund aims at ending the pain of accessing high-return, institutional style investments for small investors. Their decentralized marketplace brings the fund managers and small investors together to bundle up their money and invest as a group in an affordable, efficient way to secure deals. And that's where they got their name Swarm from.
Like how block-chain works, where countless blocks and nodes create and support the network. Metaphorically, that's how it will work with the small investors.
For example, you see a very lucrative real-estate project that seems to be a definite winner. But there's an investment of a million dollars which you currently don't have, nor you have any connections with the top guys to get in on that investment. But with Swarm.fund, you can simply list that real-estate project on their platform and with a good reputation (keep in mind, they have a reputation system), you will be able to fund that deal in as little time as possible by swarming it with plenty of other like-minded small investors like you (win-win situation). Their platform will cut most of the middle-men parts that bar small investors from investing into lucrative projects, as they will take care of all the legal work, administrative work, etc. with the power of smart contracts. And the beauty of decentralization is that you don't need to be butt-wiping anyone to get in the good projects. And that's the whole point of Swarm.fund that they are bringing the real-world assets to the small investors who were just sitting on the sidelines until now.
How Exactly Will It Work?


Will It Really Work?
That's a great question to be asked, and that's why I will be giving my two cents on it.
This year alone, we have seen the ICOs received more than a billion dollars in investments. But most of those projects didn't have any working model. People had been throwing money just on promises and been hoping that those projects will work out. I don't call that investing, I call that speculating.
It's different with Swarm.fund as you would actually be investing in real-life assets like real-estate, hedge funds, private equity, etc. that already exists out there.
I think this project is credible as their team has prior experience in both financial and the crypto field. And they will also be following the regulation laws like KYC and all that good stuff to keep everything smooth. But don't take my word for it, always do your own research before putting your hard-earned money ANYWHERE.
If you are interested in the project, then you might like to know that their initial coin offering for SWM token will be starting on the 7th of this September and will run until September 22nd.
For more information, check out their website --> https://swarm.fund/
For in-depth details, check out their whitepaper HERE
The Litepaper
Chat with the team on Slack
And Telegram
Official Blog
Twitter