SWACHHCOIN: REFORMING WASTE, REVOLUTIONIZING BLOCKCHAIN.

INTRODUCTION: Over the years, with increasing advent of modernization, industrialization, manufacturing, consumption and the rest of them that came with technological advancements, waste has also been on the increase and has thus made proper waste management a matter of necessity or we risk in strong terms being seriously dealt with by the steady increase of waste (both industrial and household) in our environment. According to Wikipedia, WASTE is "any substance which is discarded after primary use, or is worthless, defective and of no use". Examples include municipal solid waste (household trash/refuse), hazardous waste, waste water (such as sewage, which contains bodily wastes (faeces and urine) and surface runoff), radioactive waste, and others.
Waste management on the other hand are activities and steps taken to manage waste from its inception to its final disposal. With the current hike on the amount of waste being produced on a daily basis, proper waste management strategies ought to be put in place to not only help dispose these waste products properly but also to help curb their increase and also making provisions of ways of redirecting them for reuse for another process which is also beneficial. Some of these strategies include processes like recycling, which tends to turn waste products to other useful items, thereby curbing waste hike.
THE SWACHHCOIN ADVENT: With all these problems emanating from waste and its increase came the advent of a long awaited innovation - SWACHHCOIN; Swachhcoin is a BlockChain based movement driving at micromanaging wastes from households and industries and efficiently converting them into useful products with an even higher economic value. While looking at the problems accompanying wastes, which includes but not limited to excessive generation of wastes, high toxic contents of wastes and the landfill issues, the objective of Swachhcoin is to create a worldwide decentralized waste management ecosystem with the deployment of an extensive infrastructure to aid proper waste management and generation of income through reformed waste products. It also aims at changing the perception of people over the years about waste through its campaign of sensitizing on the fact that waste is the greatest untapped resource available to mankind.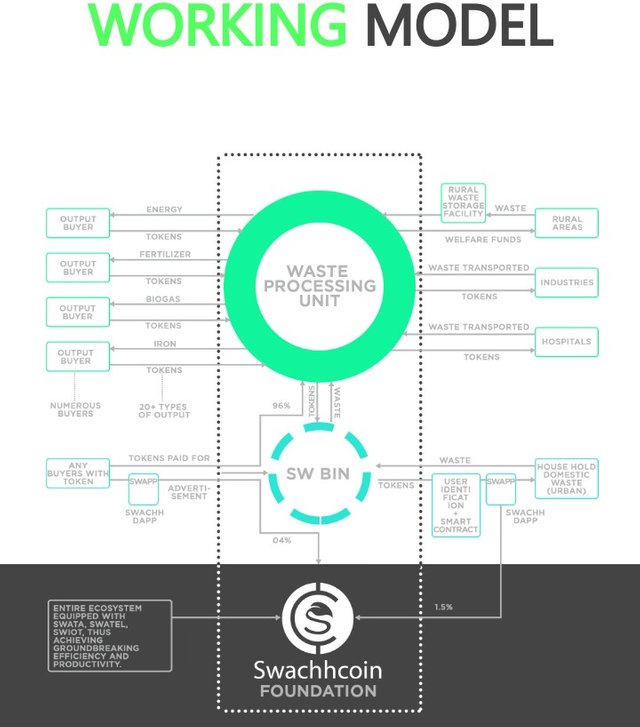 SWACHHCOIN TECH AND TOOLS:The Swachhcoin ecosystem will operate with unique clear cut technologies and tools which will aid in the work of proper waste management, they include;
SwATA: this stands for Swachh Big Data and its for the collection and management of data needed for the smooth running of waste management.
SwATEL: which stands for Swachh Adaptive Intelligence poised with feeding the equipments and machineries used with needed intelligence.
SwIOT: SwIOT stands for Swachh Internet of Things which is the customized application of internet of things in the waste management industry developed by Swachhcoin.
SwBIN: SwBIN is the device to be used by Swachhcoin for waste collection and transportation with unique features such as;
Unique user identification
Dapp support
Enabled IoT support
Reward calculator
Free Wi-Fi
LoRaWAN and RFID enabled
Low manufacturing and maintenance costs
Waste compression and automatic sourcing at source, plus many more.

Other Swachhcoin programs will include in plant processing, Dapp building, rural welfare program, philanthropic programs and decentralized advertising.
SWACHHCOIN BLOCKCHAIN: Swachhcoin project which will be tokenized is built on the Ethereum smart contracts blockchain, loaded with the major characteristics of blockchain which are, decentralization, security, distributed storage, transparency, fault tolerance and elimination of middlemen.
Token Information: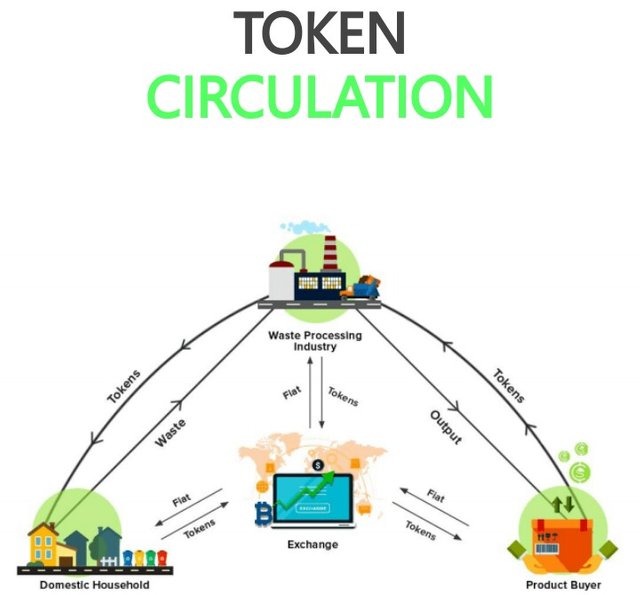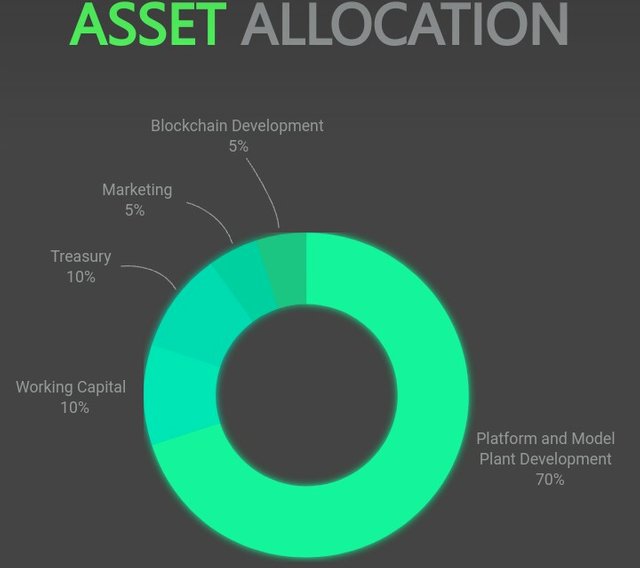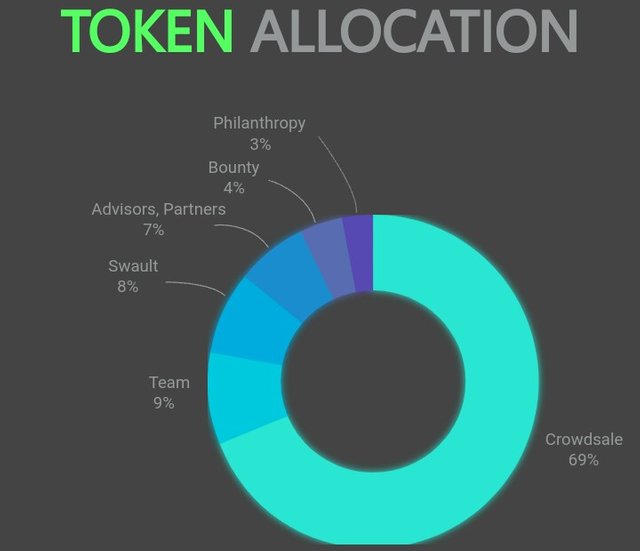 ROADMAP: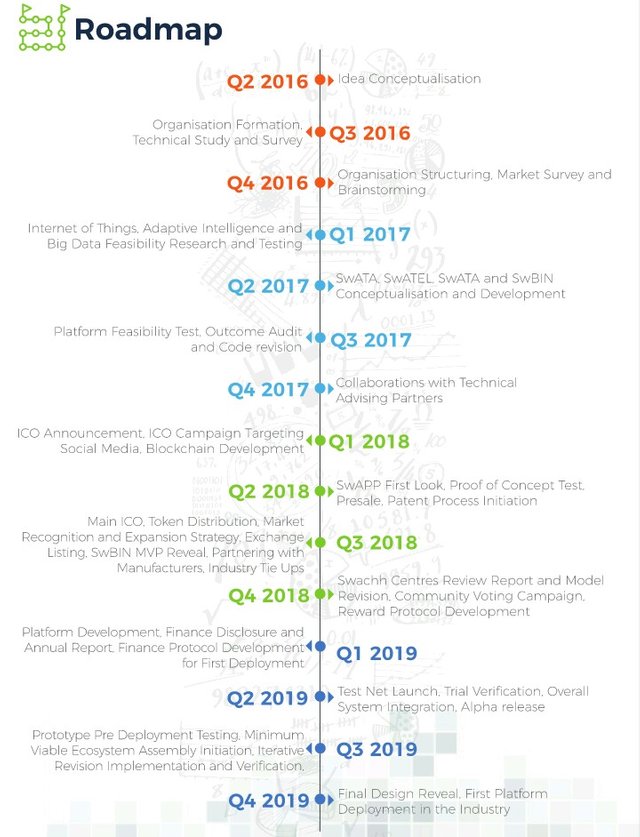 TEAM: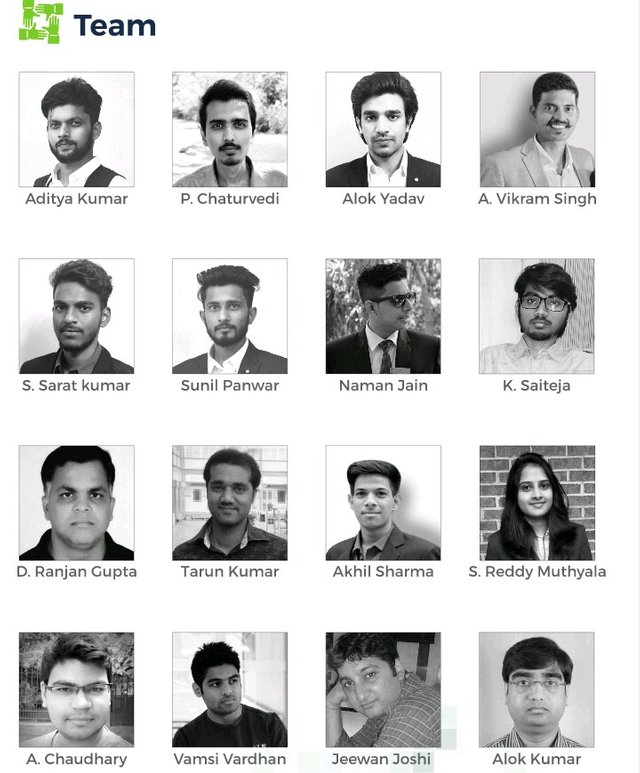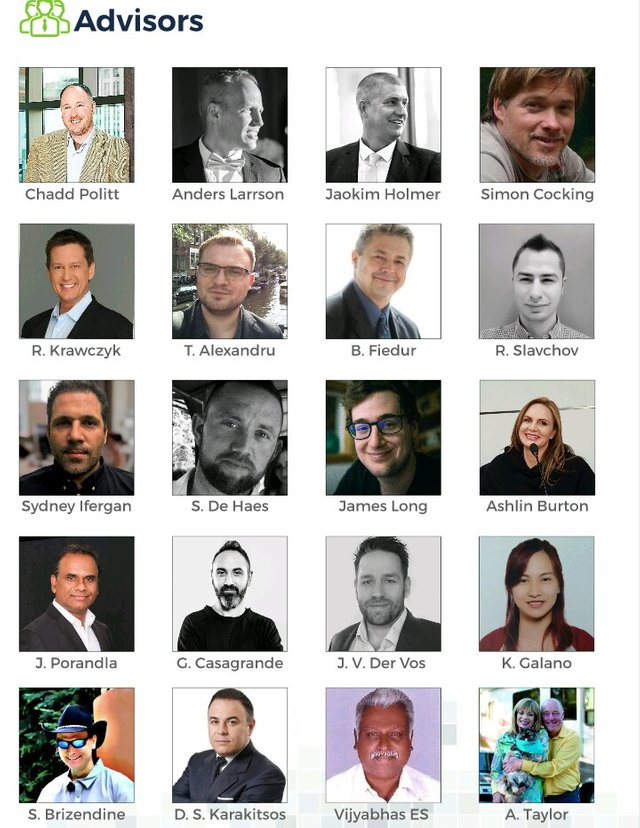 PARTNERS: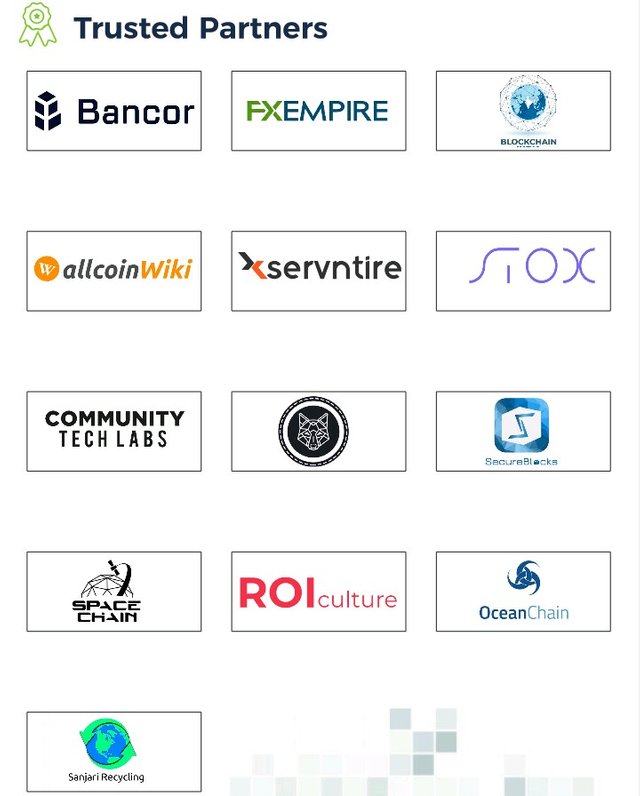 Summary: Waste management is the only key to curbing waste and its negative impact on mankind and on the other side generating more income and more innovations, support the Swachhcoin movement in its proper management of waste bid.
For more information, visit:
Website: https://swachhcoin.com,
Telegram: https://t.me/swachhcoin.
By:Brad Dozie
BTT username: braddozie
Profile link: https://bitcointalk.org/index.php?action=profile;u=2178552;sa=summary
ETH address: 0xdc523F3BDa437FE3F733925285988dc6195bd78C.