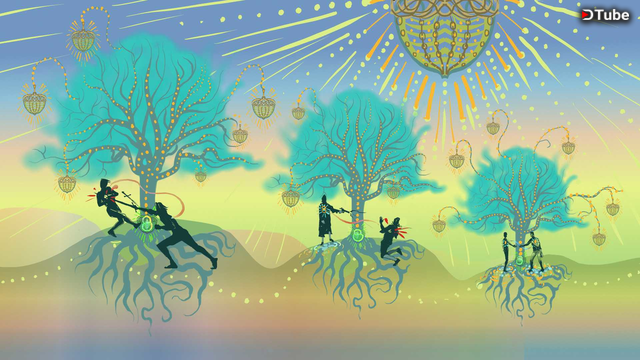 ---
Here's my entry for the Steemit Vision Quest #8: Life after Life.
Above is the progress video I made and here is the finished piece:

For the process everything was created in Corel Painter. I keep forgetting to record every painting session, so the video only shows half the painting being painted.
Reflecting on "Life after Life" my first thoughts were of the seed from a tree falling to the earth and growing up into another tree that creates more seeds and then more trees.
Then I was thinking about karma and the idea of your actions in one life "planting the seeds" of your next. Similar to movies "Cloud Atlas" or "The Fountain".
So I tried to combine these two ideas.
I tried to show two people fighting over multiple generations and then eventually coming to an agreement and mutual respect.
I wanted to show a positive version of this on the other side of the tree of a man and woman falling in love repeatedly in multiple generations, but I decided I wouldn't have time.
I don't know how well all this communicates in the picture, but that was my intention. I chose an oak tree and acorn because, why not :)
---
▶️ DTube
▶️ IPFS