What are the Sustainable Development Goals?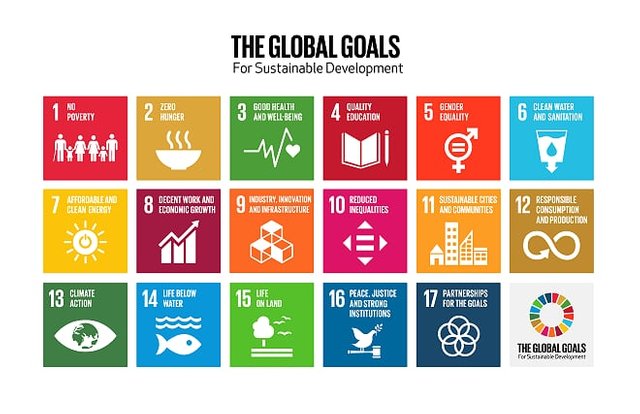 Many people are not familiar with the United Nations' Sustainable Development Goals (SDGs), so what are they and why should we care about them?
In 2015 all the Member States of the United Nations agreed to 17 Sustainable Development Goals (also called the Global Goals) for a better world by 2030. The 17 SDGs are an urgent call for action by all countries in a global partnership. They recognise that ending poverty and other deprivations must go hand-in-hand with strategies that improve health and education, reduce inequality, and spur economic growth – all while tackling climate change and working to preserve our oceans and forests.
The 17 Global Goals are:
1 – No Poverty
2 – Zero Hunger
3 – Good Health and Well-Being
4 – Quality Education
5 – Gender Equality
6 – Clean Water and Sanitation
7 – Affordable and Clean Energy
8 – Decent Work and Economic Growth
9 – Industry, Innovation and Infrastructure
10 – Reduced Inequality
11 – Sustainable Cities and Communities
12 – Responsible Consumption and Production
13 – Climate Action
14 – Life Below Water
15 – Life on Land
16 – Peace, Justice and Strong Institutions
17 – Partnerships for the Goals
(Source and more information at www.globalgoals.org)
Why should YOU care?
We all share this planet which suffers from dwindling resources, climate change, injustice and inequality and at the current rate, things are bound to get worse quickly. The challenges vary from region to region, but no one – be it developing or developed countries – is spared. The consequences are most imminent and visible in the poorer parts of the world, but even wealthy and industrialised regions face great challenges. The faiths of both are entwined, and we must build bridges instead of walls if we want to ensure a liveable tomorrow.
Each and every one of us has different interests, but whether you are passionate about making a difference locally or globally; whether you care most about the environment, education, economy, health, reducing poverty or inequality or furthering peace, justice or partnerships, there is always something anyone can do. It starts with the smallest action and ends with a united, just and habitable world for everyone.