"We Could Leapfrog A Generation Should AOE Gain Funding." Myanmar's Top Energy Official: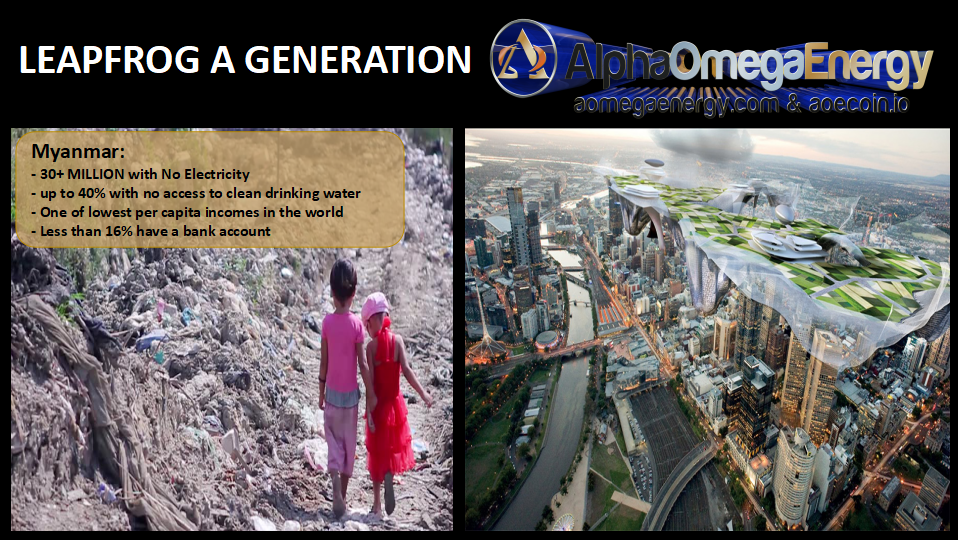 Leapfrog A Generation
..is what the Chairman of the society of industrial engineers of Myanmar said that this tiny Cambodia Startup could do for them with their Breakthrough Clean Energy Solutions and Technologies. Myanmar has 30 million people, the population size of California or Canada, and 50% bigger than Australia, or half the size of the UK, completely lights and opportunity out, with zero electricity at all.
Alpha Omega Energy, a multi-nations and multinational startup, relocated to Cambodia just a year ago to help the poor and tap into the many benefits of this low regulation energy lacking country with a fledgling wide open stock market that has never had a single startup in its national history go IPO. AOE Aims to be the first ever to Charge up the future of the heart of Asean on the growth board of the Cambodian stock exchange. Their IPO is scheduled for late 2018, with 4 Underwriters currently in tow.
The #1 Breakthrough Clean Energy Technology startup on the planet the CCTWO boasts. (Chief Change The World Officer) With a claimed 1,754 Breakthrough New Energy and Energy Related techs to date including the #1 in Distributed Industrial and commercial power generation solution on earth among them. If just some of this is to be, the whole world is going to be Changed, and we are all as a human race either going to watch it happen slowly, or help support speeding it up by investing in them.
Over 100 New building energy efficiency techs, over 100 New EV techs to increase range, charging times, energy efficiency and battery life. 28 all new Industrial and Commercial power storage batteries. Hydroelectric power plant boosters and 31 energy efficiency boosters each for coal and nuclear fired power plants. Energy from nuclear waste, the #1 Small Waste to energy generator for undeveloped nations, ISS power train technologies and techs to power satellites garnering them phone calls and requests from USA based Vector Rocket company which aims to be the open-platform "Space-x" for the innovator crowds like Alpha Omega Energy to contribute to these missions. AOE has so far begun solicitations of Virgin Galactic, Blue Origin, ESA, ISRO, Team Indus of the Google X prize, and others and is at the cusp of a finally to come investment-led explosion of growth.
With their range of 92 stationary fuel cell systems over 13 generations of technology, they now can produce 200-600x the power of solar panels per square meter, running 24 hours a day without need for batteries nor any need for the sun. Nearly no land costs, no costs to clean the solar panels, no intermittancy issues, no loss of power at night, and they can power up skyscrapers from the basement from the total darkness. The solar industry stands at a massive 140+ Billion dollar a year industry, and is scrambling for power solutions that aren't needed by AOE.
"You can't power skyscrapers and large industry on site with solar, but you can with my Power Systems" says AOE's CCTWO.
Among 45-157 Megawatts of expressed interest backorder including a 100 million dollar Coke factory, the #1 Bank in the nation with over 300 power thirsty branches, the 4 largest water bottlers, the water commission, cold food storage warehouses, 4 datacenters, clothing factories, Accor hotels, industry zones, and many others comprising 85 Major I&C clients on the wait list, also 8 national ASEAN government energy ministries have already requested an installation. AOE has been sponsored already to World Economic Forum, ASEAN Sustainable week, Echelon Asia, Singapore Week of Innovation, Cambodia Startup Fair, Shenzhen Low Carbon City, by Wuhan city government, and others due to their absolutely massive tech portfolio. They were just approached by a Cambodian developer who is bidding for a 100 Megawatt solar farm and is asking AOE to install at that development, and so is the Billion dollar Eco-tourism city project near where Cambodia has 7 million global tourists a year. Bitcoin financial transaction processors are even building new datacenters in Cambodia centered on AOE's future of low cost 24 hour a day stable electricity and even techs for the computer boards. "I want to make an exhibit showcasing eventually all of my 1,754 techs" says the founder. Could we literally be at the cusp of an entirely new Epoch of human development potential? "Shock and Charge." He loves to say.
Little Cambodia, the country of real life national bird "The Black Swan", is a nation ravaged by climate change. Salt water poisoning from too many hydrodams on the Mekong is starting to devastate the ecosystem and the 20 more dams going up will undoubtedly cause one of humanity's worst ecological disasters. The budget is decimated by toxic energy imports while 80% of people are still left without secure access to electricity and their startupless stock market, is "the perfect place to do this, in fact it is a requirement if you want to Change The World, that you actually go out into these nations and help lift these people and their economies." Says this Mission oriented Christian Sole Founder, who is completely bucking the pop-cult of the day in silicon valley and going to the poor in "small market Cambodia" to list faster than regulated markets and market to the world of global institutional commercial new energy finance from one of the only near entirely US Dollar economies in the world with thus no emerging market exchange risk. He has begun by putting the undeveloped kids first, with 1% of the shares being allocated to directly fund university educations for kid's from broken families. "We can fund potentially 4,000 university educations here from the very first day of our IPO and eventually 10,000 maybe even 100,000. The question isn't why are we doing it, but why shouldn't I have to?" A Black Swan indeed may just be what he is Engineering. Bloomberg Asia even offered to showcase him when he is ready.
Then he begins to immediately talk about "AOECoin", his new Digital Currency. As a technologist and self described "ex-Citigroup Financial Engineer turned New Energy Engineer" he says "Cryptocurrency is the greatest new development finance tool in human history, and it is literally the very first day that the green light of the global microcap wildcat stock market has turned on. This is the new global stock market and it will eventually drive unprecedented global growth in the undeveloped markets which are starved for capital and finance which hold them back from being able to participate in the digital and energy revolutions, and lift their people from poverty. We have made AOECOIN to solve the World Economic Forum's ultimate dilemma, of how to get private capital into the 4.5 Trillion dollar a year demand gap to be able to meet the sustainable development goals. Together with our technological prowess and AOECOIN, we can and will literally Change The World, and in fact doing so I would go as far as to say, is all I now know."
If you want more information about how you can support this Change The World mission of development future freedom unprecedented, and possibly help Leapfrog a Generation, please feel free to contact Alpha Omega Energy at aomegaenergy.com or directly to Global Banking and Finance Awards Magazine.
He finishes with: "The World is Changing, Are You Invested in those who are Changing it? Invest in Alpha Omega Energy now, and you can help us Change The World, Together."
Alpha Omega Energy
"We Changed The World!!"
IPO Cambodia Stock Exchange 2018
AOECOIN Listed on Waves Platform Nov 1 2017