Why Do We Need Sustainability Rating Systems and Marketplaces?
WHY USE ECO-LOCALS.COM?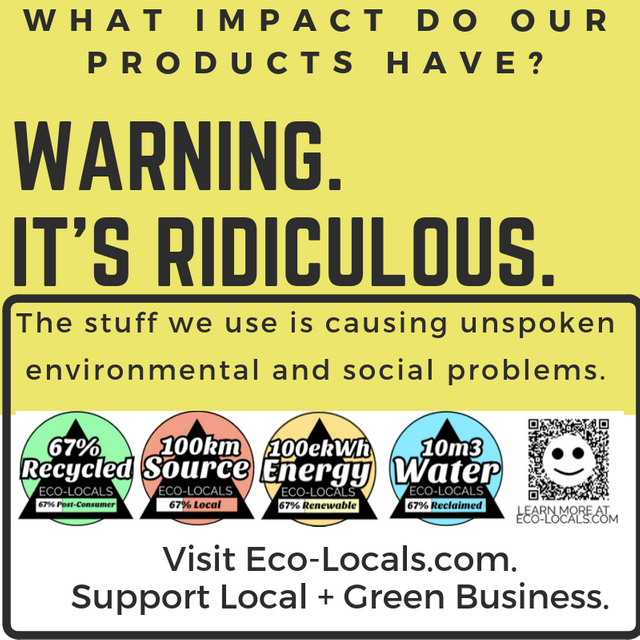 We are happy to open the discussion regarding our free-to-use sustainability labeling system for products and meals. Check Out an Example Ad We Made Here
Our website is an online marketplace like bunnz, etsy or ebay - but with a catch!
We're free to use AND manufacturers need to meet minimum sustainability requirements to get listed! We let you link to whatever online store you want and you have no obligation to donate or fund us at all! (Unless you see what we're doing and want to :D)
We just want to be THE place to find environmentally friendly products/meals and document sustainability holistically.
We also provide a portal for low-carbon couriers to respond to your requests for deliveries from anywhere anytime! We'll go into more detail about the Green Commitments and Environmental Product Declarations here.
Our minimum requirements are covered in another post, Is Carbon Management or Vague Labeling Ever Going To Be Enough? But, for the sake of saving you a minute, the three min reqs are:
Over 50% extracted and harvested within 1,000 km from the final manufacturing point
Over 50% recycled, re-used or upcycled if applicable
Cannot contain environmentally or biologically harmful chemicals (e.g. palm oil, corn syrup, msg, artificial dyes, etc.)
Our unique sustainability reporting tools are also covered in another post, Holistic Sustainability Reporting for Consumer Product and Meals But, for the sake of saving you a minute, the two types of voluntary labels are:
A. Environmental Product Declarations: Based on ISO Standardized (or equivalent) reporting of:
-Energy use (in kwh) per unit or kg – exempt if 100% rain and sunshine grown
-Blue, grey and black water use per unit or kg – exempt if 100% rain and sunshine grown
-Recycled content percentage per unit or kg
-Renewable energy percentage per unit or kg
-Regional content percentage per unit or kg
-CO2 equivalent per unit or kg
-Company diversion rate
B. Green Commitments: Proprietary sustainability labels developed by our team which cover sustainability topics that are often forgotten. Such as: waste diversion, rapidly renewable material use, container recycling, renewable energy use, etc. There are ~three promises per category ranging across:
-Beauty Products
-Chemicals
-Electronics
-Produce Farming
-Animal Farming
-Manufacturing
-Restaurants.
-(Businesses and Services coming soon!)
These are dynamic and updated to reflect community feedback and needs.
Now for the DISCUSSION!

We truly believe sustainability rating systems and marketplaces are the missing pieces to sustainable cultures and earth.

Why do we need Sustainability Rating systems?

Most environmental and social damage comes from the products we use. However, little thought is given to the life-cycle environmental impacts of our food, drinks, clothing, and other consumable goods.

Chances are your country only accounts for <3% of "GHGs" because it doesn't consider the embodied carbon of products you use in your country that were made in China, USA or other countries with high GHG numbers.

This is because many mainstream businesses are hiding dirty secrets.

???What Secrets Do "Sustainable" Businesses Hide???

If no one drove a car and no building used energy we would not even stop 30% of the world Greenhouse Gases or environmental problems.

For example, consider how a can of pop or beer contains hundreds of times more embodied energy and resources than a glass of water or local juice. The energy it took to extract all those ingredients, put them in a can and get them to you cold can be over half of your normal daily energy use. Just for one can of pop.

Individual sustainability claims are great. But... Without a holistic overview, it's nearly impossible to determine if a product is responsibly made. For example,

• "Low carbon products". Any product can be low carbon and still ruin the environment and use appalling amount of energy.

• "100% renewable energy products". There isn't enough renewable energy for the entire planet so 100% renewable energy isn't going to save us if products are inefficient.

• "Organic Certified products". These can still use tons of excess pesticides.

We implore the community to use Eco-Locals.com as a tool to work together and not to litigate for false advertising. We are constantly working for free to help businesses document their products clearly and properly. Any product with an EPD Label is backed-up by the ISO environmental product declaration standards (or equivalent) and are usually developed alongside a third party sustainability consultant. You can find a consultant recommended by Enviro-Dec here.

We do not and can not assume any responsibility for the accuracy of claims made by manufacturers though we do moderate comments, responses and listings at a high-level to enforce our terms of use.

These Green Commitment Badges will automatically show up listing pages based on the manufacturer's applicable commitments. These will always be located at the top of the page alongside other features such as being: Carbon Neutral, Delivery Available, GMO-Free, Gluten Free, Vegan, 100% Local, etc.

*Disclaimer: All data must be based on Environmental Product Declarations, Health Product Declarations, or self-declared based on accurate and publicly available information. Email us for more info @ [email protected]

Lean about Environmental Product Declarations (Fees)
Learn about Health Product Declarations (Fees)*

ISO 14024:2018 - Environmental labels and declarations -- Type I environmental labeling -- Principles and procedures
ISO 14021:2016 - Environmental labels and declarations -- Type II Self-declared environmental claims
ISO 14025:2006 - Environmental labels and declarations -- Type III environmental declarations -- Principles and procedures

Manufacturers provide their own data and manage their own listings. This way they can rely on their own consultants to provide transparent data and are required by law to tell the truth!

Users can comment, report and review products to point out any potentially dishonest behavior!

YOUR HELP IS REQUIRED: Please share with your friends and family and get them to sign up and share their products!!!

Thank you sincerely for your time and interest. Please consider giving us feedback and supporting us as we are 100% funded by users and keen people like you. We are always learning and growing.