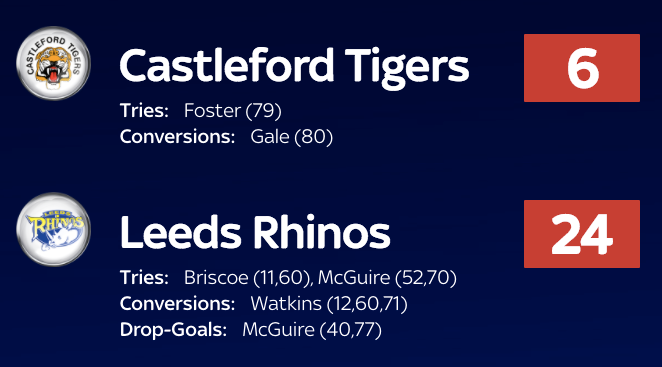 The 20th Grand Final was between Castleford Tigers and Leeds Rhinos
---
SteemSports Presenter: @mojorisin
---
SteemSports Editors: @ldauch / @velimir
---
Danny McGuire produced a superb swansong performance as Leeds Rhinos romped to a record 8th Grand Final victory, as they handed Castleford a masterclass on how to handle the big occassion.
---
For Castleford it was a dissapointing end to their best ever season. They finished 10 points clear of the Rhinos, but ultimately produced their worst display of the season when it really mattered.
---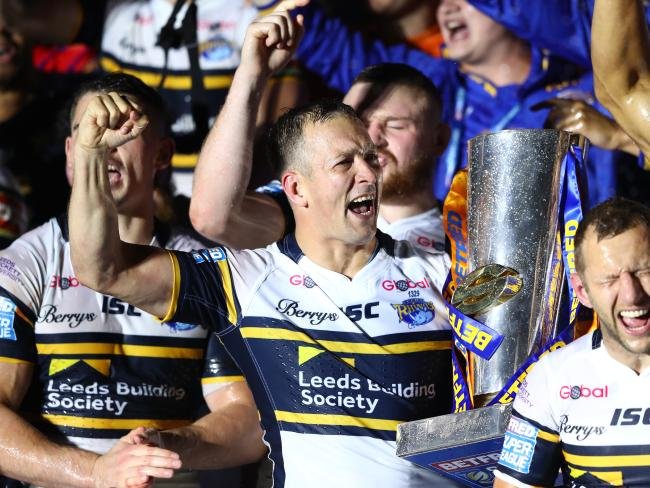 Danny McGuire produced a man of the match performance for Leeds
---
Coming into the game on the back of eight successive wins over their rivals, including a 66-10 rout earlier this season - the Tigers were big favourites to win, but the Rhinos once again manifested their ability to rise to the big occasion, grasping the tricky conditions in the Manchester drizzle.
---
Cas opened the brightest of the two and were showing why they won the League Leaders Shield with some early skill sets that brought a lot of early pressure deep in the Leeds half. With the tricky conditions evident, however, Castleford must be ruing the chance not to take a couple of penalty kicks that were in easy kicking range.
---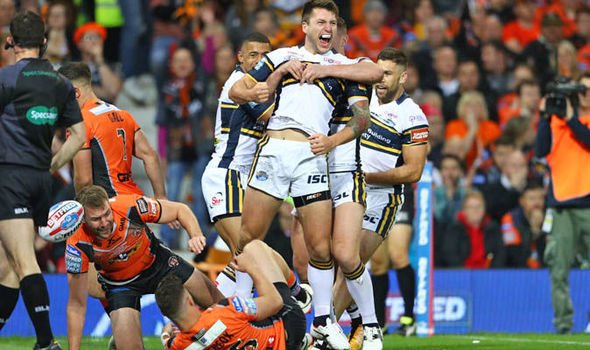 Tom Briscoe opened the scoring for Leeds Rhinos
---
Leeds opened the scoring when Briscoe leapt above Michael Shenton and Jy Hitchcox to touch down McGuire's lofted kick and open the scoring. Kallum Watkins added the goal to make it 6-0.
---
Watkins thought he had doubled Leeds' advantage when he touched down for what looked like the Rhinos' second try, but the video ref ruled it out for a knock-on.
---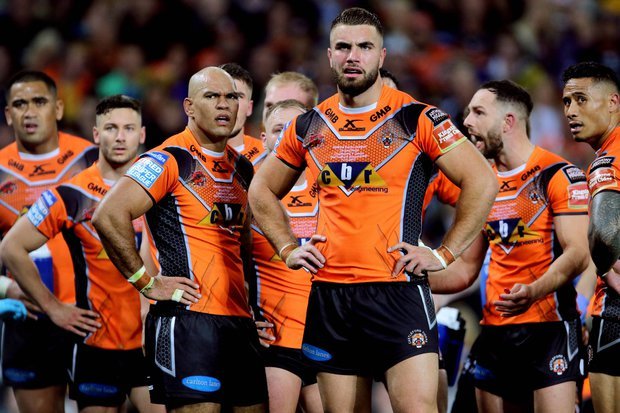 A frustrating night of many handling errors for Castleford
---
The Tigers gradually started to pick up their game, and with more fine skill sets, Greg Eden looked a certain tryscorer on the left wing until Danny McGuire managed to somehow force a handling error in a last ditch tackle as he raced for the line, to deny Cas a seemingly certain try.
---
There were a couple more tries ruled out for either side as the video ref was kept busy. And with a tight scoreline looking a likely outcome, Danny McGuire put a drop-kick over to add an extra point for Leeds and they went into the break 7-0 up.
---
7-0 down Cas must have been thanking their lucky stars they were still in the game. They weren't for long. Another error-riddled period early in the second half from Cas, handed Leeds the stimulant to seize total control.
---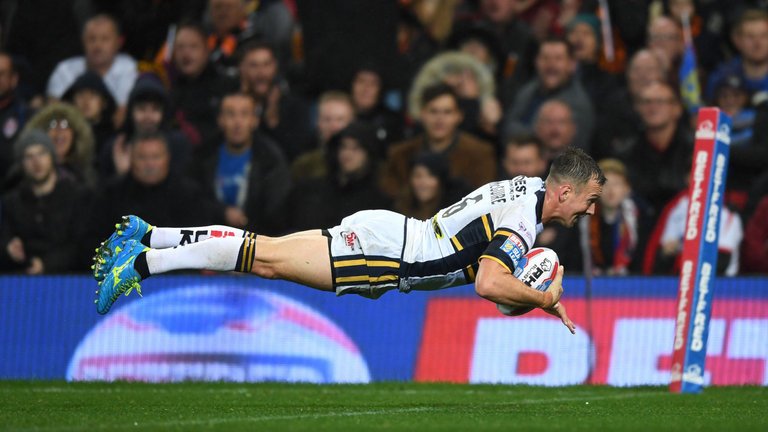 Danny McGuire scored 2 tries and 2 drop-goals
---
Leeds, who know exactly how to play the big occassion, took full advantage of Castleford's nervy handling mistakes. Joel Moon put a high kick into the air and McGuire swooped to grab an opportunist try.
---
Not long after, Moon carved out an opening for Briscoe to score his second try. And when Watkins duly put his second conversion over to make it 17-0. The floodgates had fully opened. Then man of the match Danny McGuire added a second try before putting a second drop-goal over to put Leeds 24-0 up. Castleford score a late consolation, but that's all it was.
---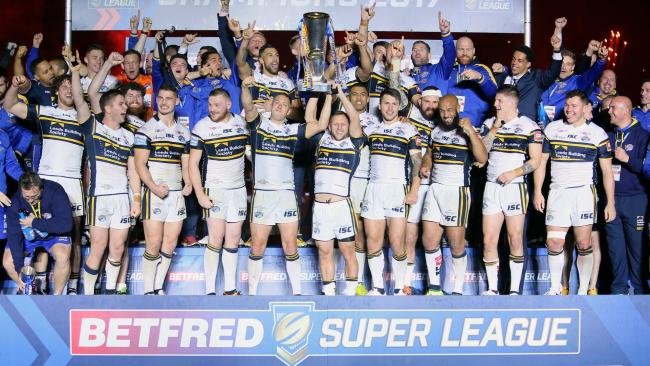 Grand Final winners 2017 Leeds Rhinos
---
For Castleford it was a frustrating night. After dropping Zak Hardaker for breaking club rules, Cas boss Daryll Powell was clearly dissapointed. "We saved our very worst 'til last," Powell said. "We just created too many errors and credit to Leeds, they deserved to win. We just made unforced errors, mistakes and dropping the ball is so hugely disappointing.
---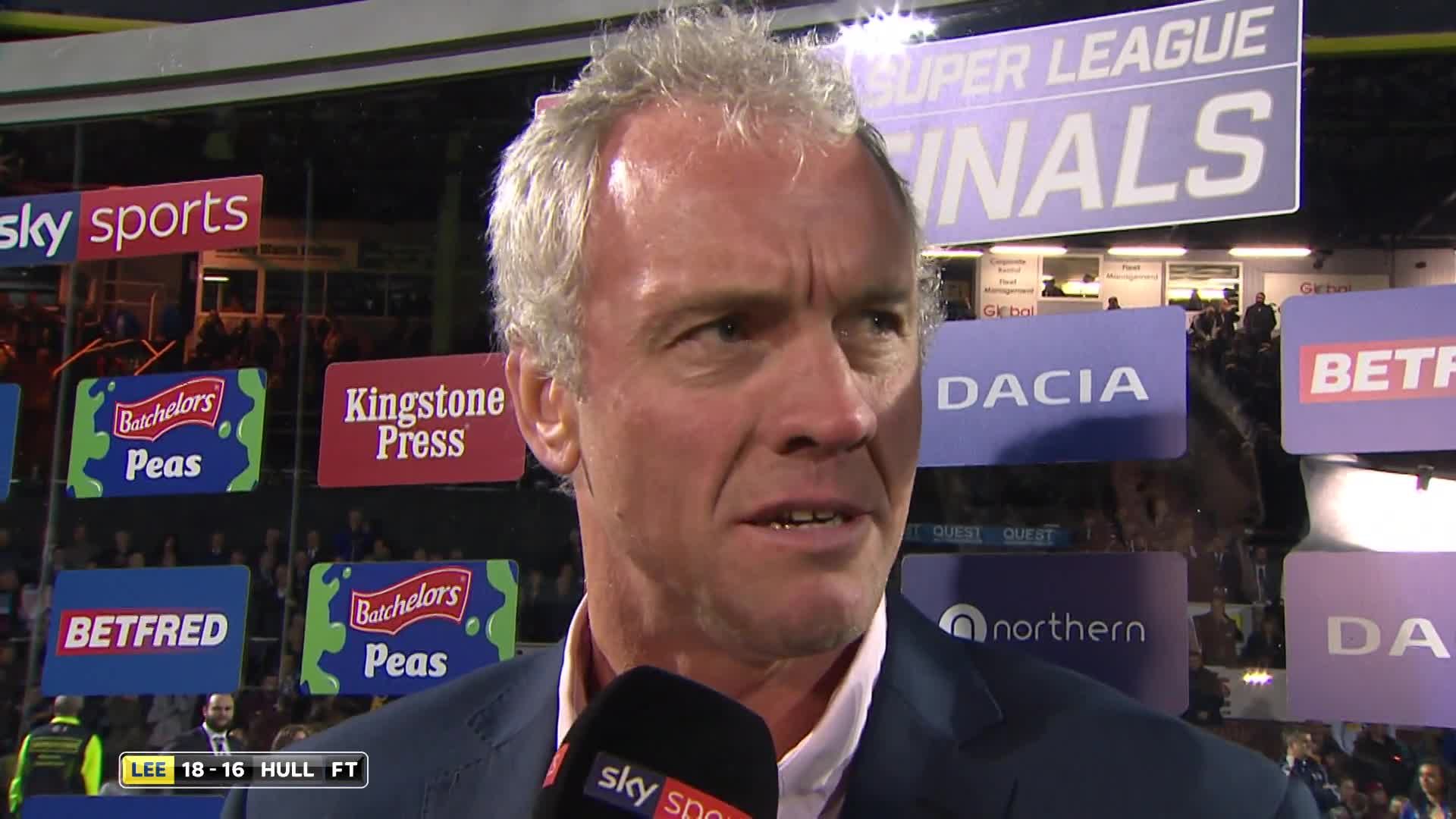 Brian Mcdermott has now won 4 Grand Finals with Leeds
---
It was another clinical performance on the biggest of nights from Leeds Rhinos, who last year had to fight for their Super League survival. Leeds boss Brian Mcdermott was clearly delighted "We've done it," he said. "That group of people over there have gone through every emotion going in the last 18 months, the whole club. This isn't just a coach's win or the players' win. Everybody at Leeds Rhinos, including the fans, who stood with us when the dark times were really, really dark, this is everybody's. The whole club deserves this."
---
Image Sources:
www.www.burytimes.co.uk
www.dailystar.co.uk
www.365dm.com
www.express.co.uk
www.newsapi.com.au
www.imgbb.com
www.skysports.com
---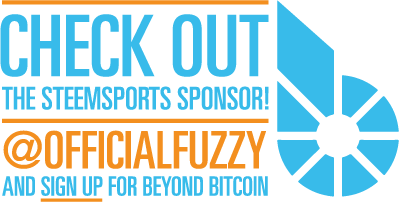 ---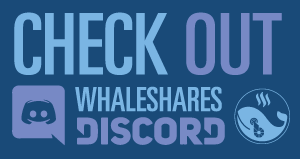 ---

---

---
This is a @steemvoter subscription payment post. Thank you to Steemvoter customers for allowing us to use your Steem accounts to upvote this post by virtue of your free subscription to the Steemvoter.com bot service. @steemvoter is proudly a @buildteam subsidiary and sister project to @steemsports and @minnowbooster.