Superior Coin News - 1 SUP every 1 Minute Faucet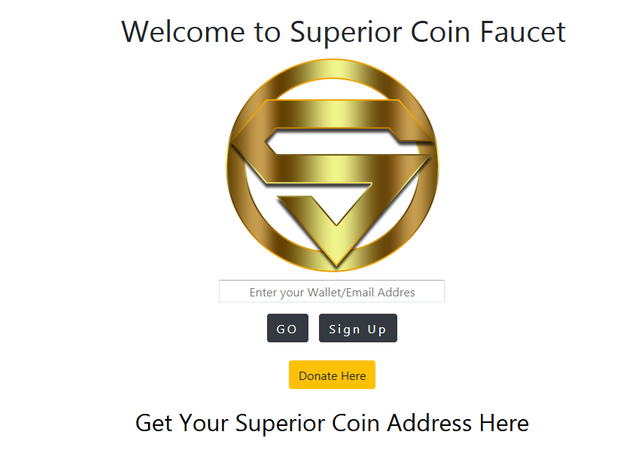 Members have asked for a faucet, development team have responded by setting one up, a wallet will still be required either in Kryptonia or a GUI wallet to work with the faucet, quick links below and on the bottom of the faucet page, for more information about Kryptonia and Superior Coin.
Superior Coin Faucet, you will be required to do initial sign up, requirements are in image below. In future to gain access to faucet, manually input your wallet address/email address and tap on "Go Button" entry is quick and easy, taking you directly into the faucet.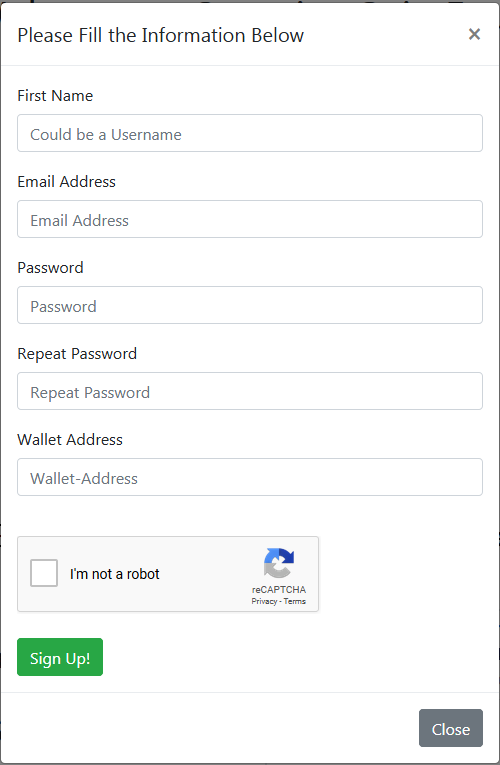 Should you wish to donate, depending on the amount of SUP invested the Donate button will require information indicated in image below. Blog URL, Business URL, URL randomly selected appearing between each faucet run of 60 seconds. Anonymous donations are also welcome to support the project!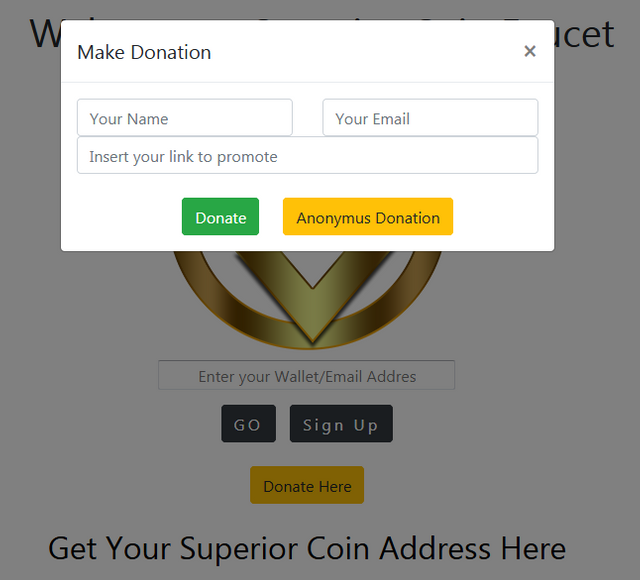 Paid with SUP - Advertising: Those wishing to donate to the faucet will be given the option to link a site for business purposes. Paid advertising from within the Superior Coin Faucet, in the first image you will notice a Donate Here button, complete this before entering the faucet, or at a later date if you would like to use this facility.

---
How it works - Superior Coin Faucet
Superior Coin Faucet signing up or donating now set up, let's move into how this works. After a countdown timer runs from 60 seconds to 0 (Zero) seconds it pays you 1 SUP, at this point you Claim each time (where an add normally appears), claiming must reach 10 SUP before you are able to move to the next step.

Capture pop-up to check you are not a robot doing the work, it will take you to another site with the advertised payments being opened, support these sites who are donating into the faucet by visiting.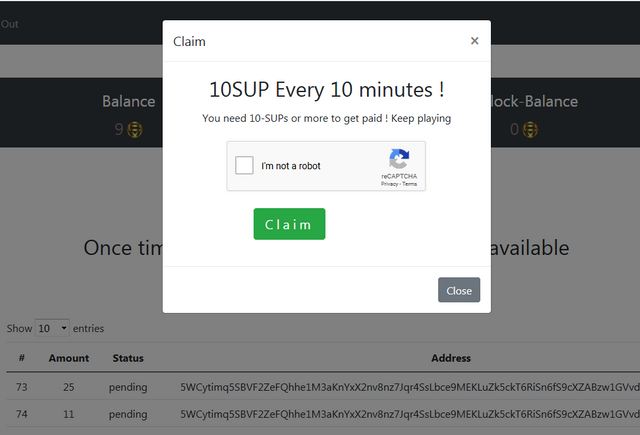 Capture identification is used regularly in the system to check that you are not a robot to keep the system stable from abuse.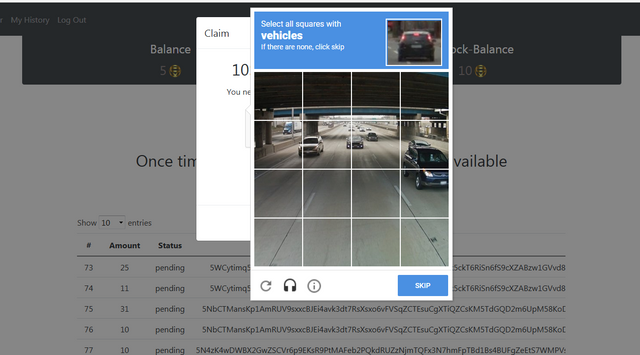 When the Balance reaches 10 SUP you are able to claim Superior Coin tokens to the Unlock-Balance, here they will stay in pending, until you decide to move them to your wallet.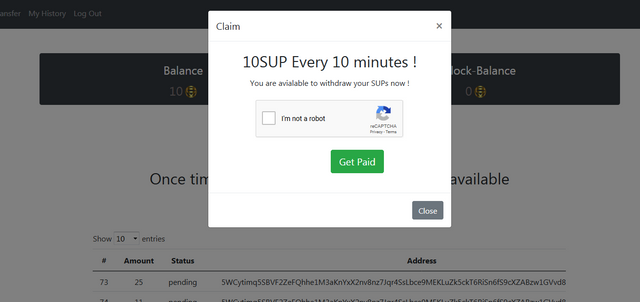 Once you have 10 SUP on the Balance side you can now transfer to Unlock-balance, or you can build to a larger number before accepting the offer to un-lock.

Here are 10 SUP in Balance* finalizing next countdown of 60 seconds is completed, use Get Paid to move into Unlock-Balance start to build.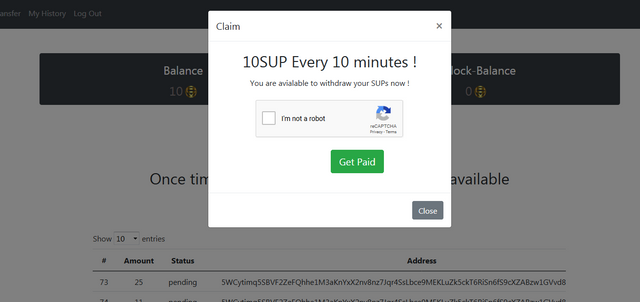 ---
Superior Coins Balance to Unlock-Balance with final move to a Wallet
Now we have an Unlock-Balance you may wish to transfer this into your GUI Wallet or the Kryptonia Wallet whichever you have decided to use, once Transfers are ready in pending they will be processed (I am still testing this to see how this works). Please remember this may take some time, living in Africa I have learned to have some patience, give the crypto some time to move from one wallet to the next.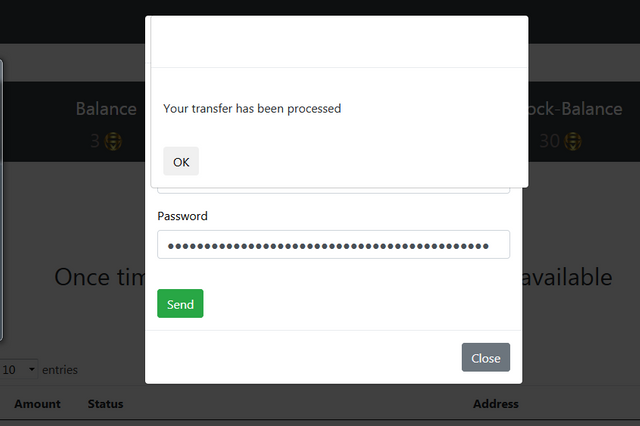 My Account will indicate what stage tokens are sitting in for a quick overview on what you achieving.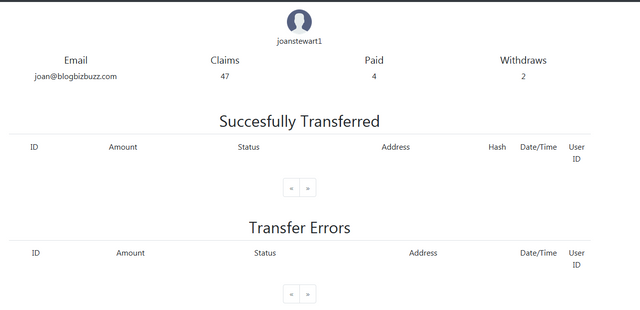 Main Faucet page will show Transfers still sitting in a Pending state, you will be able to see when that amount moves out of pending, it should then reflect in My Account as a Successfully Transferred amount, since my first two transfers are still in pending they have not yet arrived into either of my wallets, GUI nor Kryptonia.

Friendly reminder, moving tokens from Superior Coin Faucet to Kryptonia would be my selection of wallet, why you may ask?
Kryptonia Wallet offers a 1% interest paid to accounts with a balance of coins in the wallet at the end of each month, more passive earnings.
Learning, Building and Growing together in Crypto, don't be shy to ask for help a very supportive group awaits you.
Report Back On Payments Received:
On the faucet side it reflects payment made to GUI Wallet address, currently experiencing an internet connection I know I am unable to connect to the GUI Wallet, I am happy to see it has gone through.

In the Kryptonia Wallet where I strongly urge you to transfer into, here is the 10 SUP moved to test, to see this amount go into the Bank, Basic Tab and all is revealed, full review now concluded, enjoy the faucet adding passive earnings to your wallet.

---
SuperiorCoin Links:
Kryptonia Links:
Support:
---