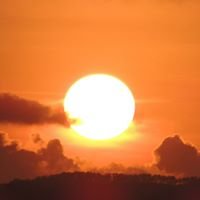 This sunset and sunrise reminds me that in every ups and downs in life there are still beautiful things that will happen. We may experience being hurt by someone, rejected by someone or there are harsh words uttered to us that make us feel useless person but one thing is for sure that we can still rise up from that challenge and trials in life.
Sunrise Sunset' is about trying to get to a place where life is simple and not letting the stress and happenings in the world get in the way of your happiness.
When I admire the wonders of a sunset or the beauty of the moon, my soul expands in the worship of the creator.