Do you have any impressive suggestion for someone who shout during discussions and arguements?
Do I think it's right?
NO! I DON'T THINK IT'S RIGHT. Oops! Seems I just yelled. My apologies. :)
It's actually disrespectful to raise your voice while having a conversation with someone, or while in an argument. I find it annoying when someone does it to me. 
As you've noticed already, I raise my voice sometimes. And I'm not happy about it. I'll just share some tips that usually help me regulate the volume of voice.
Recognise its causes. For me, I noticed that I normally raise my voice when I'm frustrated, angry or when I'm excited. Realising this, helps me to anticipate it, in order to be more conscious in such situations.
Be conscious of the situation. Since we've been raising our voices on a regular basis for a while now, it has become a part of us. You can call it a default mode. Therefore, we have to be very observant, to correct any slight alteration in our voices.
Take several deep breaths. It is best not to talk in situations that may lead us to raising our voices. Taking deep breaths have a way of relaxing our nerves and slowing down our heart rates and blood pressures. Instead of jumping into the conversation, use the period of taking several deep breaths to set your state of mind.
Smile and think about something relaxing. Smiling has a way of improving our moods. Taking a moment to smile and think about good memories. Teleport past euphoria to the present.
Be swift in hearing and slow to speaking. When we focus on always wanting to be heard, this may affect the volume of our voices. Realising that we gain more when we listen will prevent us from shouting. You don't always have to be the centerpiece of every discussion. Why would people want to hear what you have to say, when you never listen to them? 
Recognise that you can only advise people, not control them. Sometimes, we erroneously think that we can make people do what we want them to do by raising our voices. That's wrong. Recognising the fact that we can only advise them, nor coerce them, would assist us to maintain an appropriate volume. 
Reduce stressors and live a healthy lifestyle. Frequently shouting at people or raising your voice could be caused by a physiological factor. Maybe your body is trying to tell you that it has gone through a lot of stress lately. Physiology and psychology may be different but are connected in a way. Having good diets; eating lots of greens, improving your sleeping habits; having sufficient rest and a healthy amount of exercise can contribute to our overall well being. This can also have a positive psychological impact on us.
Know when to walk away. This is a last resort when all other options seem not to work. This may be the hardest part, but sometimes it is best to walk away from situations that may deteriorate to outcomes we do not like.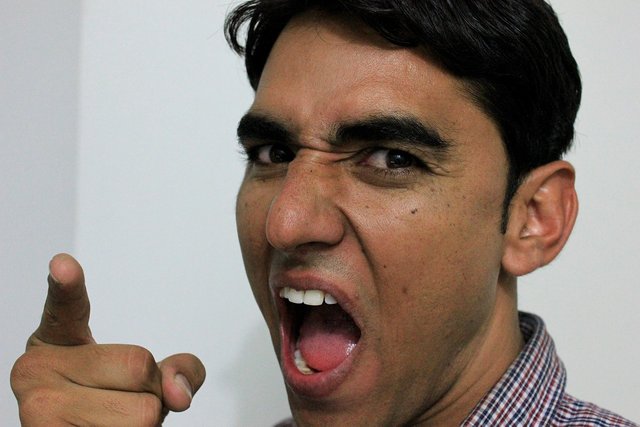 Image source: pixabay.com