Moving from NYC to San Diego - $ Check In and Succulents. Lots of succulents.
(Oh, god, I just realized my last post had only one terrible photo, so now its stuck in my feed as THE photo. UGH.)
Hope you all had a nice start to your week!
I thought I'd do a quick financial check-in since @boxcarblue suggested staying consistent in well, checking in with myself and my progress thus far. I've had three events this month to date, and none of them very successful. The first and second happened on the same day, so my artist-partner/collaborator held down one tent while I had the other. Neither of us had a lot of foot traffic (which was out of our control) and still managed a few sales each. Not too shabby considering other vendors had zero sales and left early. The third event was a last minute invitation I got from being at the first event, and it had an even worse turn out than the others. Again, I made a few sales while others had none and I guess I should consider myself lucky I didn't have to pay the $125 vendor fee otherwise I would have lost money. All in all - I did make a connection or two for future projects/collaborations and continue to get my name out there, but standing all day at an event for what amounts to less than minimum wage is not going to cut it. Even if I am doing better than that old 1 out of 100 sales motto, $50 bucks here and $100 bucks there still only adds up to not enough for rent. It's hard at this stage in the game for me to say NO to a free booth, but I've really got to find a way to better vet these events before I commit to anymore. (Says the girl who just signed a form agreeing to a three-day event in October for almost quadruple the fee....). In the meantime, I am continuing to come up with new product ideas and expand my network. I think I've got the silicone mold thing down now - that post will come tomorrow(ish) when I take apart my mold box! And since I have a little down time before my next event, I was finally able to get some much needed plant therapy in and spent the entire day yesterday cleaning up my succulent hoard.
Like this pot, not everything is turning out how I planned for, but I'm trying to go with it....So while I'm not feeling too anxious yet about the not making money situation, I'll share with you my growing obsession instead.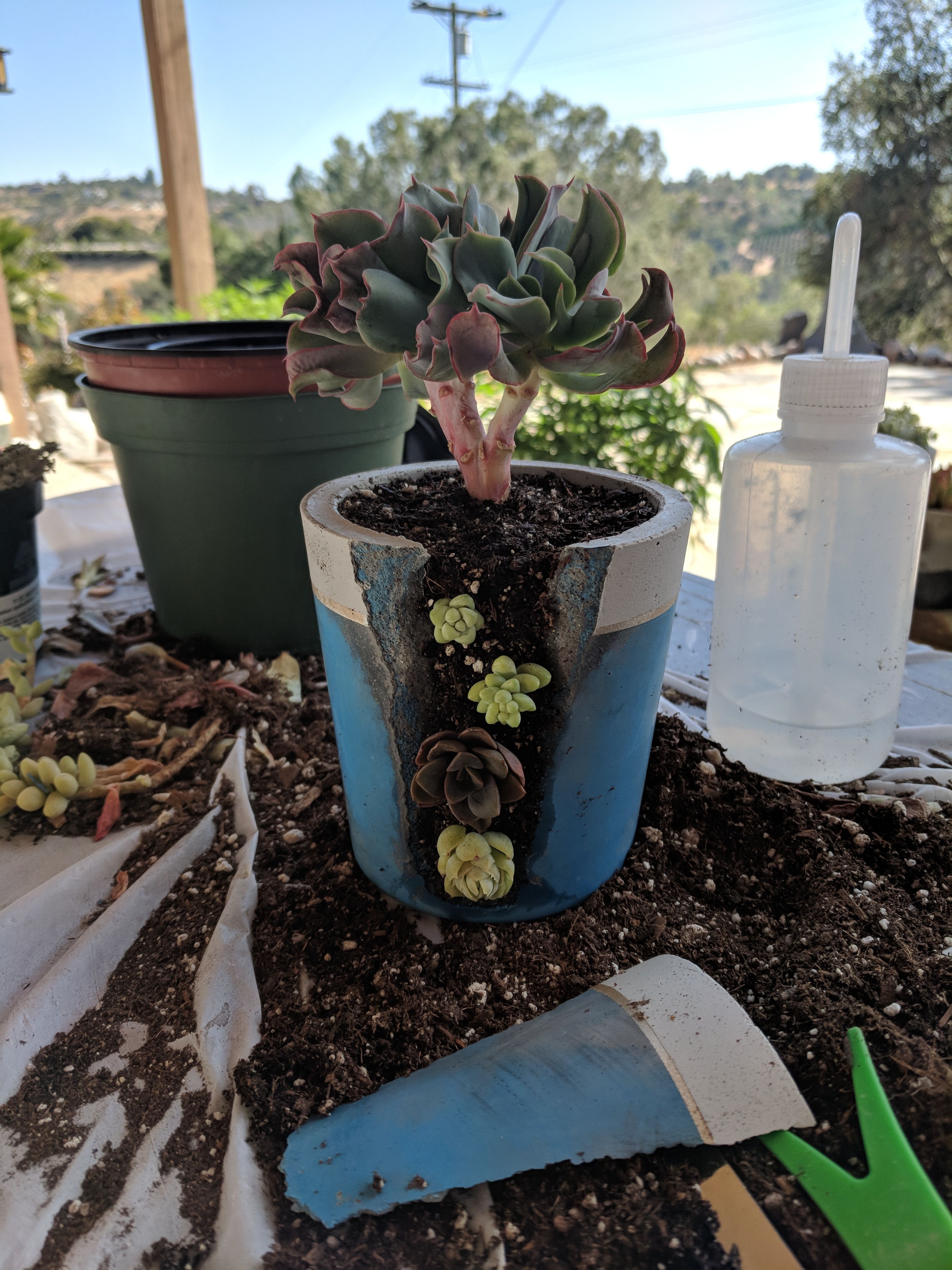 I first noticed that one of my succulents was dropping leaves for no reason.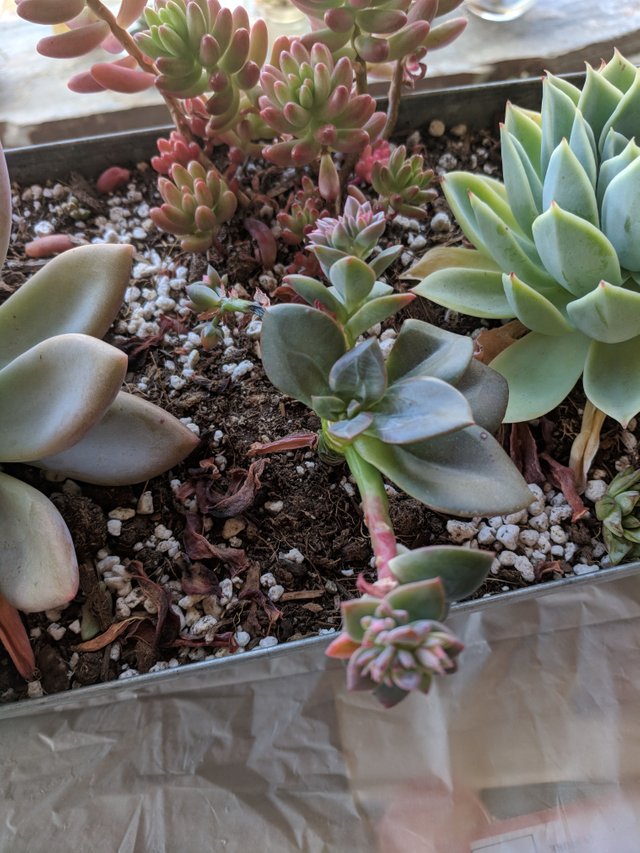 Upon further inspection, I discovered something had eaten a hole right into the side of the stem and basically hollowed the thing out.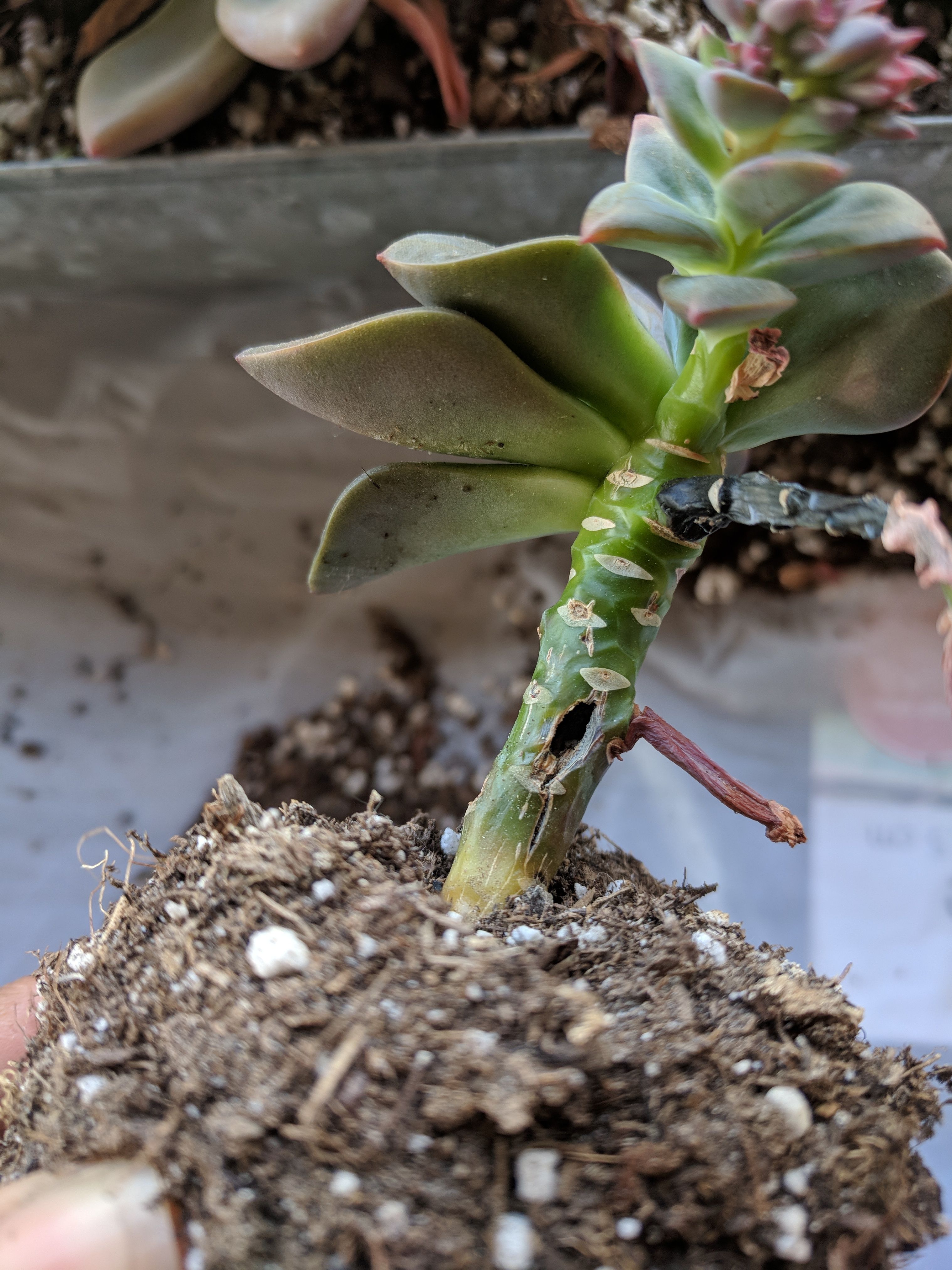 So I did what any other plant mom would do - take apart the planters until I found the worm or caterpillar before he got to anyone else. This is the "before" shot. Before I made a mess.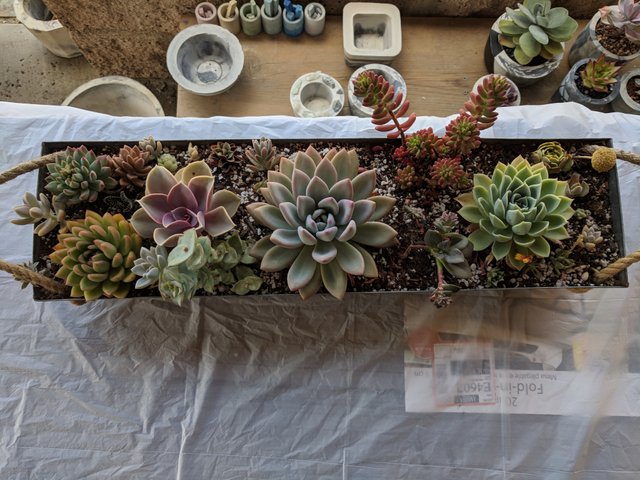 First, I tried to save the guy with the hole. He (She) has already given me a bunch of babies so I wont be too sad if it doesn't make it. I'll give him the best chance I can, though! I beheaded it, and then took off the bad leaves and bloom stalks.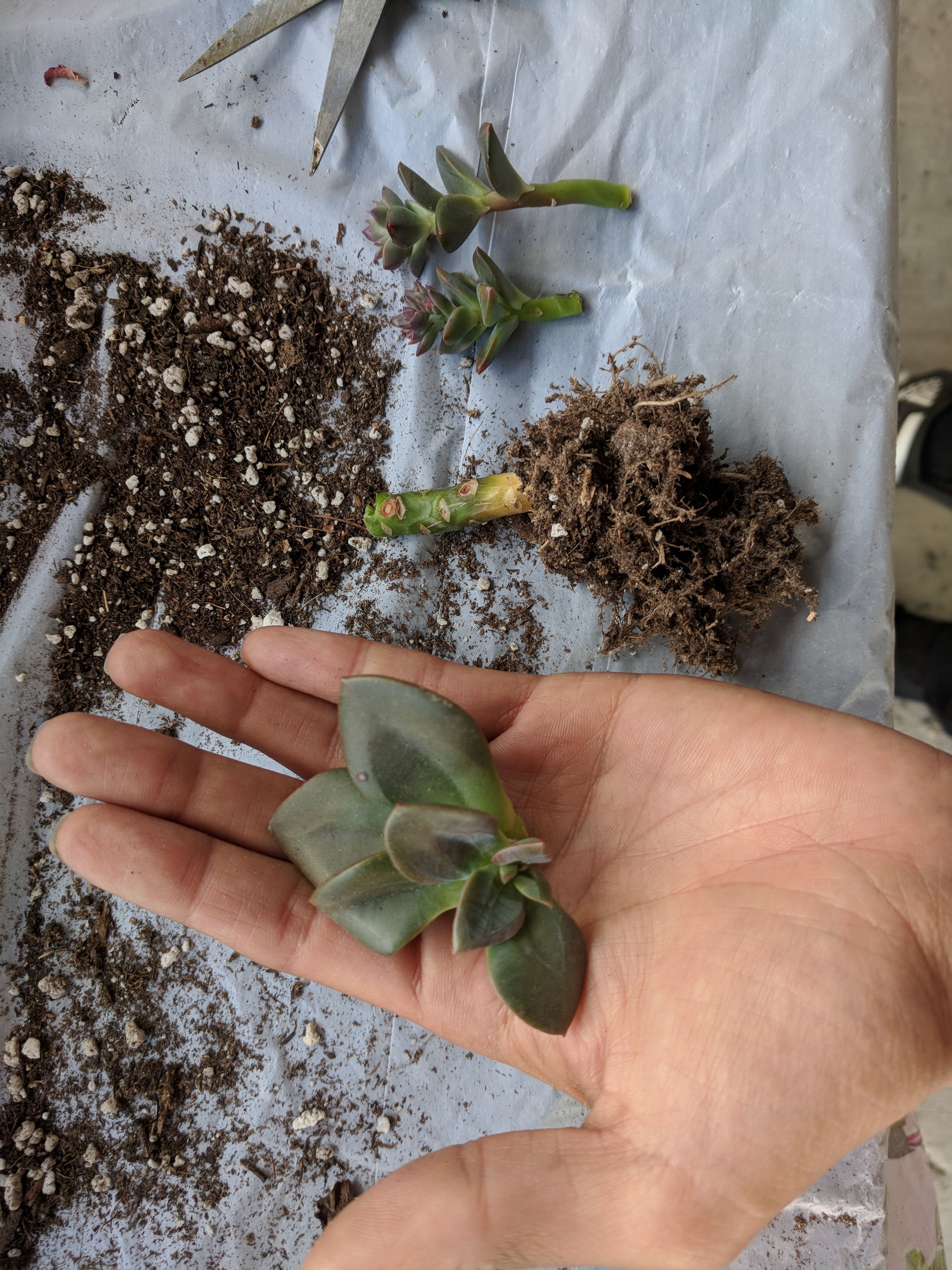 I propped the leftover piece over water, and hopefully I'll see some root growth in a week or so.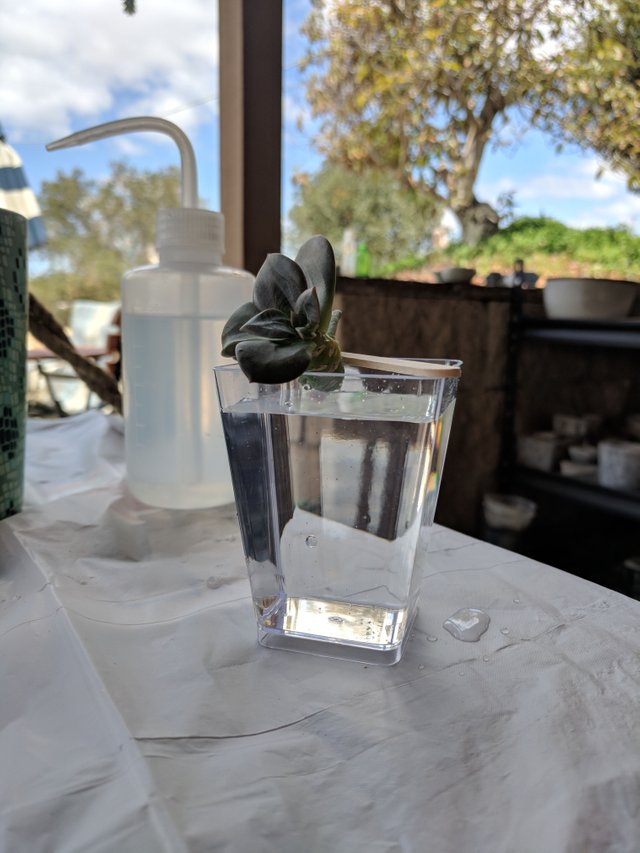 These guys have been hanging out in water for a little less than a month. Definitely time for planting! But not today.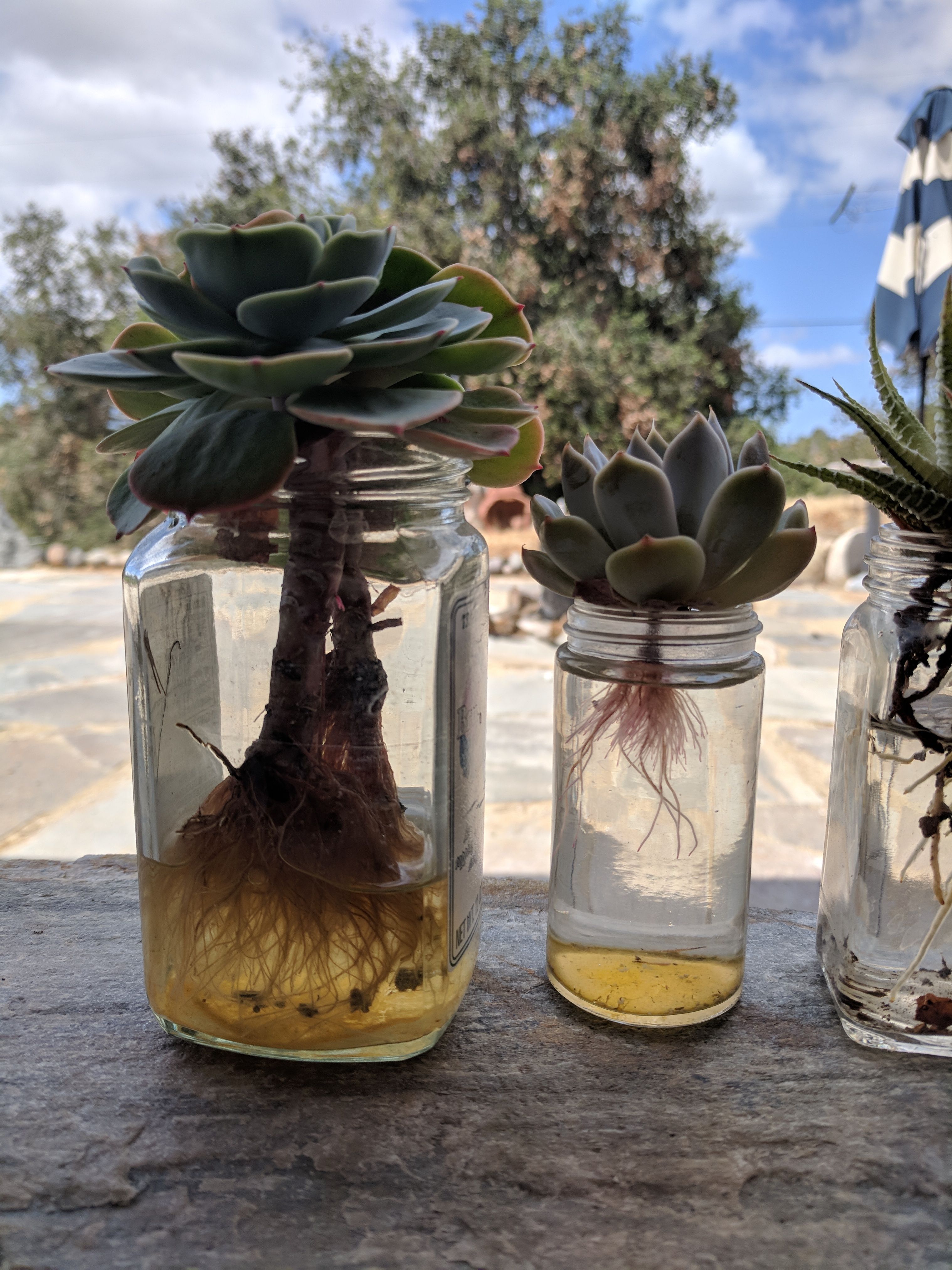 One of the best parts of repotting is finding new babies. This one was hiding way underneath the mother plant.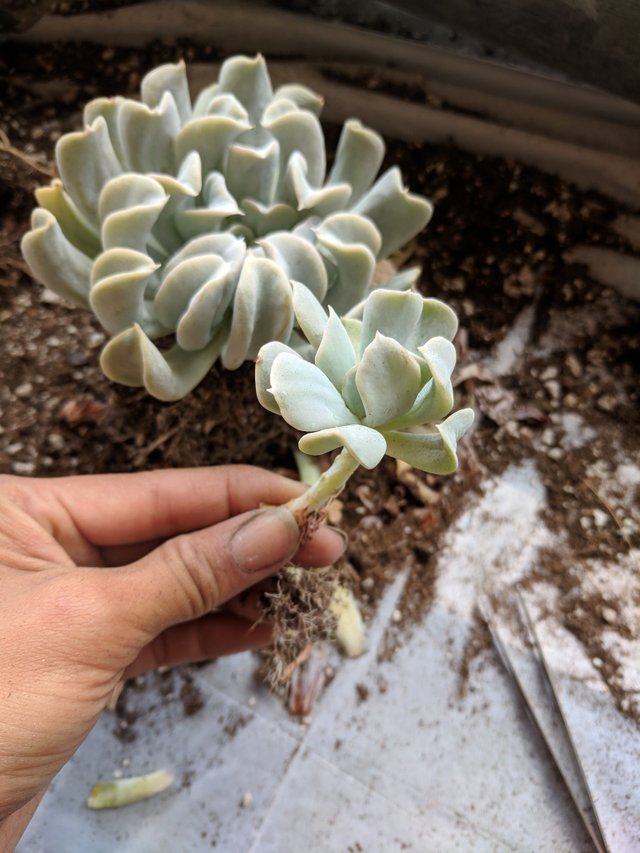 Which then lead me to uprooting most of the small succulents I have in various planters all over the backyard. They need more sun and the big guys have started blocking them. I never thought I'd have this overgrowth problem with succulents, especially after all the dead ones I left back in Brooklyn.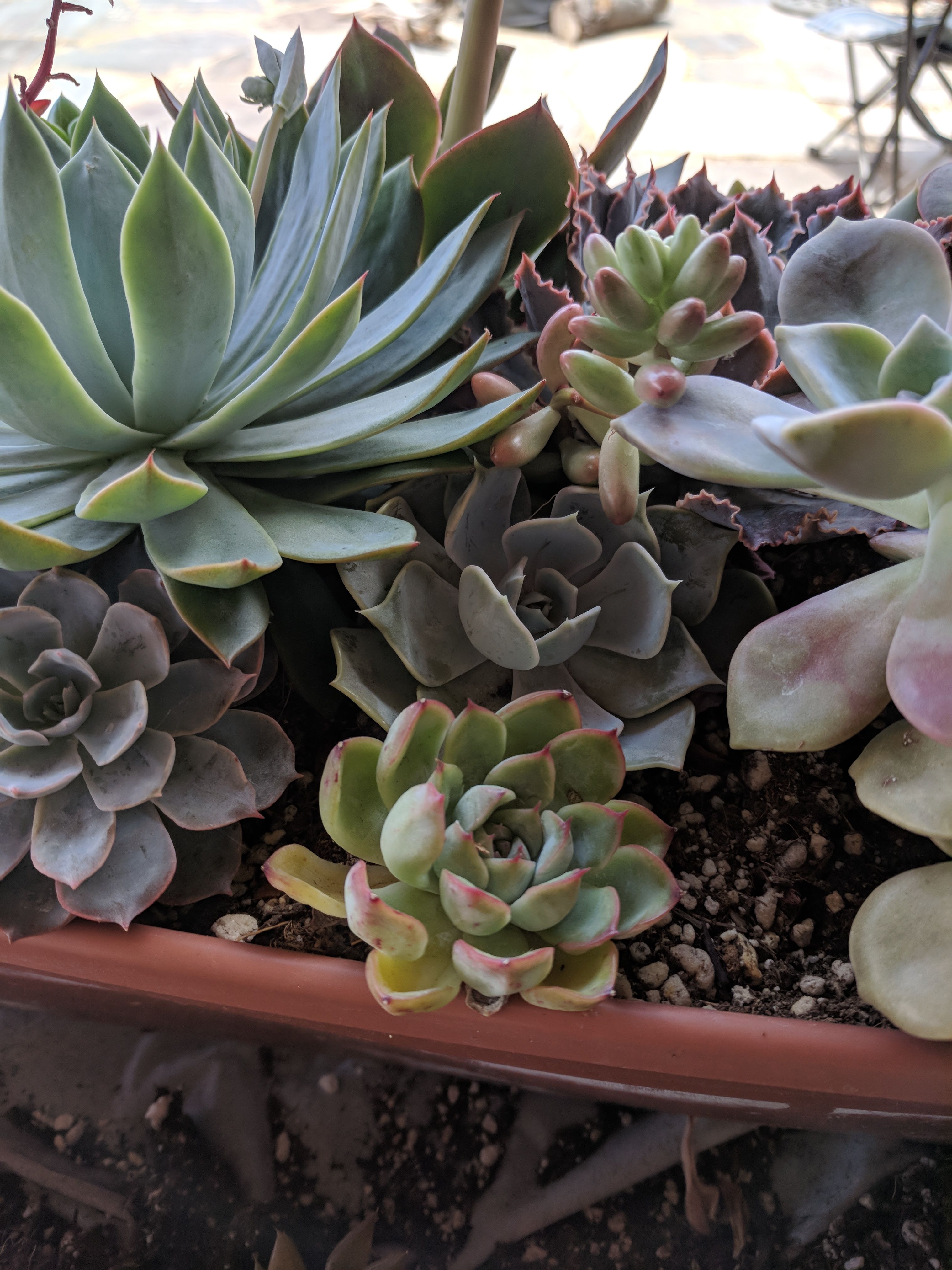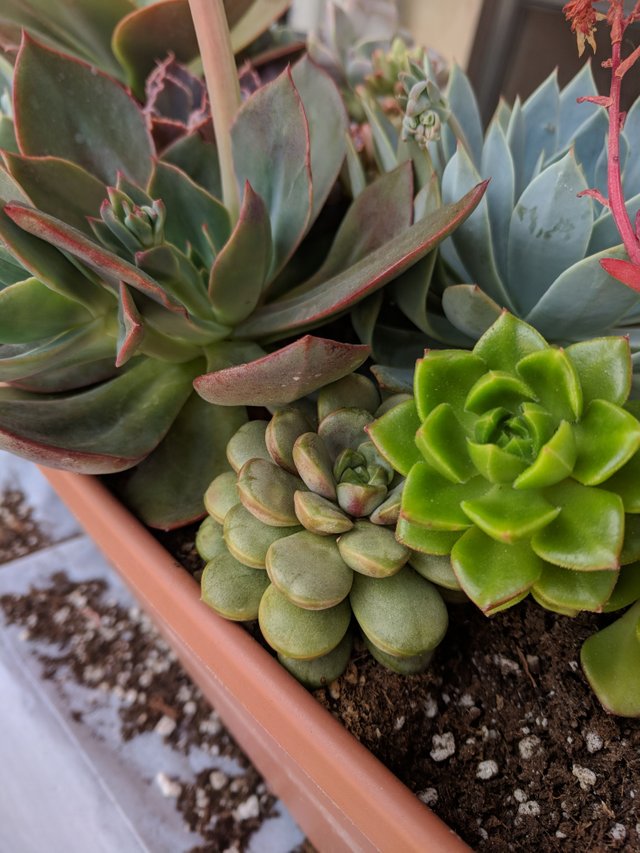 Somewhere around this point of hunting for babies, I remembered I still hadn't planned the loquat seeds with roots popping out. ADD on high, I threw those out onto the table ,too, because why not?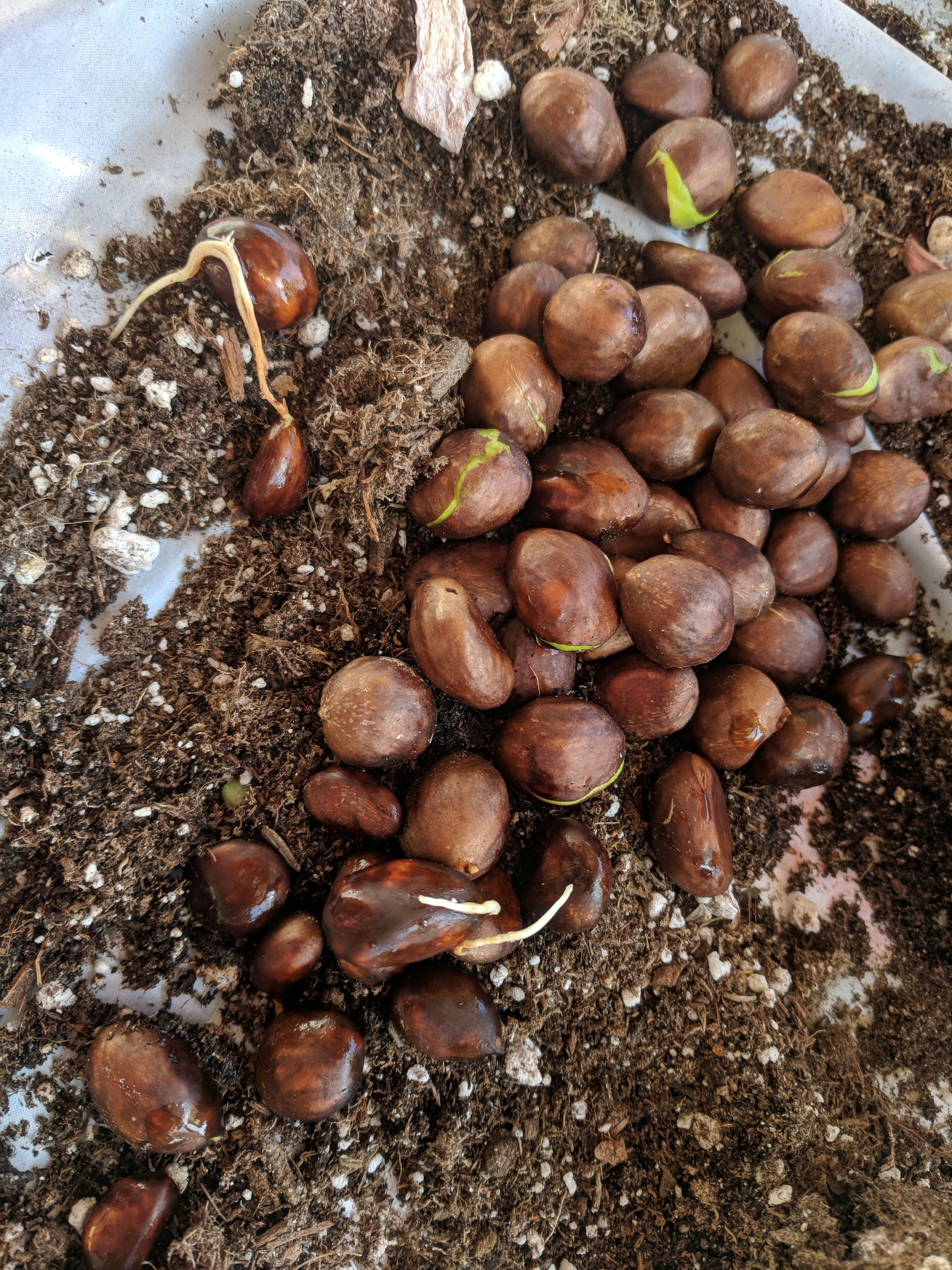 I found more babies in the process! Which then reminded me my friend's wedding is coming up and I've got to make her some succulent crowns for the flower girls. I abandoned all the seeds and succulents to hunt down the floral tape I bought a few weeks ago....just to make sure I had it.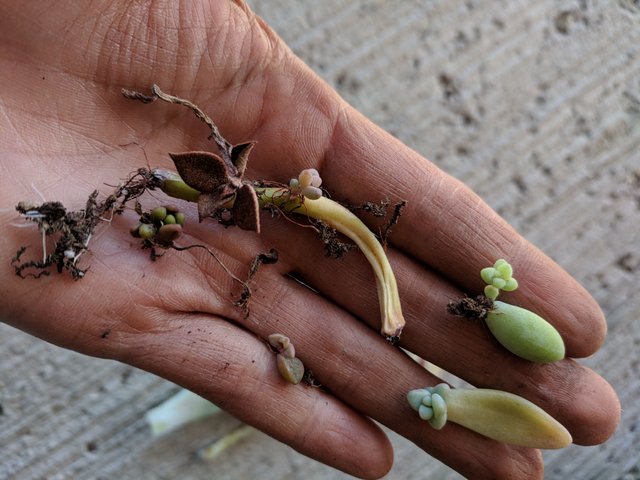 Then it was back to succulents.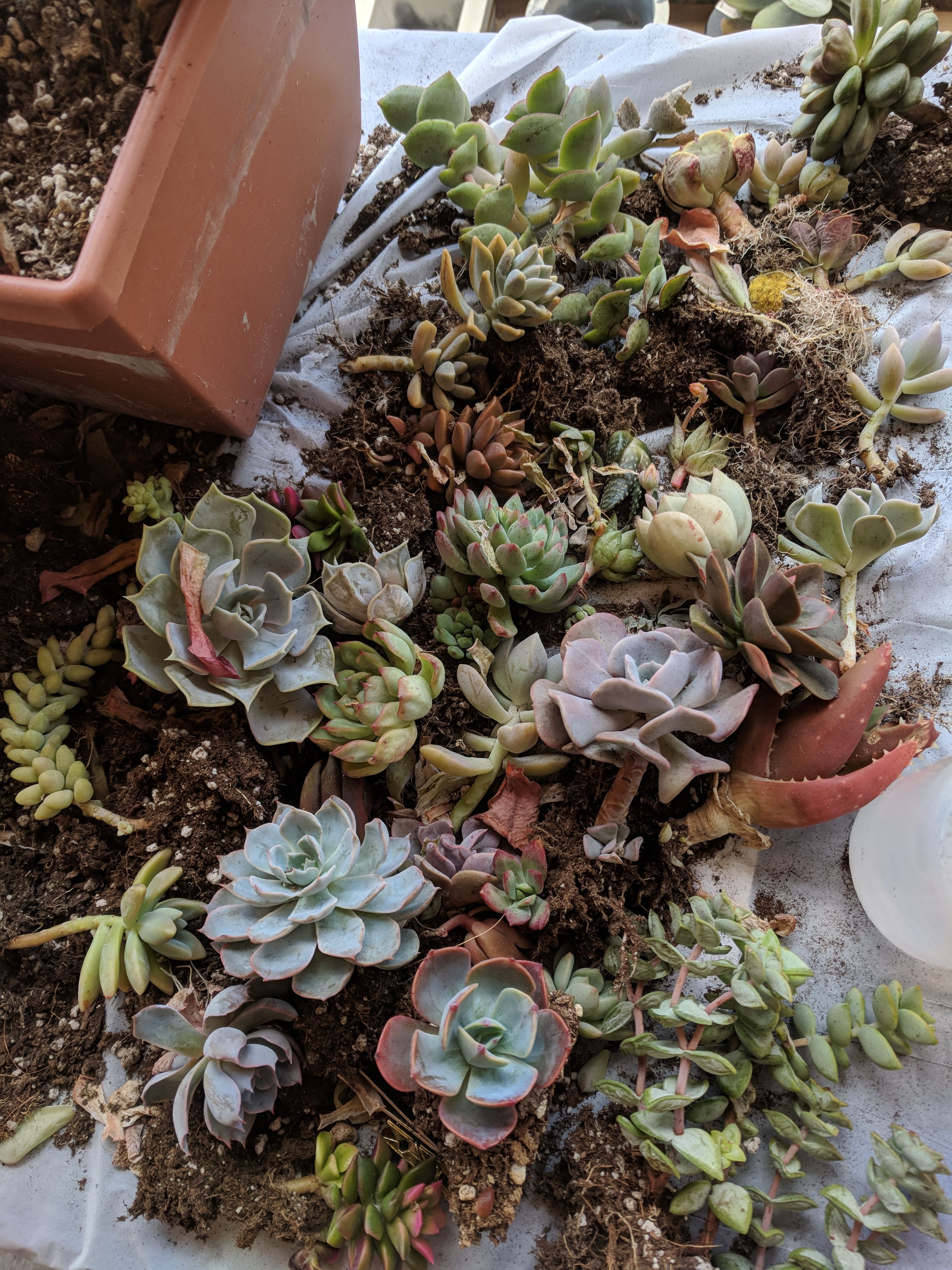 By the time I got everything replanted (two hanging planters, one large box planter and about a zillion individual pots) I forgot all about documenting the process and came inside with my box of babies, floral tape and a few other odds and ends I picked up in between bursts of planting and replanting. Oh, fun fact - did you know if you cut an earwig in half, both halves will keep walking? In the interest of keeping @steveeats as a dedicated reader to my blog, I'm going to spare you the video. (HA, who am I kidding. I spared myself the video. I have, however, almost gotten over my fear of earwigs outside. Not exaggerating, there had to be at least 100 in my planters yesterday. But only outside. I'm still afraid of them if they're inside the house. Totally irrational, but it is what it is. A fear. By nature, irrational.). And no motherfucking caterpillar! I literally just realized that I never found him as I am writing this. Son of a bitch. Good thing I sprinkled diatomaceous earth before I top-dressed [evil laugh].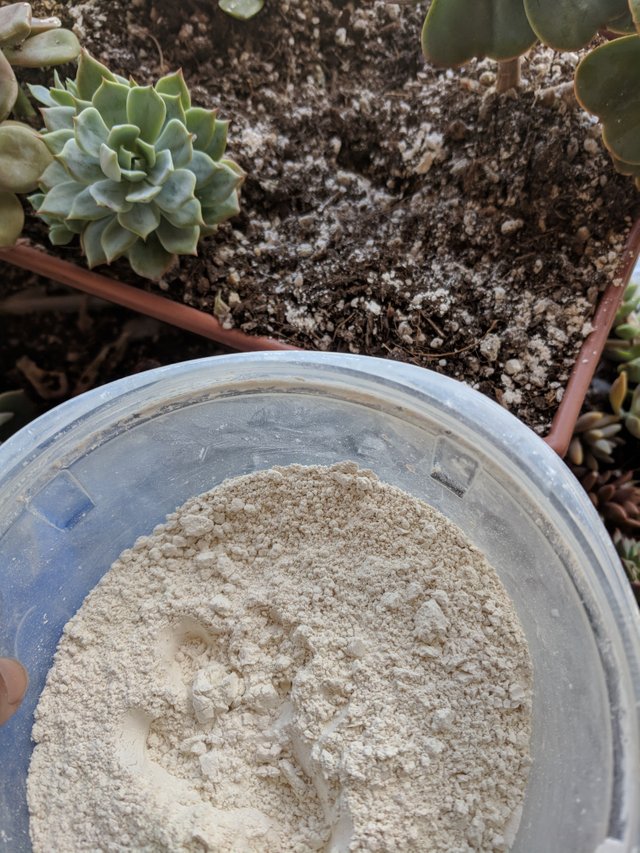 Oh yeah, the crown. This is my rough draft, with freebie succies from my overhaul. I'll have a more organized pallet of matching plants for the real thing. What do you think so far?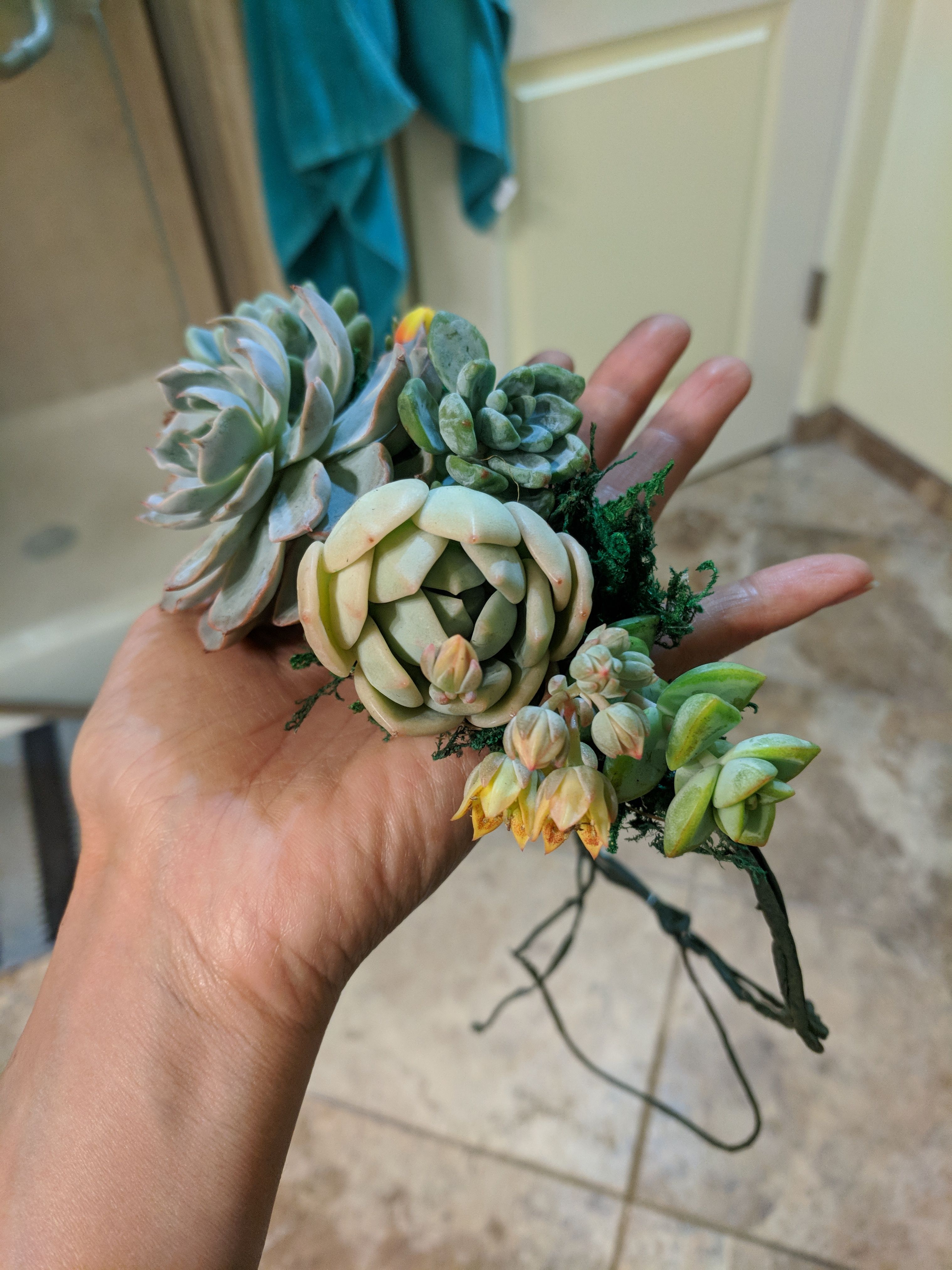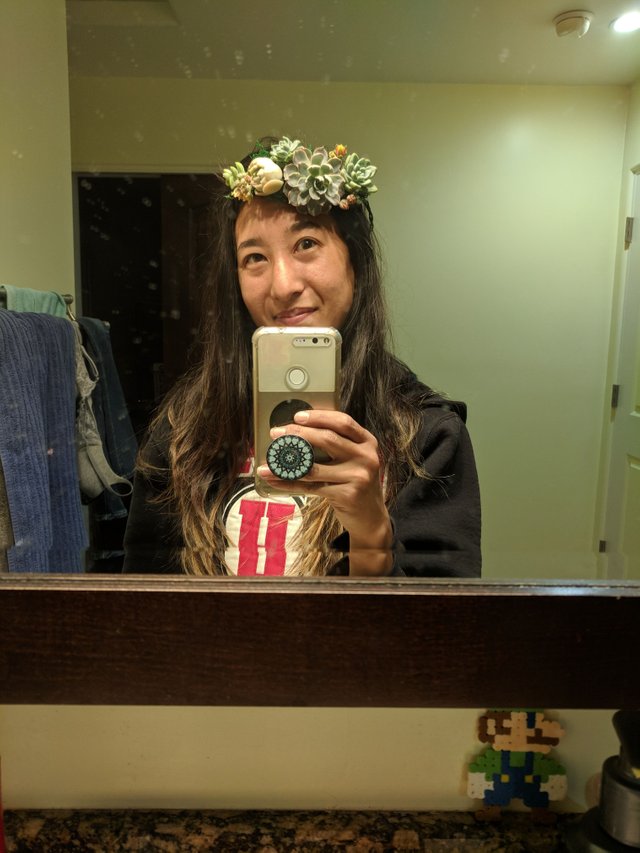 (of the succulent crown, not the dirty mirror!)
I better head to bed early - @freewritehouse has a selfie contest going on so I'm hoping a little beauty rest might help me out, LOL. Just one more succulent photo - for @nikv - my haworthia is pushing out babies like crazy! Not a rare one, but I do love the almost translucent look to them.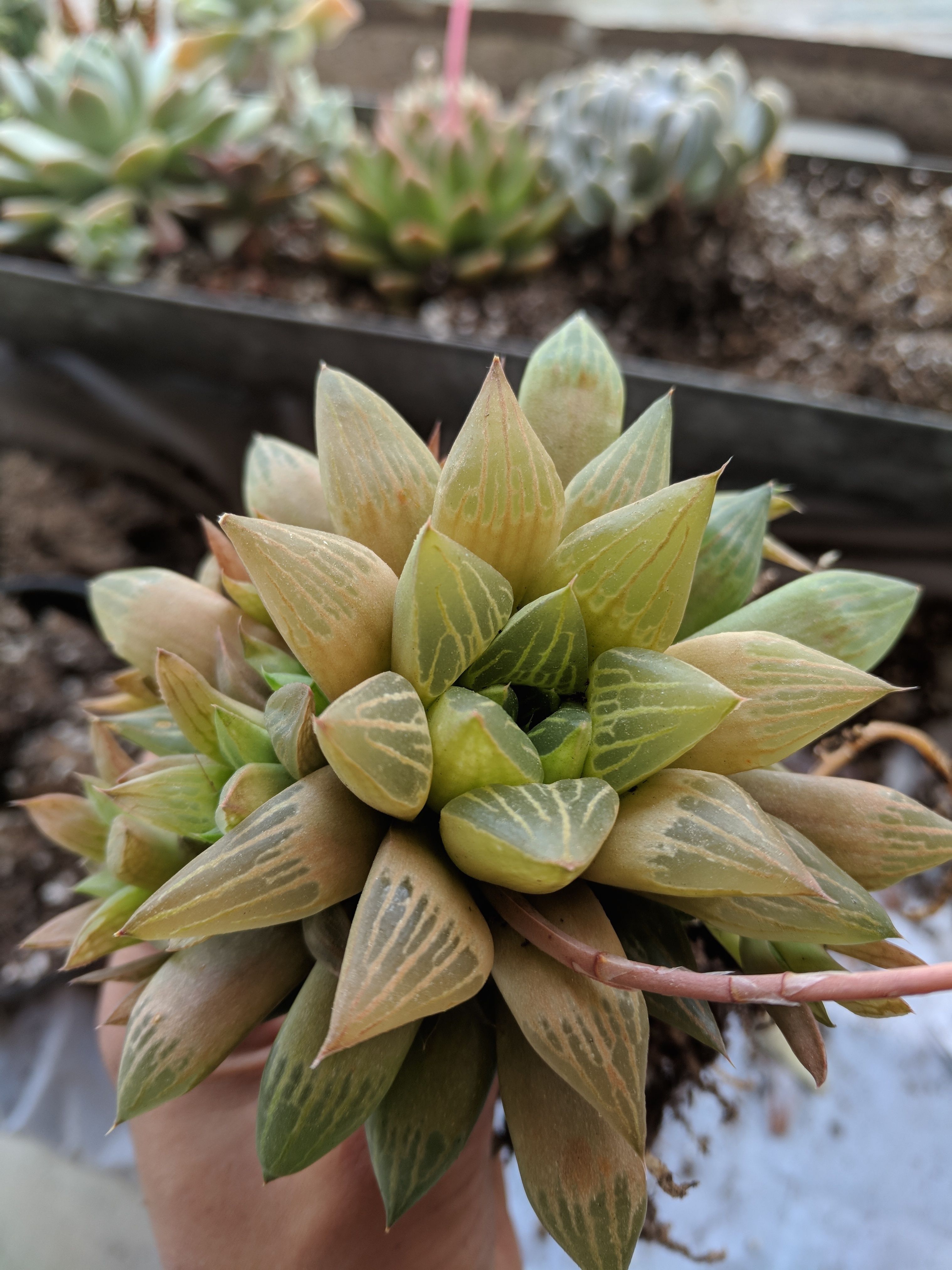 Good night!
Christie

#SoCalSteemit is building and supporting the Steemit community of Southern California. If you are from SoCal and are into creating quality content here on Steemit, we'd love for you to follow us @SoCalSteemit and join our group on Discord