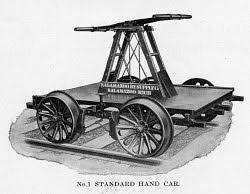 IN THE BEGINNING...
When you first signed up for Steemit you were a one person, do-it-all train. You'll notice on the hand pumped railcar pictured above there are opposing handles. In other words the car was meant for two people. Not so on Steemit. You get the great satisfaction of moving this baby by yourself.
I've always thought the levels of accomplishment here on Steemit were rather fishy. It would be more appropriate to designate people as various levels of trains. (Sometimes I've felt like the caboose). The hand pumped railcar is ideal for beginners in that you work your ass off, no one is around to cheer you on (usually) and you don't go anywhere very fast. And after a few days of this kind of exercise you want to say, "Oh, hell no!". But since you are reading this you most likely have made it past the handcar stage. If not, then all I can say is: Bwah ha ha ha ha!
I didn't just write that did I? Actually I didn't mean it that way. Let me try that again: BWAH HA HA HA HA! There that's better. But really, we've all been through it. Hang in there. You can do it. Really. It's just part of life, part of paying your dues. If it was easy, then well... it wouldn't be worth it. Hang in there. It get's better.
THE LITTLE ENGINE THAT COULD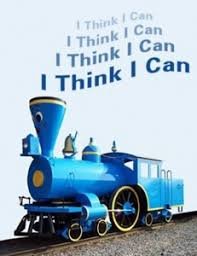 Wow! The Little Engine That Could. What a great story. " I think I can. I think I can. I think I can." Yes, that's the spirit. You'll notice, however, that this little engine has no cars. Yep. No one is riding behind you. You are still pretty much by yourself. And in the little kids book the train is going up hill. That's what it's like isn't it? But you begin to think, "I think I can. I think I can." And you can! In the beginning you just have to write like crazy, and NO SPAM, and you'll get there. And if you need help, well there are lots of people out there willing to assist.
Minnow schools. I mean really who came up with this fish thing? And then you discover you're not even a minnow. Your a plankton. Jeeeze! A plankton. A redfish. Isn't that what Whales eat for breakfast? Maybe that is where the term comes from. But really sign yourself up for school or tutoring. Get some guidance. Your little engine has to stay on track. That's the only way it will get anywhere. Follow the track. Try to go out on your own and see what happens. Derailed. That's what happens.
Trust me, if you are willing and capable of working diligently and hard you'll make it. I THINK YOU CAN!
STEEM ENGINE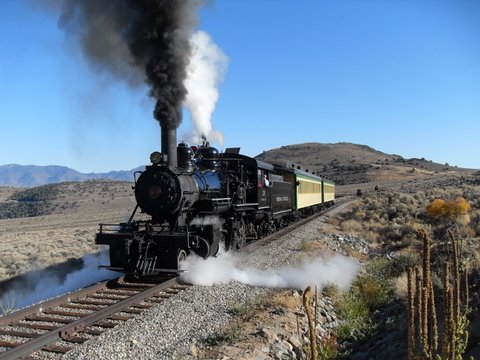 You might think this is an motivational post. Well it is and it isn't. Mostly, I just wanted to use this picture. It is of the V & T Railroad. This baby goes by my house during the summer months every day. It's a tourist attraction. The train goes from the east end of Carson City up to Virginia City past all the gold and silver mines that once were, and a couple of active ones too. This is a pretty cool railroad. I go out there and moon them as they pass by. That's what they pay the big money for. Quite the attraction!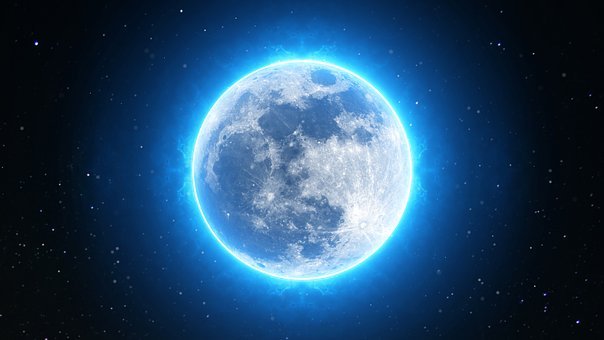 Nah! Not really, but the thought has crossed my mind. I live less than a mile away from the tracks so it would be easy to do. But no, not me. Oh, and I thought I'd put up this pic of the moon. Much more attractive than the one I joke about!
Anyway back to trains... You'll notice the train has cars now. People are following along. Not many but some. Thats a good thing. And they pay too. With upvotes. Yes. now you're getting rich. You might make ten cents or even a dollar! Baby! You're on your way! Here's the thing: these old trains were not the fastest or most efficient. They required lots of fuel and energy to make Steem. The fuel tender...the guy who shoveled coal into the Steem engine, had to work his butt off to keep it going. You will too. Don't slow down. You have to build up Steem. You'll notice too that the engineer has a better view now. He's always poking his head out the side window looking down the tracks. Hey! This trains going somewhere. Not very fast but it's going. Hang in there. Don't quit now. You're on your way!
Look at all that Steem you are making!
I mean cripes, look at me writing posts about trains and tourists. If I can do it you can too!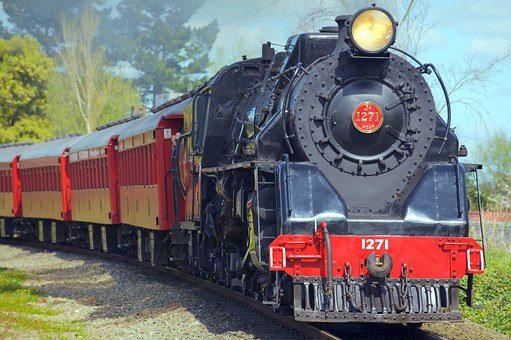 WOW! I MEAN WOW!
Look at that baby! Not quite modern but getting there. And look at the cars. There are hundreds of people in those cars. All following you. Now most of those folks are asleep and don't know what the hell the engineer (you) is doing but they are still following and that's a good thing. It makes you feel better. You're making progress. And it's true you are. But that first car, up front? Yeah, baby thats the car with people in it that actually are paying attention. Now as the engineer, conductor and coal tender you still have lots of work to do, but now there is one thing that is really important. YOU must go back and visit with the people in the first car and tell them how happy you are they are along for the ride. You must comment on their obviously superior intelligence for following you. And make sure you visit their trains and take a ride and comment and upvote and cheer them on. Everyone loves enthusiastic passengers.
At this point it's not just about your train. You truly must invest time and effort in riding others trains. That's what it's all about: you ride my train and I'll ride yours.
Another important thing you must do is act like you know where you are going. Even if you don't. People like to follow someone who knows where they are going. They like to be part of that energy pushing forward. Actually it is a pretty good idea to know where you are going. You're going forward, you're picking up Steem, you are working hard. You are loving your passengers.
You must not pay attention to people who say, "It can't be done" or, "The price of Steem is going down. You'll never make it." Tell those people to take a flying leap off the next bridge. It can be done. I know. Just look at my payout on this post. Why, I bet it will be over $10.00. Heck at this rate I'll be getting a new train soon. Yeah!
Oh, and did you notice the big head lamp on that train? This train is able to work when things seem the darkest. Yes, you can bet your bippy there will be dark times. You'll get discouraged. You'll need a bright lamp to allow you to have vision. What's illuminated by the lamp? Others who have gone down the tracks before you telling you to keep coming, keep working, keep commenting, keep posting, keep talking to your passengers.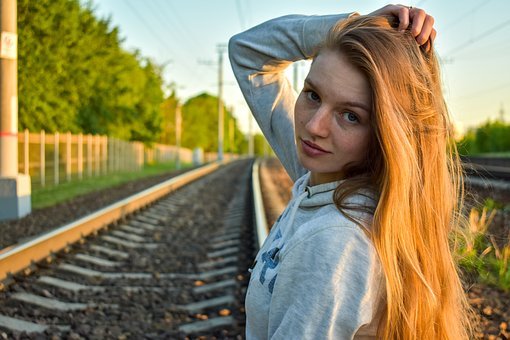 What's this? A distraction. Yes she is. Notice she is standing on the tracks? You have to slow your train down don't you? So don't get distracted. Sure you'll have days when you just need to take a break. Thats OK, but for goodness sakes don't be totally distracted for very long. You'll loose momentum and it's no fun trying to get Steem back up. If you do stall out you'll discover many of those on your train have picked a better ride and are moving on. If you need to take a break, or if you have other obligations you can tell your followers. They'll understand. We're all humans here. Just try not to be gone too long.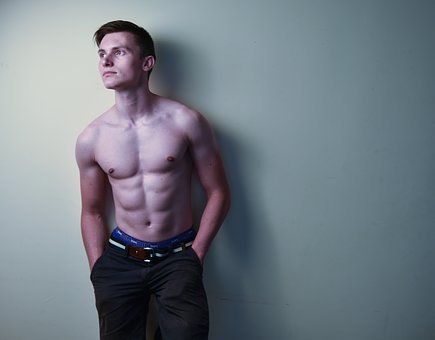 Didn't want the ladies to think only men get distracted. This is a picture of me. (Yeah, I wish!).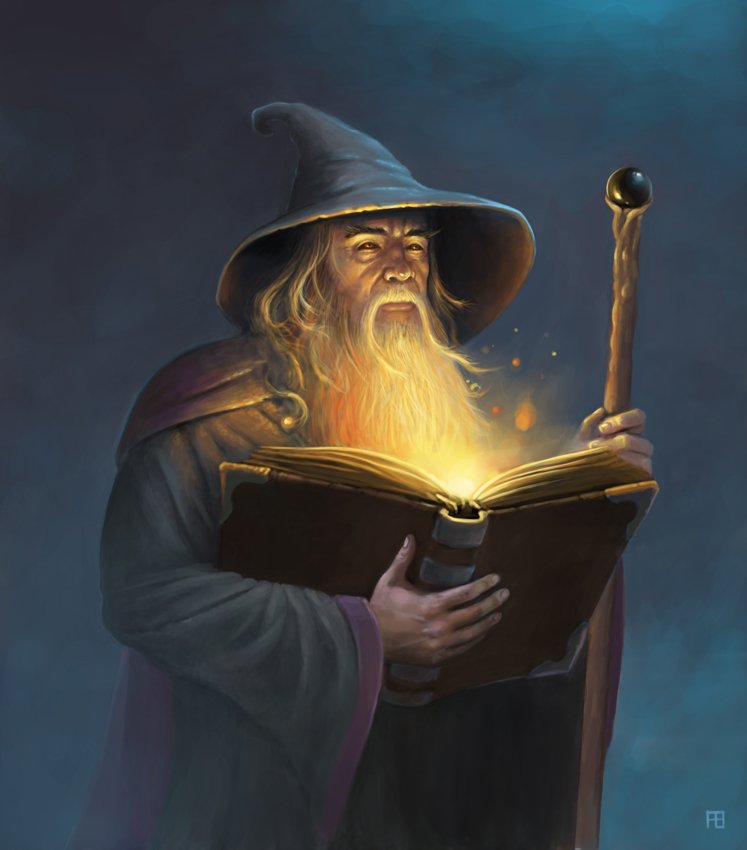 This is a picture of me. MIster Mercury. Well...one day maybe.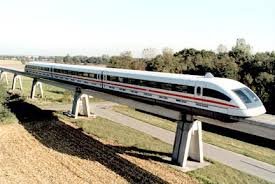 Oh yeah. Now we're talking. Maglev trains. These babies really move. This is what we want. I'm telling you the key to getting one of these beauties is within you. You'll need to find what it is that you have to offer Steemit. Some people specialize in technology, others might focus on the intricacies of investing in cryptocurrencies. Some are incredibly helpful and supportive and work tirelessly to help others. Some are just great leaders people like to follow. What about you? What is it you can offer fellow Steemians? Bring your best to us.
Now let's suppose you don't have a special talent or gift you can share, and you are not a great leader either. Does this mean you are never going to get a Maglev Train? No, it does not. What you can offer is your care, your support, your enthusiasm, your sincere comments. You can offer your heart. Your love. You can bring us your authenticity, your vision for Steemit. There is so much you can offer. Please bring it to us.

Let's be realistic for a moment. Not everyone will get a Maglev. That's just the facts of life. Let me share something with you that I sincerely believe is the truth. It is not the destination that is important in life, it is the journey. What you learn, what you become as a person, the challenges you face and overcome, or not, these are the important things. Yes, trust me on this. The character you develop, your authenticity and honesty and compassion, your sweet humble heart...these are far more important than any Maglev Train. Sure, we all want the Train. But frankly, that may not be your path, or mine. And yet, isn't Steemit wonderful? Here we get to practice being our best. It's a magnificent opportunity for growth.
This one thing I know: you are precious. Yes, you. I sincerely wish you the best here on Steemit. I hope you have a great journey.
May you be at peace. May you be filled with love.
Mister Mercury