"Stuffy Stories"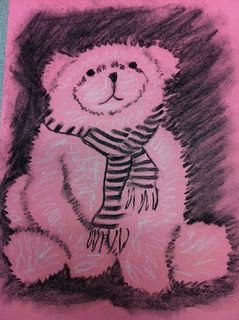 This is a new project that my daughter, Skyylar, and I will be hosting here on Steemit. This project will be broken into parts (sort of like @Papa-pepper's Wild & Strange contests). However, this will NOT be a contest exactly. 
This project is going to revolve around children's "stuffies" (stuffed animals) and the artwork, poetry & stories they inspire, about those stuffies.   

Here's how it's going to work:   
Part One: Parents – post photos of your child's favorite stuffy. Please provide the stuffy's name, and what it is (if it's not obvious), and anything else special about that stuffy. The photo can include your child in it, but it's not necessary.   
We (Skyylar & I) will choose one stuffy that will be the center of attention for the rest of that round.   
Part Two: Create artwork of that stuffy. We would like to encourage children (even the child that owns the stuffy) to create artwork, but are also hoping for some of Steemit's amazing artists to participate.   
Part Three: Write poetry about the stuffy. 
Part Four: Write a short story about the stuffy. The story does not need to be based on the poetry. Can be stories about what the stuffy likes to do, eat, or their stuffy friends.   
Part Five: Gallery. We will compile all the artwork, poetry & stories about the stuffy & display the gallery here on Steemit, and will send a packet with copies of all the artwork, poems & stories to the parent of the child who owns the stuffy.   
Then a new round will begin.    

Round one is starting NOW!
Round One, Part One: Photos of Your Child's Favorite Stuffy   
Please post a photo of your child's favorite stuffed animal. If you create a separate post, please provide a link to it, along with the photo in the comments below. Use the tag: stuffystories in your post.  Tell us about your child's favorite stuffed animal. What is it? What is the stuffy's name? Does it have a favorite food, favorite hobbies, etc? Have your child give as much info as possible to help inspire the artwork, poetry & stories about it.
We will choose one lucky stuffy once this post has paid out (one week).
This is a new project, so please help spread the word by re-steeming this post so we can get more people to participate! If you'd like to help sponsor this project, your donations will be used to help cover the costs of printing and shipping the final packet to the special child at the end of each round.  
This is gonna be fun!!