Street art in Paris with a Bitcoin QR code
"Rembrandt dos au mur", Paris 2018.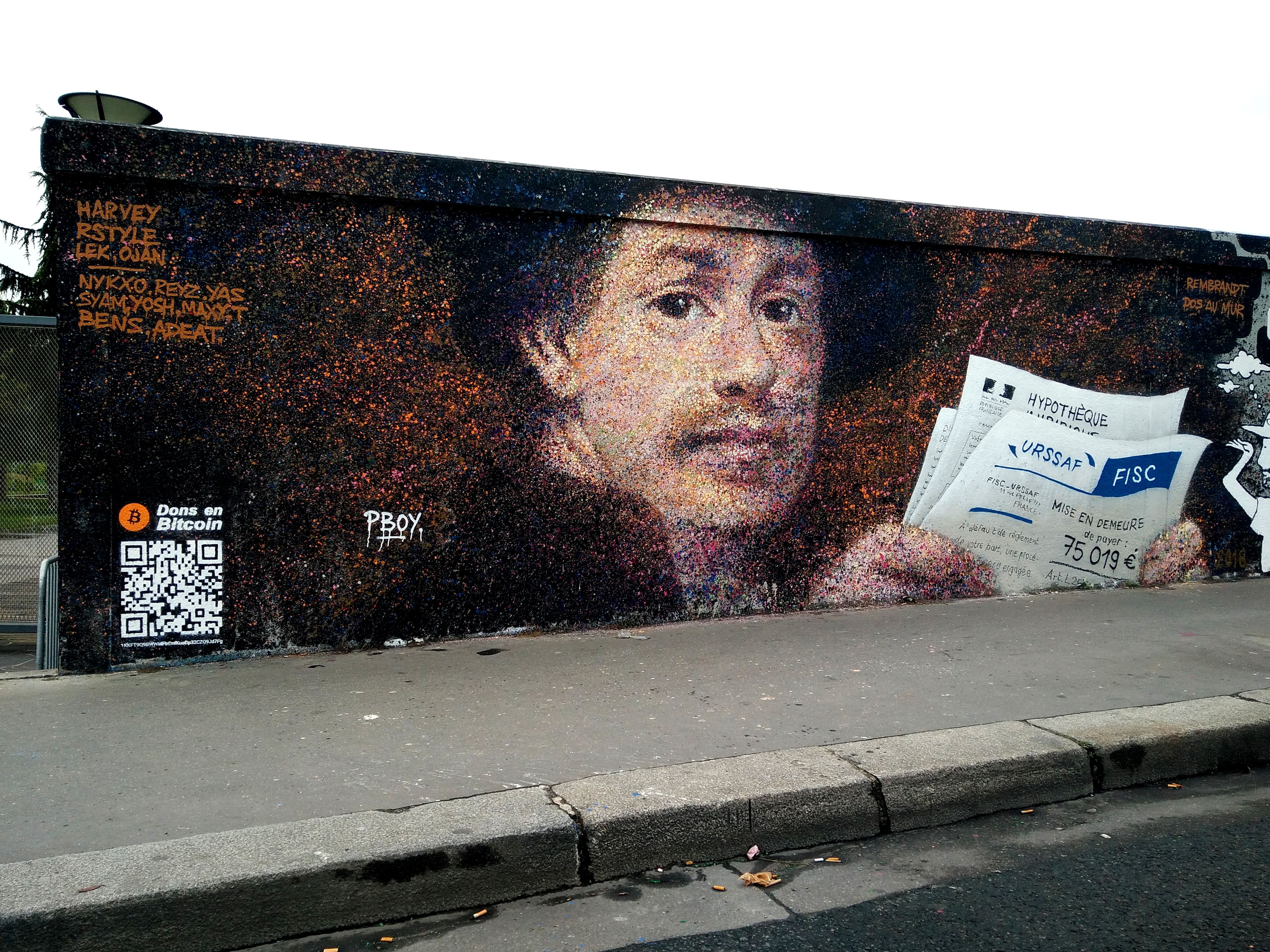 Mural realized on the bridge of the street Riquet, without authorization or remuneration, for the pleasure to give color to the inhabitants of the district.
This portrait of Rembrandt who has to pay his debts to the tax department was painted for two days in a row. The technique used is inspired by Georges Seurat's pointillism and Pollock's dripping.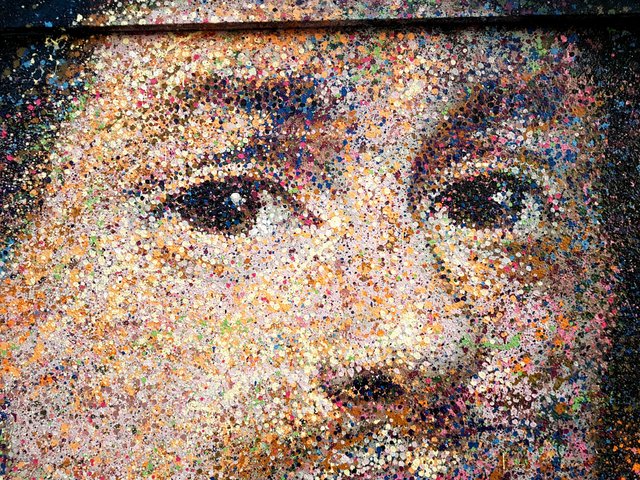 On the left side of the fresco, the artist proposes an innovative Bitcoin donation system with a QR code that allows passers-by to support him directly without going through any intermediary.
Just a smartphone with a Bitcoin wallet to send instant donations.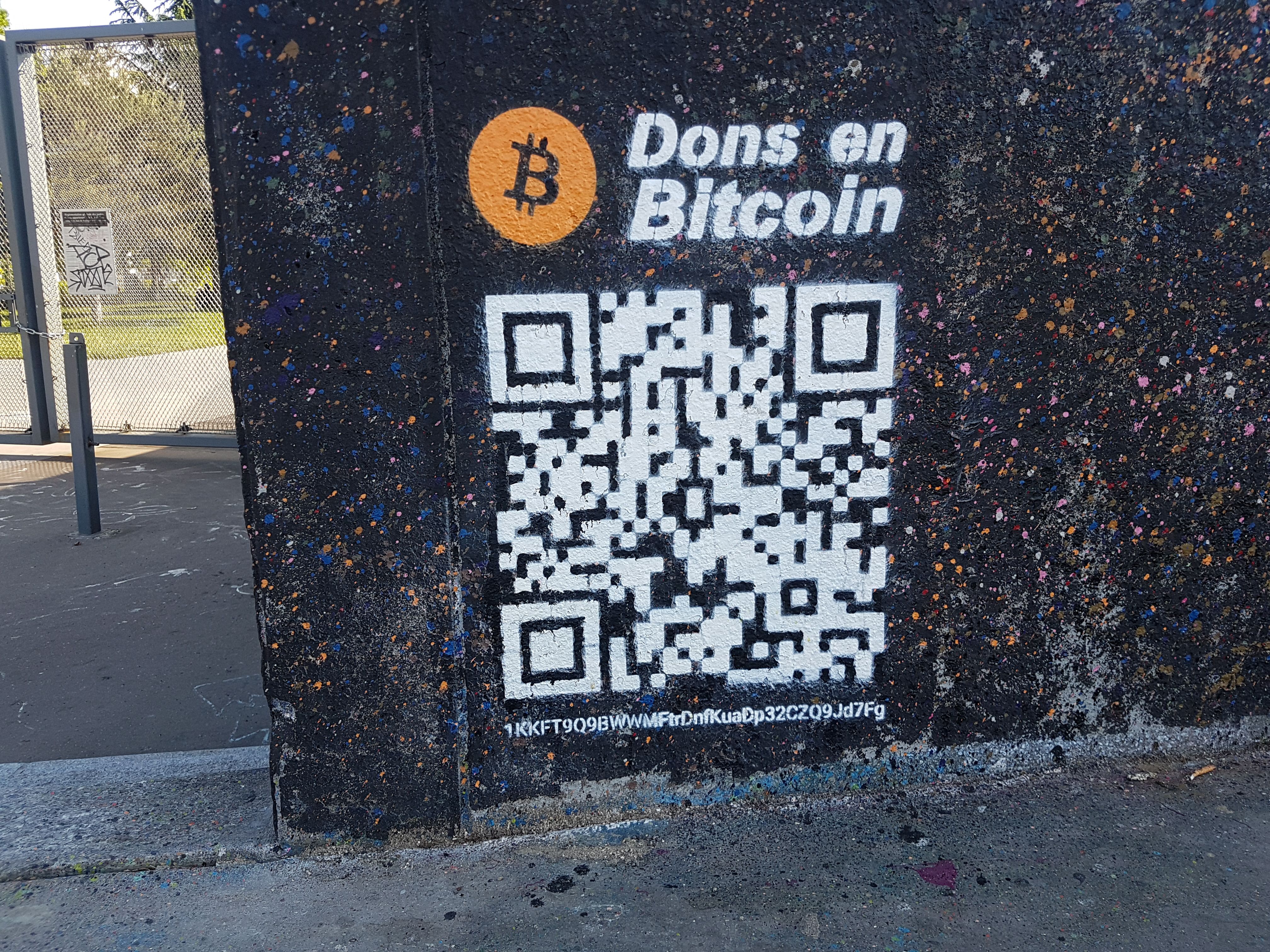 In a week, donations received in bitcoin already amount to several hundred euros (about 0.07 btc). A big thank you to all those who support!
Link on my btc adress : https://www.smartbit.com.au/address/1KKFT9Q9BWWMFtrDnfKuaDp32CZQ9Jd7Fg
Post on reddit :
https://www.reddit.com/r/Bitcoin/comments/8g1vwh/street_art_piece_in_paris_with_a_qr_code_for/
Article on The Next Web :
https://thenextweb.com/hardfork/2018/05/08/street-art-cryptocurrency-bitcoin-qr/
Post on my website (in french) :
https://www.pboy-art.com/single-post/2018/04/30/Rembrandt-dos-au-mur
---
"Rembrandt dos au mur", Paris 2018.
Fresque réalisée sur le pont de la rue Riquet, sans autorisation ni rémunération, pour le plaisir de donner de la couleur aux habitants du quartier.
Ce portrait de Rembrandt qui doit payer ses dettes aux services fiscaux à été peint pendant deux jours d'affilée. La technique utilisée est inspirée du pointillisme de Georges Seurat et du dripping de Pollock.
Sur le coté gauche de la fresque, l'artiste propose un système de dons novateur en Bitcoin grace à un QR code qui permet aux passants de le soutenir directement sans passer par un intermédiaire quelconque.
Il suffit d'un smartphone avec un portefeuille Bitcoin pour envoyer des dons instantanés.
En une semaine, les dons reçus en bitcoin s'élèvent déjà à plusieurs centaines d'euros (environ 0,07 btc). Un grand merci à tous ceux qui apportent leur soutien !
Article sur Newsmonkey.be :
http://m.fr.newsmonkey.be/article/24165?utm_source=Twitter&utm_campaign=SocialMedia&utm_medium=social&utm_content=PostContent
Lien du post sur mon site :
https://www.pboy-art.com/single-post/2018/04/30/Rembrandt-dos-au-mur
#pboy #pascalboyart #painting #peinture #dripping #pointillism #impressionism #contemporaryart #gallery #artgallery #exhibition #artexhibition #acrylic #nistreetartnigraffiti #graffiti #streetart #parisstreetart #streetartparis #portrait #rembrandt #urssaf #fisc #money #bitcoin #btc #cryptoart #cryptocurrency #paris #75019 #rueriquet