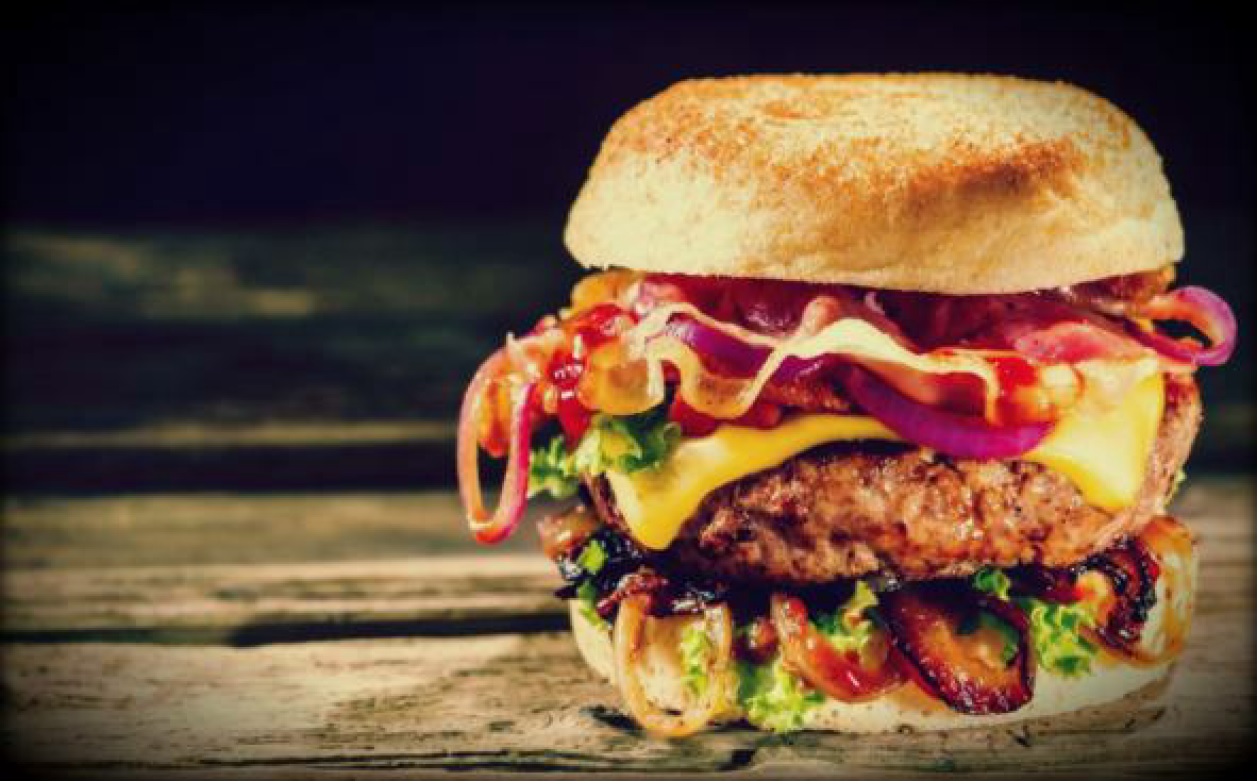 Region of origin: USA
Amount: 6 servings
Is there more "street" food on earth than an ubiquitous hamburger?
It is known all over the world thanks to the global popularization of fast food chains
and is one of the most popular dishes. Anyway, the best and tasty
A burger with a filling is one that you create yourself by adding those ingredients that are
you most of all on vk usu, and omit those that you do not like. In this dish, you
confine yourself only to your imagination, but you should take into account the main rule:
pick up sauces that perfectly match the filling of your burger. Below I will cite
a recipe for an amazing cheeseburger soaked in hot mayonnaise with smoky notes.
Following the cooking technology, you can build your ideal burger yourself. When
desire to add the filling to your liking (tomatoes, cucumbers, onions, etc.).
Onion, grated or finely chopped - 1 pc.
Marmite or other yeast extract - 2 tsp.
Mix of dried spicy herbs (Provencal herbs, Italian herbs and others) -
1 tsp
Beef mince - 1 kg
Mayonnaise - 6 tbsp. l.
Shrimp sauce or any other hot sauce for your taste - 2-3 tbsp. l. (cm.
attachment)
Smoked paprika powder - to taste
Smoked bacon - 18 thin slices
Cheddar cheese - 6 slices
Salad leaves (a variety of your choice) - 1 handful
Salt and freshly ground black pepper - to taste
Ketchup and mayonnaise - to taste (optional)
For rolls:
Flour - 550 gr
Fast-acting yeast - 2 tsp.
Sugar - 2 tsp.
Fine salt "extra" - 1 tsp.
Warm milk - 250 ml
Butter, melted down - 100 gr
Egg - 3 pieces + 1 whipped
Vegetable oil
Sesame seeds - 2 tbsp. l.
For the preparation of buns put in a large bowl of flour, yeast, sugar and salt.
Stir until the whole mixture is combined. Pour in milk, add creamy
butter together with eggs. If you are using an aggregate for the test, you need to start
with a minimum speed, and then increase to medium and continue to beat the dough
within 10 minutes. The kneading process will be completed when the dough acquires
Elastic, shiny and smooth consistency. It is not recommended to knead the dough
hand: the ideal option is to use a food mixer. Place the dough
In a bowl greased with vegetable oil, cover with a food film and leave
room temperature for 1 hour. Also, to insist the test, you can put it
in the fridge for the whole night.
In a large bowl, combine onion, marmite, a mixture of herbs, salt and pepper. Carefully
stir until the pasta is formed, and then add the ground beef and mix again
the contents of a bowl. Form of minced 6 identical size balls, and then
continue to form cutlets with a diameter of 12 cm and a thickness of approximately 1½ cm.
At this point, you can freeze excess portions of cutlets or put them on storage
in the fridge.

As soon as the dough for buns is infused, using the culinary scales to divide it
into 6 equal parts. From each part form a uniform sized bun with a flat
bottom and semicircular top. Place buns on greased with vegetable oil
and leave to stand at room temperature for 1 hour.

For a smoked sauce, combine mayonnaise, shrarach sauce and paprika in a bowl,
seasoning with black pepper to taste. Stir well and place in the refrigerator.

Preheat the oven to 180 ° C. Place the baking tray with water on the bottom of the oven for
creating a humid atmosphere. Lubricate each bun with a beaten egg and sprinkle
seeds of sesame seeds. Bake for 25-30 minutes until dark golden brown
colors. Remove from the oven and cool.

Prepare cutlets for a hamburger in a frying pan or grill, frying them
for 3-4 minutes on each side. To avoid the breakdown of the cutlets and get
caramelized crust, you need to turn them only once.

Fry the bacon slices until golden and crispy. Place
slices of bacon on a cutlet, and on top of a plate of cheese. Cut
cooked buns in half and slightly heat them with a cut side in a frying pan
within 1-2 minutes.

For serving, grease the bottom of each bun with mayonnaise, add leaves
lettuce, and on top place the cutlet along with bacon and cheese. Spread the top
buns with ketchup or mayonnaise, cover the dish and immediately serve