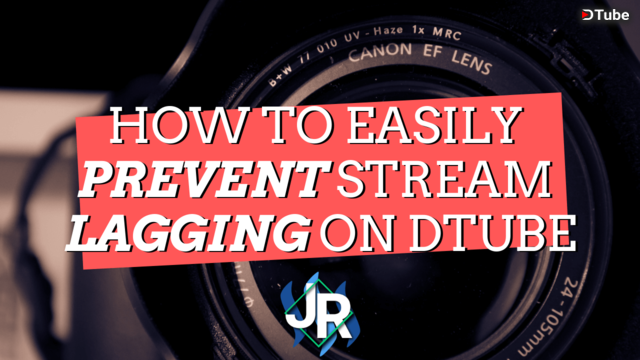 ---
As many of you know, I was really into streaming on Dlive. They did live streaming well from my point of view, and when Dtube added the feature, I found no need to switch.
Now that Dlive has left the STEEM blockchain I will no longer support that platform because STEEM is the most undervalued and over performing blockchain in the world. Not only that but it is the only blockchain that delivers on its promises, and that is coming from a guy who used to be a Bitcoin maximalist.
Dlive was good, but not good enough to make me want to move my live streams off the STEEM blockchain. So yesterday I tested streaming on Dtube. At first, it was a choppy, laggy, and would buffer every minute or so.
It was basically unwatchable from my standards (someone that live streamed full time on sites like Twitch and Mixer). After some tweaking on the fly as my stream was running the viewers and I found a happy medium between what looked good and what was easy for them to watch.
Six steps to prevent Dtube stream lag:
In OBS
Click "Settings."
Click "Output" in the left sidebar.
Set "Video Bitrate" to 600.
a. The higher this is, the more lag you will have.
b. The lower this is, the more blurry your stream will look.
c. For me, on the East Coast of the United States, 600 seemed to be the sweet spot of all viewers.
Set "Audio Bitrate" to 64.
Set your "Encoder Preset."
a. If you have a new and powerful processor, you can set it to "Medium."
b. If you choose medium and your CPU is not powerful enough it will max out and may lock up your computer.
c. Start with the setting "Very Fast" and increase or decrease from there.
Click "Video" in the left sidebar
a. "Base Resolution" should be the max width that is a 16x9 ratio.
b. "Output Resolution" should not be higher than 1280x720.
c. For best results on Dtube be sure to use a 16x9 ration.
Thanks For Watching!
If you have any questions please feel free to comment them below and I'll add them all to my list!
All images came from royalty and attribution free sources unless specified.
---
Looking to take your Steem based creations to the next level?
Join us over at the Creators' Guild Discord group! We are here to encourage, support and increase the creation of quality content.
---
Don't Forget to Vote!


Click here to vote with SteemConnect!
Or go to https://steemit.com/~witnesses
and type jrswab in the box at the bottom.
Want to know more about my witness? Feel free to message jrswab#3134 on Discord, jrswab on steem.chat, or head over to jrswab.cloud for maximum transparency.
---
SteepShot | Mastodon | Keybase | Twitter | Gab
---
▶️ DTube
▶️ IPFS