Millie Bobby Brown's Last Interview
-A Final PAUSE with the Breakout Star of Stranger Things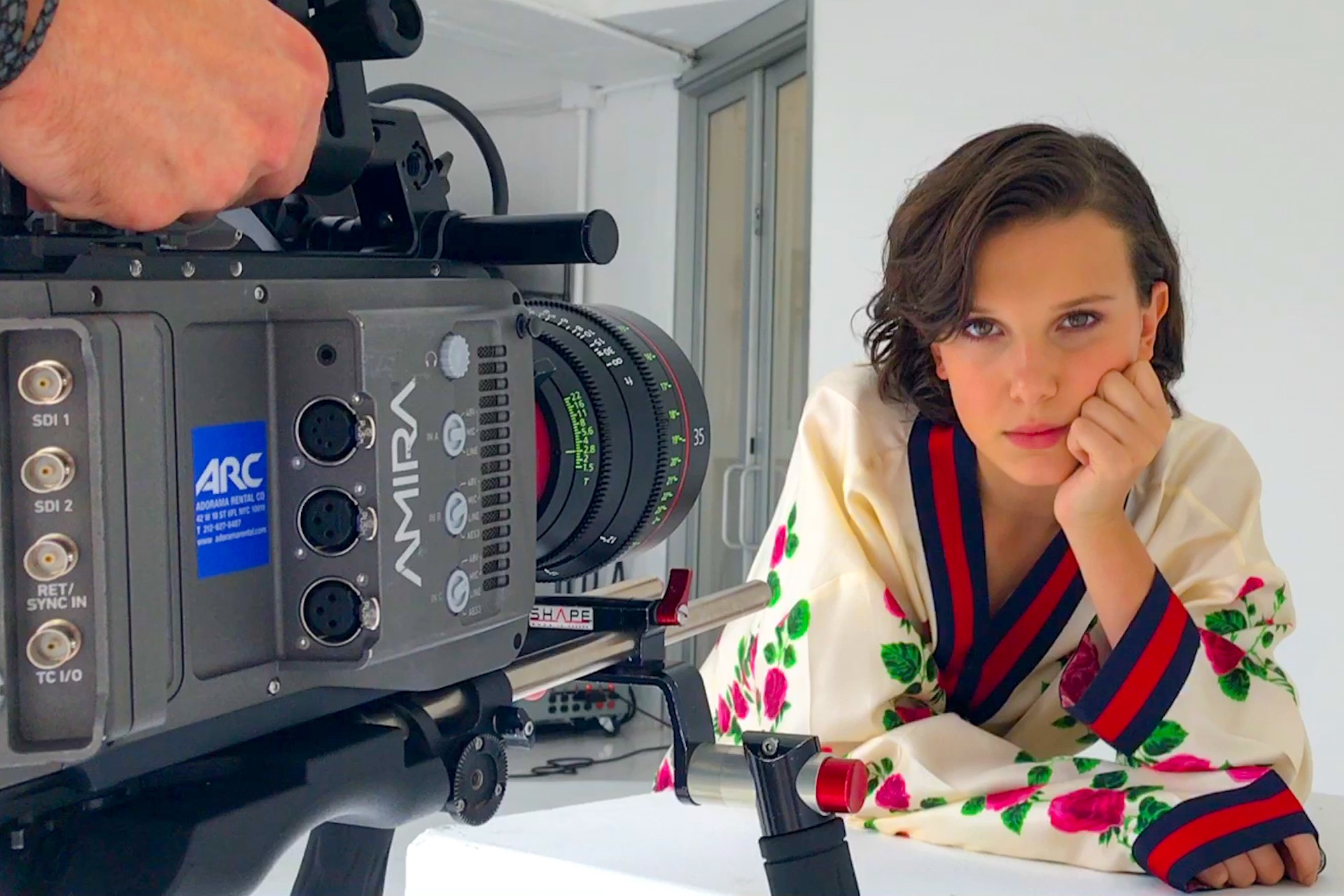 https://d.tube/v/brendanjay/fxn14ov3
Note: This is the English translation of a story that appeared in the November issue of the French fashion magazine L'Officiel de la Mode.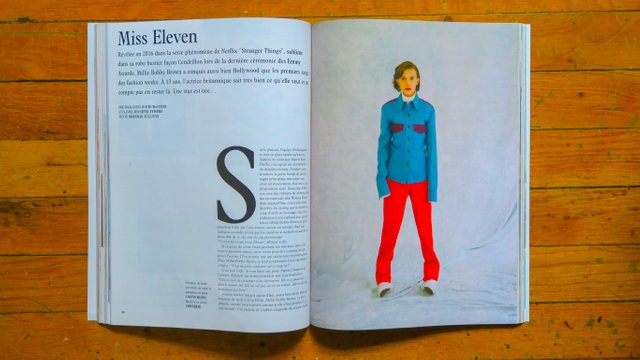 The lighting team moves into position as the twin directors make last minute adjustments on set. The large ensemble cast has to keep moving at all times, keeping to a tight schedule throughout the season. Many of them are film veterans, some of them Royalty like Wynona Ryder, but today the youngest cast member on set will bring production to a STOP. The directors carefully explained all the movement he wants out of Millie Bobby Brown (she's supposed to turn on a faucet). But seconds before the cameras roll the 11 year old on set breaks character and says, "That's not what Eleven would do."
If this happened on another TV show so early in its first season they might just replace the girl. Find someone who can take direction. But Millie Bobby Brown says a shorthand phrase to the directors, "Can you just trust me on this?"
This is their code to do one take from the actor's direction. Hit RECORD and see if it works. "Eleven just escaped a laboratory. She's never been in the real world. She doesn't know how to turn a tap on. She doesn't know."
FAST FORWARD to today and Millie Bobby Brown, now 13, sits upright in a Calvin Klein sports bra retelling this story as if it took place a lifetime ago. An untouched plate of crudités sits in front of her as the hair and makeup people break down from our photo shoot. She has asked that we work through lunch.
"And I didn't turn the tap on," her character has limited speech, so her performance depends on small movements like Nadia Sibirskaïa in the 1926 silent film Ménilmontant, or Audrey Tautou in Le fabuleux destin d'Amélie Poulain—a silent character in world that never stops talking. She had to discover water for herself like Helen Keller in The Miracle Worker. "I was looking at the drip from the faucet. And I was just pushing it. And then it worked and I had to act surprised. 'Oh, water is coming out.' And I gathered it in my hands and just like, gently patted my face. And then that was the scene."
When the series debuted to deafening critical acclaim it was that scene done in that way that captivated the audiences. Viewers binge watched episode after episode. At the end of each episode they hit PLAY on the next.
Whenever adults say that girls mature faster than boys, they're usually referring to these exact years. When the boys are still playing games at recess and the girls are the tallest ones at the school dance. But for Millie that includes her career and aspirations. The boys of this series all smile as if it's just really cool to get to be on a TV show. Meanwhile Millie has already set her sights higher.
Let's REWIND.
Millie Brown was born to English parents in Marbella, Spain in 2004 (during the shoot she sang along to 'Despacito' in perfect Spanish). Her father moved the family back to England when she was 4 and there she found her first love, music. ("I sang 'Valerie' by Amy Winehouse in the car and my grandfather heard me, 'Whoa. She's got some pipes.'") The family moved to Orlando, Florida at age 8. Friendless in the US, Millie took a local acting class, "I knew that I didn't want to be in acting classes. I wanted to be an actor without taking classes." She started to land speaking roles on TV commercials with her doe-like eyes.
"I'd be this girl who grabs a toy and—" She dips from her posh London accent to a cornfed American twang for a Toys'R'Us recap, "Mommy mommy, can I have it?" She then arches into a more mature voice, "No honey, we haven't got enough money." And then the voice over in a third accent, "Well you know this fall all toys are 20% off so buy now!"
This versatility soon got her cast in a challenging role on BBC America's Intruders. Playing a little girl whose body has been invaded by a Joe Pesci-type old man. "Millie Brown is going to be a superstar," co-star John Simm said before it debuted.
But the show fizzled after one season.
Guest roles followed on American network TV shows. Grey's Anatomy, NCIS. She fell from co-star to bit-part. "On Modern Family I was just envious of the other kids who were regulars on the show." Millie's career so far had been lone roles playing "the kid" in adult programs. "I was just like a guest star and I just really wanted to be a regular you know with a trailer. I had a tiny little tent I had to change in."
FAST FORWARD to the release of Stranger Things and Millie only ever sees them at award shows ("Remember when I was an extra on your show?") The kids on Modern Family earn the top salaries in television. But the kids of Stranger Things have got the one thing you can't buy in Hollywood: Prestige.
"I hear this almost every day. People come up to me and say, 'Make time to be a kid. Make sure you stay humble. Make sure you're grounded. Make sure you're always playing with your friends. And I'm like, 'Listen, I'm pretty good so far. And you can't compare me to other actors who might have just made a wrong turn on their path. I am my own individual self and mistakes are part of life. Work is work, to me it isn't work. Being here today is like a day off for me," she gestures at the room.
Millie looks instead like any other 13 year old doing what American kids call "playing dressup." Only instead of wearing her mother's costume jewelry and high heels she has a $20,000 rack of clothes and shoes from Gucci.
"I worked all week and today is my Saturday and I'd rather be doing this than staying home. I can't sit still. I can't watch a movie. Watching movies bore me to death. I love movies and I'll sit there and watch one. But I have to be either eating or writing. My mind is constantly going."
Millie was the only girl among the young kids in the first season. When I tell her that I interviewed her co-star Noah Schnapp earlier her eyes light up, "What did he say about me?"
I detect of course that there are crushes between the actors. (They share tutors, trailers, sleepovers and stories with each other, but they are all different ages from 11-15.) I will say that the other kid actors on the show glow when they talk about her.
"We kids are like siblings. There's no other way really to describe it. We're not best friends. We're like brothers and sisters. We've never even talked about dating to each other. That isn't even part of this. It's genuine friendship. And we experience everything together. Especially season one cast."
She credits Caleb McLaughlin, the lone black cast member, for putting the kids direction above the directors, "Can you trust me?"
"I would class it more like Caleb, Gaten and Finn was our group. But then I drifted off from that group a little bit and gained an incredible relationship with Noah. And I took him under my wing."
(No Spoilers: the plot of Season One begins when Noah's character goes missing, so he was also absent when their little clique formed.)
"And Season Two everybody was kind of like, auditioning Noah. I told them, Look, he's one of us and there's nothing you can do about it. Noah would come over for a sleepover and we were so close. When we started we weren't big actors. If you typed my name in on Google you'd get the girl who pukes."
PAUSE. Wait. REWIND. What did she just say?
"Apparently there's a performance artist named Millie Brown." Before Stranger Things if you Googled the TV guest star Millie Brown you'd find art videos of a woman vomiting. (Thus she added "Bobby" as her middle name for Google reasons.)
Hit PLAY and things get weird:
"We always want to work together. The Core 4."—Her name in English for the four main cast members: "The Core Four."—"Then Sadie [Sink] came and everything changed. The first day of Season Two I looked at her like, 'Oh my goodness there's another girl.' I was stressing out to be honest with you. I was the only girl. There's a ton of boys and they're a gang and you can't ever break that. And Sadie came in the first day and immediately I loved her. She is the sweetest person ever. The first night we met and I had tickets to Adele and I brought her with me. Then I took her to see Sia. And we had our first sleepover and we are best friends. I'm going on vacation with her soon."
If we FAST FORWARD can we see her as a popstar like Sia and Adele?
"For sure I'll do music. When I'm sixteen. I'm not sure yet what kind. I think it's going to be a process. I don't want to write about 'boyfriends' and 'ex-boyfriends' and love. I want to write about something different."
But what about films? Does she have an ideal film role in mind?
"Absolutely. Princess Leia."
And before she even elaborates you can see her perfect vision. Carrie Fischer played Leia at 21. You can see why she's so driven at such a young age to make the most of the different roles that she'll never be able to get again.
I wanted to hit PAUSE on this moment here.
Millie Brown looks you right in the eye when she speaks, she makes every word clear, every moment worth it. And while I appreciate that she spent so much time with me, I'm also very aware that this will be her last interview. We'll see her in photoshoots again and smiling on red carpets. But as she moves on to film—and probably music—it's hard to imagine her just sitting around in a sports bra with some writer from New York talking about their favorite movies and songs while their lunches go to waste.
Most child stars miss this part.
Spend your life on REWIND you end up only looking back.
When you FAST FORWARD you end up missing all the good parts.
Today will be the last chance to PAUSE.
But life is about what happens when you let it PLAY.