It was 5pm in the town of Offa, a suburb located in Kwara State. Kwara state is located in the North Central geopolitical zone of Nigeria. Offa hasn't been a very peaceful town in previous times as they are known to always be at war with their neighboring communities over land issues but that hasn't stopped development from crawling into the town as there are several private schools and Universities, Federal Polytechnic, banks and even a Naval school of health and lots of business men and women.
So, it was like every other normal day on Thursday, the 5th April, 2018. Men and women were seen going about their various activities. As usual, the banks had long queues on the ATM and traders were in the shops attending to their customers when they heard the sound, gunshots.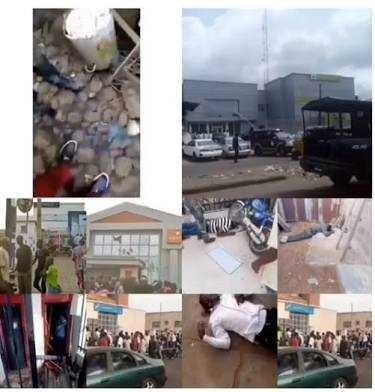 In a minute, there was total chaos. Everyone was running for their lives looking for where to hide. Bullets were flying left, right and center looking for bodies to penetrate and innocent victims were dropping on the floor like birds shot in the air. Sounds of wailing, crying and plea filled the air but who shall save the people of Offa from this evil which has visited them on broad daylight.
I woke up with a start. All I could hear was my sister shouting "Jesus! Jesus!" into the phone.
"What happened?" I asked, my heart seriously pounding. I do not know what it is but I could hear my mum's voice on the phone and so I knew all was not well.
"Armed robbers", my sister answered hanging up the call. "It has happened again. What happened in 2013 has happened again and this time it is bloodier and daddy is not answering his call".
I was destabilized on hearing this. I very well know what happened in 2013 and if she says this is bloodier then it could only mean one thing. Thank God mummy is saved but what about dad? I picked up my phone and started calling my dad but he won't answer. My heart was racing and sweats were beginning to form on my face. My hands were shivering and a thousand thoughts were racing through my heart.
"What if daddy has been shot?"
"What if his shop has been burgled? What if…..."
I had to force those evil thoughts out of my mind and focus of calling him until he picks. An hour thirty minutes later, I called again for the one millionth times and now I got an answer.
"Daddy are you okay?" I quickly asked.
"My daughter, he started, it was terrible. Blood everywhere. It was terrible".
He told me of how the armed robbers numbered about fifty (he believed it was so because of the havoc caused and how they executed their plan) went to the only police station in the town and killed every single policeman and policewoman on duty, killed those inside the cell and even those who came to visit their relatives in the cell or lay complaints.
He told of how the robbers queued up at the bank like customers waiting to make a transaction and how they opened fire on the innocent ATM users. He told of how they strategically positioned themselves in the six banks along Olofa way just few meters away from each other. He also narrated how they came along with grenades used in blowing up the banks security doors.
My greatest fear was my daddy. His shop is directly opposite one of the banks and I was scared to my bones because he was in the center of it all. To worsen it all, he also narrated of how a grenade was thrown towards his shop but fortunately for him, it blew up the next shop just beside his. Fortunately for the family that owns the shop, they have all ran into my father's shop for cover and so came out unhurt. Meanwhile, daddy took cover in a dilapidated public toilet where others also came to join him so as not to be hit by the stray bullets.
Many men were made widowers and women made widows, children made orphans and banks lost their staff. It was an ugly incident. It was a may day in April. My neighbor was so lucky that when they wanted to shoot him, the gun wouldn't cork even with a loaded magazine and all he sustained was an injury from the gun's butt and his car that was taken away.
When my father started counting those I know that lost their lives and were injured, tears flowed freely from my eyes. Tears of gratitude. what if the call we had received was "your dad was hit by a stray bullet?" God forbid right? It is not my portion right? Yeah I agree but then whose portion is it? All I can say is THANK YOU LORD!