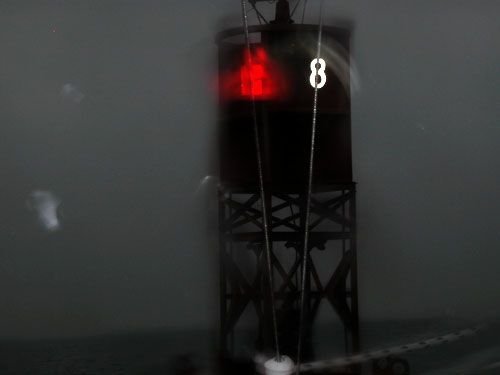 ---
I.
I was underwater, at night. Boats on the surface were hunting me. I'm not sure why, but it was clear my life was on the line. If they saw me swim to the surface for air, I'd be shot.
My only hope was to get out of town undetected. I was navigating rivers and trying to make my way into the bay. I could see the keel of a boat blocking out the shimmery moonlight above. Occasionally a barrel would tumble over the side and sink down - depth charges! They bloomed in the watery distance and sent shock waves to tumble me over. For a while I thought that I had lost my hunters, but when I swam in a new direction, they turned as well. So they knew my direction of travel, if not my precise location. Good enough for them and bad enough for me: if I didn't get to the surface for a breath of air, I'd drown. But I couldn't seem to shake them. I could feel the desperate need to breathe building in my chest, until I woke up, gasping.
II.
On the way to the train station, I went through the Donut Place drive-through for my usual order: A blueberry donut and a glazed stick. But when I got on the train and looked in the bag, there was no stick at all! They'd given me a chocolate donut instead.
"Oh well," I thought. "Not my favorite, but it'll do."
---
It wasn't until I got on the train this morning that I realized this never happened.
Now I kind of want a chocolate donut.
---
Go ahead and psychoanalyze me, bros. I can take it!