I reached forward, her back was to me and I gently placed my hand on the outside of her own. She was so tiny in front of me, like a little bird. There was no certainty how she was going to react but I had a feeling and after a slight pause, she curled her small hand around my fingers.
We stood on a darkened and crowded dance floor, watching the teachers in the spotlight demonstrate a pattern and she ever so slightly leaned herself back so her shoulders fell on my chest. I knew at that point that I was going to marry this girl.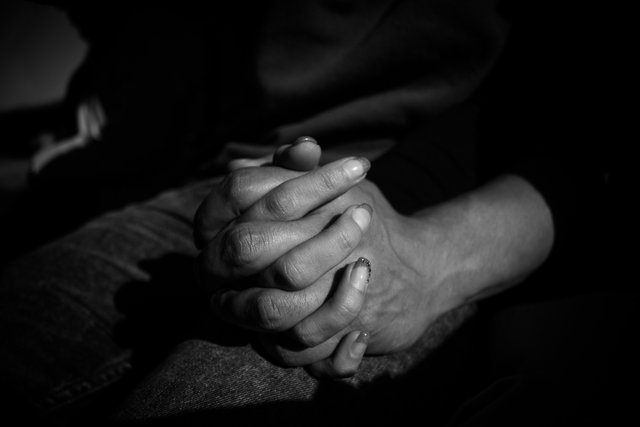 Of course the story she would tell would be slightly different. She would say I used a line (which I did say, but it wan't a line) and that it didn't work (yet here we are married with a child 8 years later) on her.
Many years ago, I drew a picture in a sketchbook of a woman and I still remember it today, even though I have no idea what happened to the sketchbook itself. I wanted to look into the future a bit and think abut what I wanted in a partner, I even wrote some basic attributes down I thought I might one day consider valuable.
The weird thing is, that when I first saw my wife dancing, it was that picture that came to mind and I hadn't thought about it for a decade or more. It was her. Or at least, her enough to remind me of the picture. Funny isn't it?
One thing I wrote was 'Good mother' and I have lucked out there, as has my daughter as she is awesome with our daughter and I think as she grows, she will realise how lucky she is to have this woman as a mother.
My wife never met my mother and has only been able to spend a very short few minutes with my dad. My wife has asked if my mother would have liked her and the answer is a resounding, 'No, my mother wouldn't have'. My mother didn't really like anyone though so, it is not about my wife. My Dad liked her though but, 'He likes everyone' so that doesn't really help her cause either.
Our relationship is no fairy tale though and comes bundled with a lot of clashing of minds and wills. We are both strong (read stubborn) people and we challenge each other more than we don't. It was one of the attributes I wrote on me sketch. I want to be challenged, I want someone who will demand more from me and help me be better tomorrow than I was today. It would have been nice if my wife had sketched out me though.
But, even with all the hurdles we have faced, and all of the times we have annoyed the hell out of each other, going forward, we will still be in it together for the long-run and I hope it will always be that way too.
I was going to write a fictional love story for Valentine's day but, I don't buy into the trap that is modern day romance. People want only good times, only upside, only honeymoon. That is not where love lays. It is in the hard times and the struggle, in the arguments and the conversations trying to work out how to pay for the groceries and baby formula. Love isn't sweeping off the feet, it is grounded, centered and practical where two people work together to be better individuals for each other.
Taraz
[ a Steemit original ]