Earthquake and Tsunami in Palu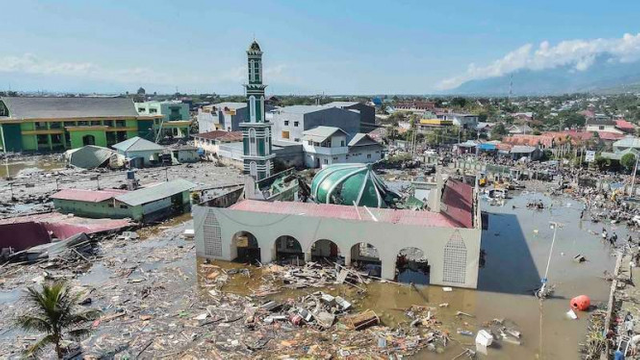 Baiturrahman Mosque and its surroundings in West Palu after the post-earthquake tsunami Photo: ANTARA / Muhammad Adimaja
The Lombok earthquake which occurred in mid-August 2018 has not disappeared from memory, debris is still scattered, and recovery is still ongoing. But nature seems to still not want to be silent.
A cheerful dusk on the coast of Talise, Palu, on Friday, September 28, 2018, turned dark. Pangs of fear, crying, and panic blend into one. A very violent earthquake shock caused residents to scatter, run, get out of their homes and save themselves. There are no objects they can carry. Only clothes and hugs close to the closest family.
Not yet over panic and fear, nature continues to hit. New screams scattered. "Water rises, water rises, tsunamis, tsunamis ...," suddenly the shouting rang out.
Afdal, a resident who lives on the coast of Palu and is only 150 meters from the beach immediately ran with his three children. As hard as he could get away from the brunt of the water.
Afdal is lucky. He and his three children survived, but five of his extended family members had no news.
On Sunday, September 30 2018, Afdal claimed to find his aunt about 200 meters from where they lived. But the aunt has passed away. "Until now in our family, there are five recorded missing. One of them is a nephew who is only two years old," he said.
The earthquake that hit Palu and Donggala on Friday, September 28, 2018, towards the end of Maghrib was very strong. The Meteorology, Climatology and Geophysics Agency said the earthquake magnitude reached 7.4 on the Richter Scale. The earthquake caused a tsunami on the coast of Palu. Two concurrent natural events resulted in a high death toll.
The National Disaster Management Agency (BNPB) released the news on Sunday, March 30 2018. According to BNPB, until Sunday, at 1:00 p.m., 832 people were killed, 821 people were killed in Palu and 11 other victims in Donggala. Severe injuries were recorded at 540 people, and the number of refugees reached 16,732.
The Head of the Information Data and Public Relations Center at the National Disaster Management Agency Sutopo Purwo Nugroho admitted that the number of victims could still continue to grow. Because there are still many victims who are still trapped in the rubble, but cannot be removed because there is no heavy equipment that can be used to help find them. There are six buildings suspected that there are still many people trapped. "At the Roa Roa hotel, it is estimated that there are still 50 to 60 people trapped in the rubble, then at the Ramayana mall, then at the Dunia Baru restaurant, Talise Beach, Bala Roa housing, and a number of other collapsed buildings," Sutopo told reporters.
Social activities in Palu and Donggala are also totally paralyzed. Power outages and a non-functioning telephone network make people more real. Communication becomes difficult, and people cannot move comfortably because of the dark atmosphere.
Menkopolhukam Wiranto, who had already been in Palu, said he had ordered PLN officials so that electricity could be normalized immediately. "Because electricity needs are very vital, and the community really needs to go back to running their lives," Wiranto said.
For the Indonesian version you can read it at the source