I am an art history buff, ever since 7th grade when I was "forced" to take an Art and Music appreciation class. It was a mandatory class, but while my classmates might have seen it as a drag, it was one of my favorite classes.
I developed a love for the Romantic era, circa 1770-1830 (ish). Little did my preteen self know that it would begin a life long love affair with all things Gothic. This period saw the revival of Gothic architecture, the wonderful "penny dreadful" novels, a darker, richer use of color in art, and a return to classical themes such as nature and religious myths.
With artists such as Henry Fuseli: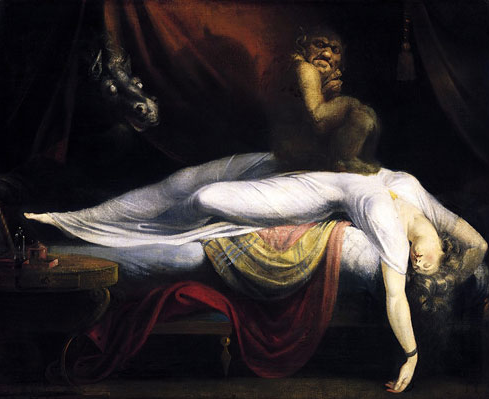 Eugene Delacroix: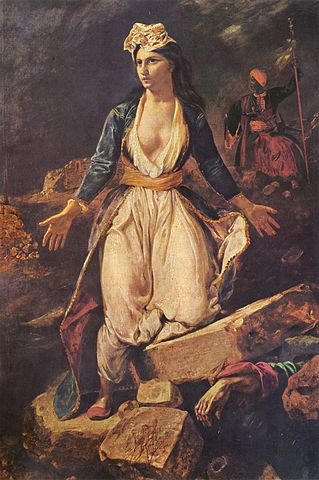 And my personal favorite, Hans Makart: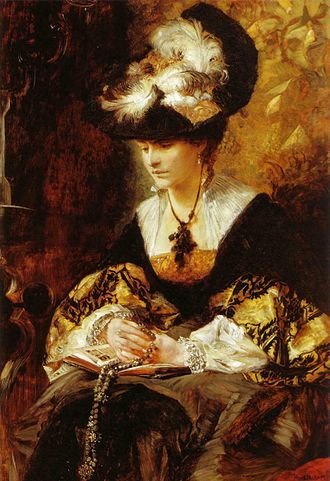 Art became more about the emotions of the artist and self expression, rather than the staunch regulations of the classical art schools. The idealistic and spiritualistic push from the younger revolutionaries spilled over into everything. From poetry to fashion, and invention. The Industrial Revolution was just a spark on the horizon, but you could feel the movement away from the rigid stricture of the Puritanical late 17th and early 18th centuries.
You had poets such as Lord Byron musing in his absinthe induced cloud;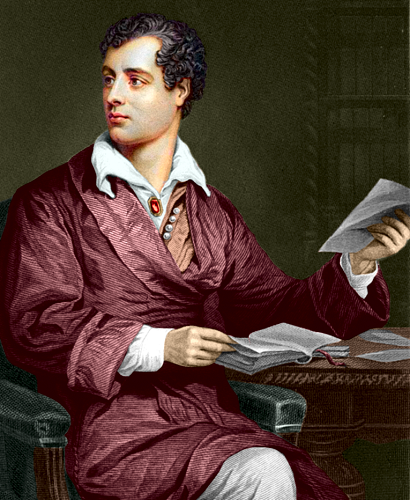 She Walks in Beauty
BY LORD BYRON (GEORGE GORDON)
She walks in beauty, like the night
Of cloudless climes and starry skies;
And all that's best of dark and bright
Meet in her aspect and her eyes;
Thus mellowed to that tender light
Which heaven to gaudy day denies.
One shade the more, one ray the less,
Had half impaired the nameless grace
Which waves in every raven tress,
Or softly lightens o'er her face;
Where thoughts serenely sweet express,
How pure, how dear their dwelling-place.
And on that cheek, and o'er that brow,
So soft, so calm, yet eloquent,
The smiles that win, the tints that glow,
But tell of days in goodness spent,
A mind at peace with all below,
A heart whose love is innocent!
How could the world not fall in love with him?
I could write about this subject forever, but I won't LOL It is easy to see why I have such a penchant for waxing poetic though isn't it? Not only did the artists influence my own work, but the spiritual and altruistic ideals shaped my very young brain into a human being who was perhaps born in the wrong time.
I hope I haven't bored you too much with my trip down memory lane. Everyone has their "safe space", art is mine. Thank you for taking the time to read this, I really do appreciate it.
Until next time, be nice, remember we all have struggles.
~Tabz
My links;
https://www.amazon.com/Tabz-Jones/e/B01CID4SAO/
https://www.facebook.com/groups/TabzColoringStalkers/
https://www.youtube.com/channel/UCyoBGvbY129LPmAcvUWy0qA
https://www.zazzle.com/mbr/238090268902612703?rf=238090268902612703
Website:
https://www.ivyandbat.com/
https://www.gothictoggs.net
FaceBook: https://www.facebook.com/ivyandbat/
Twitter: https://twitter.com/ivyandbat
Instagram: https://www.instagram.com/ivyandbat/