First Threesome in Bangkok & Go-Go Bar Chicanery
For years my girlfriend and I talked about having a threesome so when we finally had the chance to go to Bangkok and make it happen, I was elated that she didn't chicken out.
Bangkok has three major red light districts: Patpong, Soi Cowboy, and Nana Plaza. I read some pretty horrible stories online about guys getting scammed, but I was there for a month and had no problems.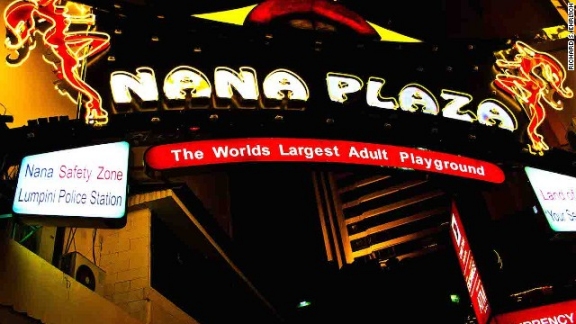 We hit up a highly recommended bar in Soi Cowboy first called Crazy House which is one of the very few places where the girls get fully naked. Around 10pm is when these joints start getting busy. There are no entrance fees for any of these bars, but be expected to buy one drink per person if you're going to stay longer than a couple minutes. If not, it's easy to pop into a bar and if you don't like what you see, turn around and just leave. The drinks are around 120-150 Thai Baht each which is approximately $3.70 per drink.
None of the bars we went to had any problem with my girlfriend and several other guys had brought their girlfriends too so we didn't feel out of place. Crazy House had tons of ladies and a glass floor between the first and second floors and plush couches which gave it a swanky vibe. Girls danced on poles and the waitresses were very attentive. I believe every girl, with the exception of the waitresses, are available to take home. My research indicated that 3,000 baht for 2-3 hours (what's known as "short time") is pretty standard, not including a bar fine, which is around 700 baht, paid directly to the mamasan who runs the bar.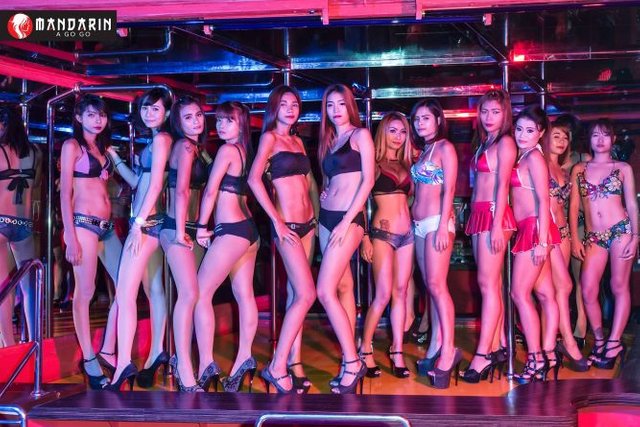 After a beer, we decided to walk up and down Soi Cowboy - a block full of go go bars with young girls in skimpy outfits standing outside trying to lure guys inside. Unfortunately, these bars put their best looking girls out front. Once inside, the guys are subjected to the mediocre looking girls.
A few nights later we decided to order a girl on smooci.com. We agreed on a girl, submitted our order online and included the name of the hotel we were at and the room and I kid you not, less than one minute later, I get a call on my phone. It's smooci and they're calling to confirm our "order." So my girlfriend and I started downing the beers and 2 hours later this girl shows up at our hotel door.
And......crap. While it's the same girl in the pics, it was clear they had photoshopped the shit out of her. Her pics made her look like a 9 out of 10, but in-person she was more like a 6. She was really pleasant though and my girlfriend liked her which was a big plus. I forgot to mention on smooci.com that the escort would be meeting a couple, which meant as far as the agency was concerned, I'd be paying 3,000 baht instead of 6,000. I told our escort that I would give her the full 6,000 and as far as I was concerned, the agency didn't need to know. She was very happy about that.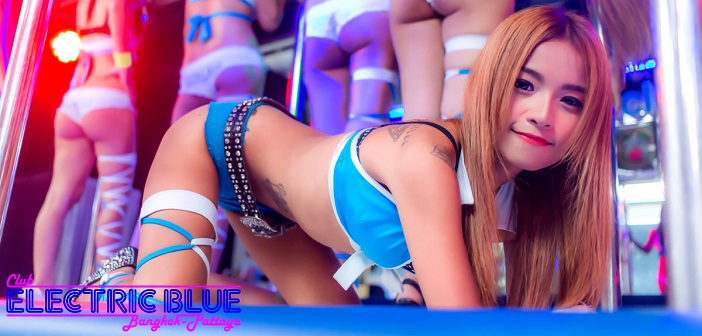 In exchange for my gf agreeing to go through with this, she made me promise not to kiss the escort on the lips, go down on her, or have sex with her and I dutifully relayed all of this to our escort. She was really easygoing so it was no problem.
After about 30 minutes of chit chat, which helped me and my girlfriend feel more at-ease, our escort asked if we'd like to "start". So I slid over towards my girlfriend on the couch, who was pretty nervous, and started kissing her and the escort started kissing her neck and before long, she was going down on my girlfriend. My gf was more into it than I thought she'd be which was a nice surprise. It was surreal. Then we headed over to the bed.
Overall the experience was a good one. Even though the escort's moans seemed a little forced, I was more focused on my gf's excitement. While I would have had a better time if the escort had been more attractive, her attitude and eagerness was a real turn-on. Not only did my girlfriend go down on her voraciously, but my dreams of having a double blowjob were fulfilled.
Before the trip, I agonized about every little detail of our encounter, but once it started happening, I realized I had overly complicated it. I think the biggest concern I had was that my gf wouldn't be into it and it would all end up being a mistake.
During the span of about 2 hours, I gave my girlfriend 4 orgasms. After each orgasm, my girlfriend would basically shutdown and lay on the bed, almost frozen and in shock (this was pretty normal behavior for me). It was a bit awkward because the escort would look at me like "uhhh is she ok." Then my gf would "come back to life" and she was ready for more.
Finally I told the escort we were done for the evening, upon which she jumped off the bed and headed for the shower. She didn't even bother to dry off, just slipped her clothes on. We thanked her and before I knew it, she was gone.
The next morning, my gf proclaimed "well now I know for sure I'm not a lesbian or bi-sexual." Well that may be the case, but she went down on another girl like a champ. I couldn't have been prouder!
For the rest of the trip, we only hit up go go bars. There was some talk about having another threesome, but by that time, we had moved to another hotel that wasn't "guest friendly."
In Patpong we hit up Bada Bing and Electric Blue, both of which didn't feature any shows, so they weren't much of a hit with my girlfriend. At Electric Blue, my girlfriend went to the bathroom and I tipped one of the dancers 100 baht and mentioned it to my gf when she got back. For some reason, she got pissed at me about it. That was a lousy night.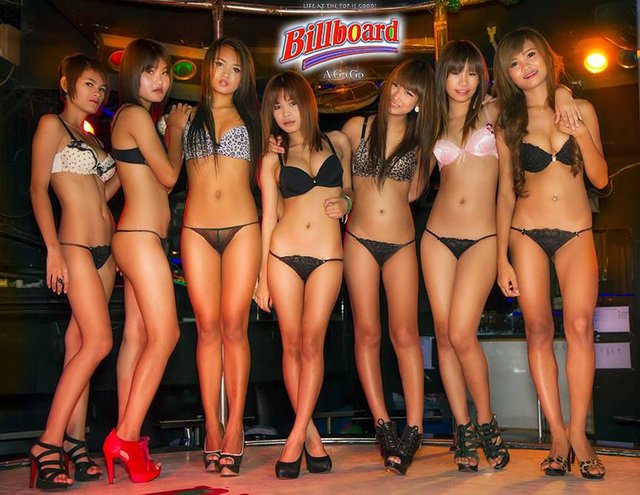 If you're ever in Patpong whatever you do, do not take anyone up on their "ping pong show" offer. It's an outright scam and you will be hustled. Someone will lead you into a building and the next thing you know, you're being hit with a bill for 5,000 baht! I read Susie Wong's in Soi Cowboy has the best ping pong show in Bangkok, but we didn't check it out.
At Nana Plaza, we sat at some of the bars and people watched, then hit up Spanky's (great shows and really fun atmosphere) and Enter. Enter had one of the sexiest girls dancing on the stage, but it was empty and our waitress was this annoying fat chick who kept trying to get us to buy her a lady drink. After forcefully having to tell her no, we felt uneasy and compelled to leave. Spanky's however, turned out to be the most entertaining. People threw paper airplanes around the bar, confetti was everywhere, and the girls would hit you with a harmless paddle when you walked by the stage. This was also the only bar that had some really great rock music playing, instead of that God awful repetitive electronic dance music.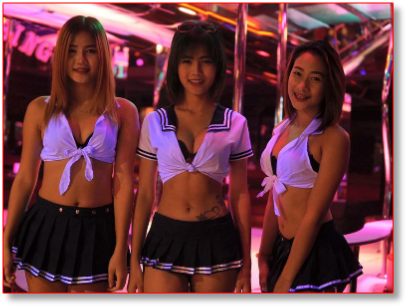 One weird thing was when I got back to our table after using the bathroom just before we left, my girlfriend told me that this Indian dude behind her tapped her on the shoulder. When she turned around he waved some money at her, but she rejected his ass so we had a good laugh at that.
Also at Nana, we stopped in at Billboard for a couple of hours. They have a rotating stage on one side with about 10 girls and a gigantic bathtub on the other side of the bar with about 20 girls. The girls on the stage seemed better looking and just danced on polls, while the girls at the other end were dancing in bubble bath with their tops off.
Each bar had their own vibe going. The single guys got the most attention from the ladies and sometimes the mamasans would go right up to them and ask them which girls they liked. She would then go straight up to these girls and tell them to go sit by the guy who chose them. I read online that these girls could be pushy in trying to get the guy to order them an overly priced drink, but I personally did not witness this kind of behavior. Most of the guys didn't seem to be ordering these girls drinks. Some of these guys were even blatantly grabbing these girls all over the place. This one dude at the table next to me had his hand in this girl's bikini bottoms. Only in Bangkok!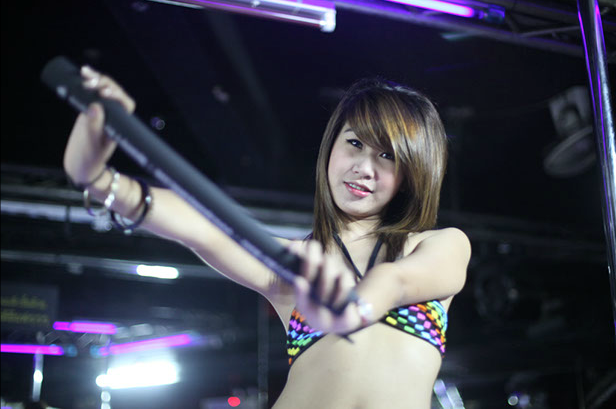 Now I've been to my share of strip clubs in the US and I can say with authority that they pale in comparison, barring a full on sex show I witnessed between several girls at a joint in South Carolina once. In Bangkok, not only can you grope these girls right out in the open (not my style, but to each his own), but you can also drink to your heart's content - both of which would be impossible, even in Las Vegas.
In conclusion, if I could rewind time, I would have made sure my girlfriend and I had chosen a girl for a threesome from one of the go-go bars where at least you can get a better idea of what you're getting up-front. Places like Entry, Blue Electric, and Bada Bing weren't very couples friendly because they didn't have any entertaining shows, but Spanky's and Billboard (both in Nana Plaza) were lots of fun.
Of course I would be remiss if I didn't mention the tons of massage parlors on soi 23 (Soi Cowboy) area where the girls would stand outside and call out to any single guy walking by to come in for a massage and "whatever else" they wanted or the street hookers across the street from Nana Plaza who, surprisingly weren't bad looking but with a street hooker, you never know what kind of diseases they could have. At least with an escort agency or a go-go bar, the girls are regularly tested, for what it's worth.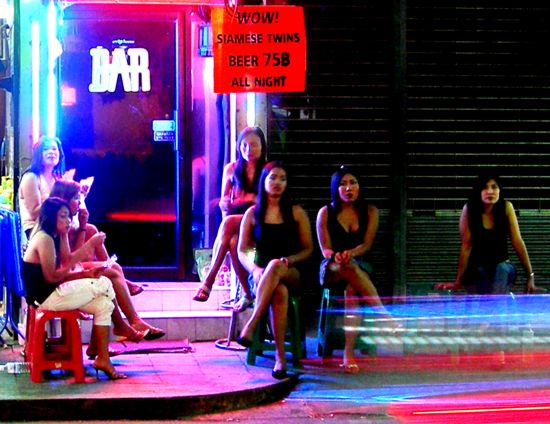 Oh and one other thing, we would frequently walk down Thaniya street which is a real oddity where groups of girls sit down on plastic chairs, most messing around on their phones, waiting to be picked out to go home with a guy. For some reason, this area is mostly frequented by Japanese guys. In fact, I hung around long enough to notice that the pimps really only go up to Japanese guys, offering to show them the available ladies. I was told that Japanese guys are easy targets because they don't mind paying full price most of the time. White guys, on the other hand, like to haggle and negotiate more.
Overall the experience was eye-opening. I'm sure had I been a single guy meandering around these streets, I would have been much more of a target. Walking around with my girlfriend gave me a bit of a protective shield and stopped a lot of these mamasans and street solicitors from doing their sales pitches on me (some were thoroughly unscrupulous and still engaged me haha).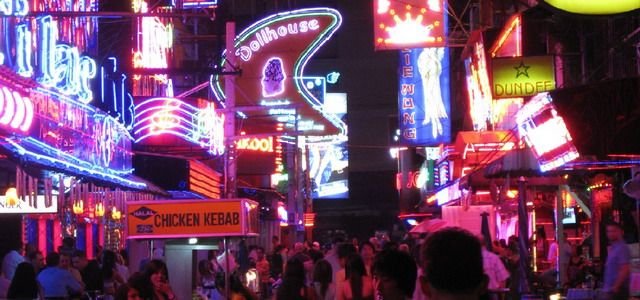 I spent a lot of time researching these joints online before landing in Bangkok and I feel that the forums and blogs made a lot of these places seem overly sketchy. My advice would be to stay away from the ping pong show solicitors, only go to well-known establishments, and make sure you order a drink if you're going to stay for a bit.
I will never forget my trip to Bangkok :P