MARADONA -- ARGENTINA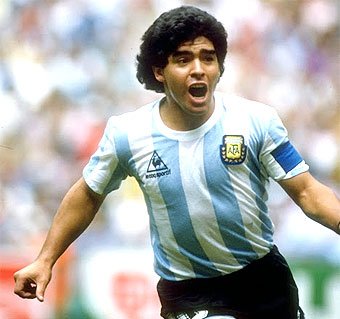 No consecrated footballer had denounced the masters of the football business. He was the most famous and most popular athlete in all times who broke spears in defense of players who were not Famous or popular.
This generous and supportive idol had been able to commit, in just five minutes, the two most contradictory goals in the history of football. His devotees venerated him for both: not only was the goal worthy of admiration of the artist, embroidered by the mischief of his legs, but also, and maybe more, the thief's goal, which his hand stole.
Diego Armando Maradona was adored not only for his prodigious juggling but also because he was a dirty god, sinner, the most human of the gods. Anyone could recognize in him a itinerant synthesis of human weaknesses, or at least male weaknesses:
womanizer, tragón, borrachín, cheater, liar, braggart, irresponsible.
But the gods do not retire, no matter how human they are.
He could never return to the anonymous crowd he came from.
Fame, which had saved him from misery, made him a prisoner.
Maradona was condemned to believe himself Maradona and forced to be the star of each celebration, the baby of each baptism, the dead one of each wake.
More devastating than cocaine is success. The analyzes, of urine or blood, do not give away this drug.