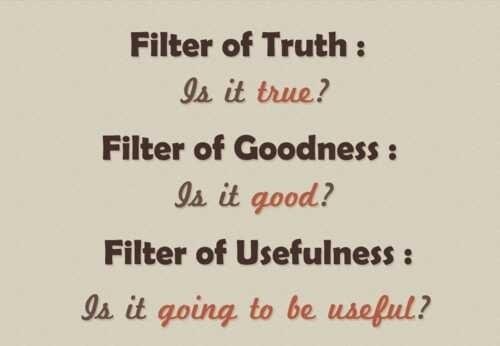 In old Greece, Socrates was rumored to hold learning in high regard. One day an associate met the considerable scholar and stated, "Do you recognize what I simply caught wind of your companion?"
"Hang on a moment," Socrates answered. "Before you converse with me about my companion, it may be smart thought to pause for a minute and channel what you will state. That is the reason I call it the triple channel test. The principal channel is Truth. Have you ensured that what you are going to let me know is valid?"
"All things considered, no," the man stated, "really I simply found out about it and… "
"OK," said Socrates. "So you don't generally know whether it's actual or not. Presently, we should attempt the second channel, the channel of Goodness. Is the thing that you are going to enlighten me concerning my companion something great?"
"Umm, no, despite what might be expected… "
"So," Socrates proceeded with, "you need to reveal to me something terrible about my companion, yet you're not sure it's valid. You may in any case breeze through the test however, on the grounds that there's one channel left—the channel of Usefulness. Is the thing that you need to enlighten me concerning my companion going to be valuable to me?"
"Actually no, not by any stretch of the imagination."
"All around," finished up Socrates, "if what you need to let me know is neither valid, nor great, nor even valuable, why instruct it to me by any means?"