何必纠缠自己(双语_中文_英语)&Why bother yourself (Bilingual_Chinese_English)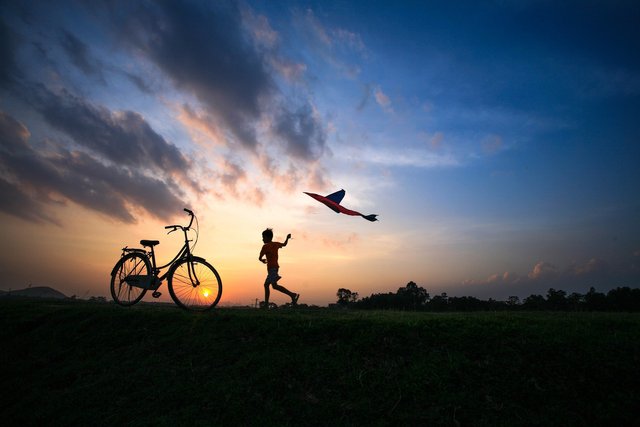 图片来源:https://pixabay.com/photos/field-child-bike-kite-sunset-fun-6558125/
中文:
挪威心理学家诺德斯克曾在军队服役一年,一次突然的军事演习,由于时间紧急,诺德斯克来不及系好鞋带便匆忙上场集合,就在他准备俯身系鞋带时,演习开始。
从那一刻起,诺德斯克无时不在想着那根没系好的鞋带,万一松掉,绊倒自己,闹出笑话,该如何是好……就这样,它一直无法集中精力。
结果不幸发生:诺德斯克左腿中弹受伤。而事实上,那根鞋带一直很好地系着。
后来,诺德斯克根据这一经历,提出了著名的心理学定律——〈心理衍射论〉我们的大脑往往容易为一些不相关的小事纠缠,而导致精神无法集中或者注意力发生偏差。
你越在意,偏差就越严重,你纠缠得越久,事也就越烂,如果你和烂事纠缠一辈子,那么你永远都会陷在廉价的生活之中。
人生最大的悲剧就是和一个烂人为了点烂事纠缠了一辈子,基本上你已经丧失了其他的可能性,经济学上称之为"机会成本"。
为了得到某种东西而需要放弃另一些东西的最大价值。也就是说,同样的资源你怎么分,同样的抉择你怎么做,可以看出一个人的智慧和层次。
如果你为了一个打碎的花瓶,把孩子打得不敢大声说话,那么你孩子的勇气也就值这个花瓶了。
如果你为了一句话纠缠几十年,那么你几十年的价值也就值这句话而已。
不是因为烂事不值得争取,而是人生中有更多的大事等你去完成。
所以,马云不会为了有人骂他,而一个个怼回去;王健林也不会为了一块过期的牛肉,和店家理论一下午;李嘉诚也肯定不会为了买一斤便宜的豆腐而排上两小时的长队。因为,还有更重要的事情等着他们去做。
纠缠与固执等待,反而是另一种伤害,彼此紧握的手松开,去拥抱更多未来,错过的时间怎么买,谁都付不出来,或许我们学会释怀,让过去安静下来。
与其纠缠不清,不如及时放手,让过去安静下来,也让未来明亮起来!
报长阅读心得:
别让生活的一些小事纠结于心,最后成为肉里的那根剌,剌的自己内心血肉模糊。
成长不是年纪的增加,而是心灵的成熟,懂得停损、懂得放下,懂得为了过去式的恋情纠结,就会失去新的缘份,为了小事纠缠,就会浪费时间,无法去追求更有意义的事。
有句广告词很棒:「生命就该浪费在美好的事物上」,千万不要浪费在纠结某些不愉快的事物上。
Image Source:https://pixabay.com/photos/field-child-bike-kite-sunset-fun-6558125/
English:
The Norwegian psychologist Nordske served in the army for a year. During a sudden military exercise, due to time constraints, Nordske hurried to the court before he could tie his shoelaces. Just when he was about to bend over to tie his shoelaces, the exercise began. .
From that moment on, Nordske kept thinking about the unfastened shoelace, what to do in case it loosens, trips over, makes a joke... just like that, it has been unable to concentrate.
The result unfortunately happened: Nordsk was shot and injured in his left leg. In fact, that shoelace has been tied well.
Later, based on this experience, Nordske put forward the famous psychological law-"Psychological Diffraction Theory" Our brain is often easily entangled in some irrelevant small things, resulting in mental inability to concentrate or attention deviation.
The more you care, the more serious the deviation, the longer you entangled, the worse things will be. If you are entangled with bad things for a lifetime, then you will always be trapped in a cheap life.
The biggest tragedy in life is to be entangled with a bad person for a whole life, basically you have lost other possibilities, which is called "opportunity cost" in economics.
In order to get something, you need to give up the greatest value of other things. In other words, how you divide the same resources and how you make the same choices can show a person's wisdom and level.
If you beat your child so hard to speak loudly for a broken vase, then your child's courage is worth the vase.
If you are entangled in a sentence for decades, then the value of your decades is worth the sentence.
Not because bad things are not worth fighting for, but because there are more big things waiting for you to complete in life.
Therefore, Ma Yun will not go back one by one just because someone scolds him; Wang Jianlin will not talk to the store for an afternoon for a piece of expired beef; Li Ka-shing will definitely not wait for two hours to buy a pound of cheap tofu. Long line. Because there are more important things waiting for them to do.
The entanglement and stubborn waiting are another kind of injury. Loosen each other's clasped hands to embrace more of the future. No one can pay how to buy the missed time. Maybe we learn to let go and let the past quiet down.
Instead of entangled, it is better to let go in time to quiet the past and brighten the future!
Newspaper chief's reading experience:
Don't let the little things of life be entangled in the heart, and finally become the root in the flesh, and the blood in your heart is blurred.
Growth is not the increase in age, but the maturity of the soul. Knowing how to stop loss, how to let go, know that for the past tense of entanglement, you will lose new fate, for small things entangled, you will waste time, unable to pursue more meaningful Thing.
There is a great ad sentence: "Life should be wasted on beautiful things." Don't waste it on some unpleasant things.