Today I'd like to share my experience of being a juggler in the Game of Thrones series while they filmed it in Dubrovnik, Croatia.
It all started in the summer of 2013 when I received a phone call from my friend Iva. It was very simple: she asked me if I wanted to accept a gig in Dubrovnik for Game of Thrones, to be a juggler on the (purple) wedding (season 4, episode 2). I was like "HELL YEEEEEEEEEEEEEEEEEAAAAAH!". Now it was only waiting for a month and a half to get there. Well, that went past really fast, and before you know it, I was on a plane with 15 other Croatian circus artists on the way to the set. The series paid plane tickets, accomodation in a villa, meals and performer's fee for all of us, which was very nice of them.
Sooo, my job was to do contact juggling. On king Joffrey's wedding. For three days. I was out of my mind!
Well actually, all that we had to do the first day when we arrived was to try the costumes and the makeup in the hangars. All the people there were very nice and polite, and of course, we couldn't take any photos of anything, because that was stated in our contracts.
The second day was getting up really early (like 5 am), go to the hangars again (costume & makeup), and on the way to the set I took 4 contact juggling balls and went around, and the first celeb I ran into was Lena Headey aka Queen Cersei, who looked at me and said (I sh*t you not): "O, you have nice balls". On what, of course, I replied with utter confusion and a feeble "thank you". What a blast for first contact.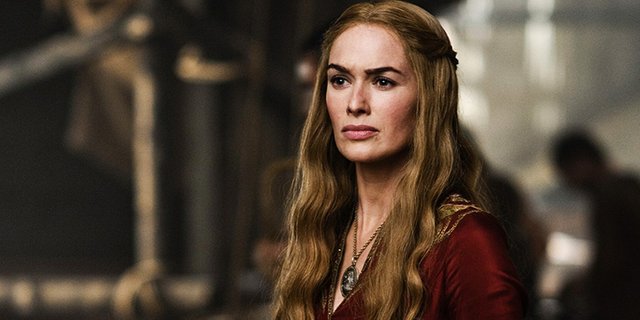 Then the filming started, and you just go round and round the same scene for hours, because it has to be perfect. Somewhere around the time when we had a break someone (whom I presume very cunningly hid their phone under their medieval skirt) managed to snap this photo from the set (I had dreadlocks back then):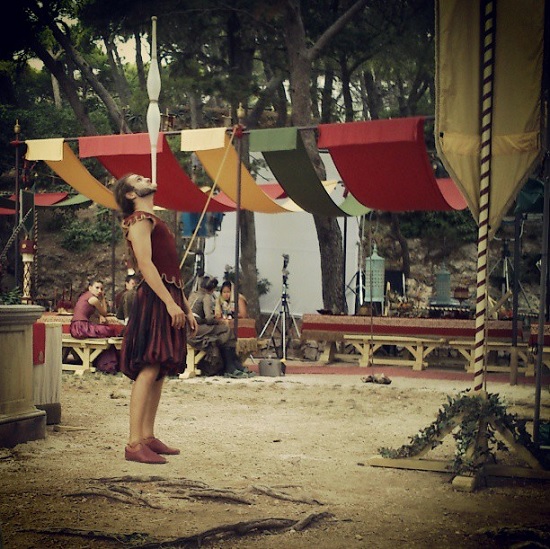 The next close encounter happened with Charles Dance aka Tywin Lannister. He was really mean, and provoked me in the manner of the role he had. Well, to be honest, the job of the royalty was to make fun of idiots who amused them, so I just rolled with it.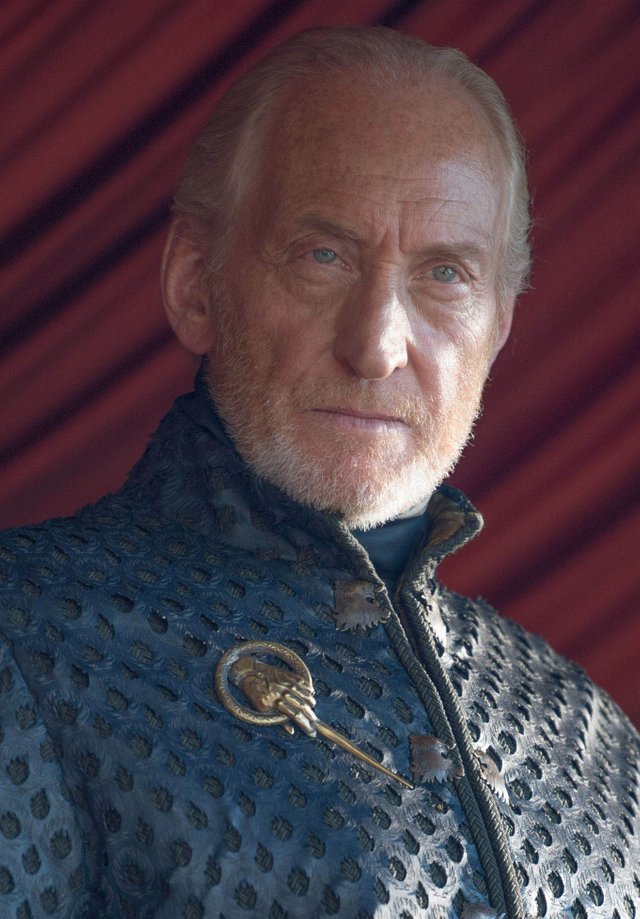 In one moment the producer decides that he doesn't like my dreadlocks in the framing (oh NO!), but it was very relieving when four makup artists jumped on me and stuffed them in a pointy red hat, which I then had until the end of filming. Somewhere around that moment happend the epic piece of my full 1.5 seconds in the series! Pom pom poooom, behold my contact juggling in the same frame with Jaime Lannister. I'm in the background, on the right side, not very important, and blurred, but I'm here: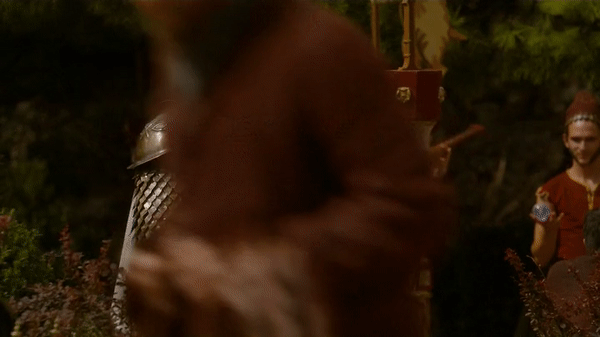 Source: Game of Thrones series, Season 4, Episode 2 (The Lion and the Rose)
My next encounter was with Jerome Flynn aka Bronn. He was very polite and nice, asked me how I'm doing, and if circus is my job in life. A very pleasant and good fellow altogether.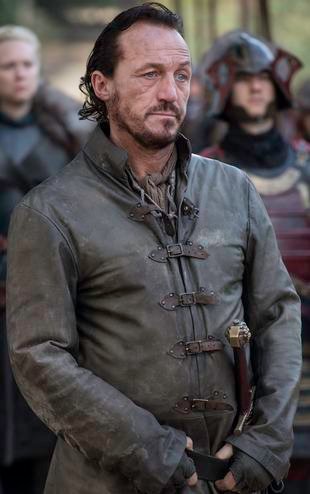 With all these encounters and the general atmosphere on the set, I must admit I was feeling like I was in the clouds all the time. Being on the set of one of the most recognizable series on the planet, in the beautiful city of Dubrovnik, counts as one of the craziest things that happened in my life. This was definitely a dream job moment for me, and I'm very grateful for this experience.
All the events in the text are real, and this is my original writing.
Have a nice day everybody!