I've been performing as a circus artist since 2009. In these nine years I've changed several performances, made a lot of stage acts, and some of these things are slowly fading from my memory. So, today I've run into some old photos and I'd like to make a quick run through several interesting key points in my 'career'. Please have in mind that this is an incomplete review, because there are quite a few things that I performed from which I still can't find any photos. Hope I'll find them on some old hard disk. :)
My first street show was called 'Amixila', and it was a duo that I made with my ex-partner Mia. It was quite a beginner kind of show which was mostly technical, but it had its charm. I felt like being thrown to the wolves, because I was juggling and doing partner acrobatics for less than a year when we started performig this. Definitely the best way to start with street shows, cause you get maximum experience this way.
We performed this show from 2010 until the end of 2014, and then we split our ways in performing and life in general.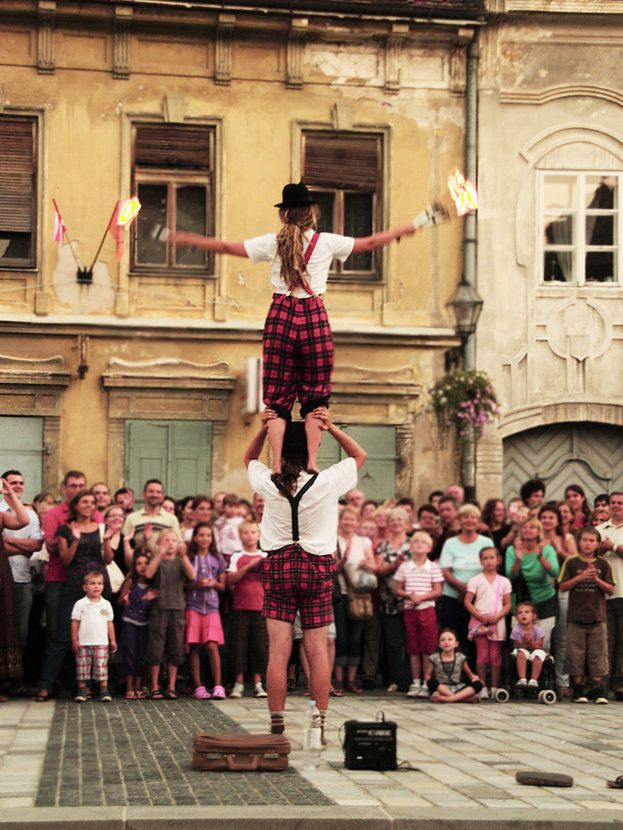 Amixila grande finale on Špancirfest festival in Varaždin, year 2010.
At this point I started to train for my solo show, which was a complete renaissance for my growth as a circus artist. The thing is that I only knew street performance from a perspective of a duet, and I was thrown to the wolves again! Which is definitely a best thing that could happen to me. Anyway, I trained for the whole winter and spring, and voila, Monsieur Cric was ready for action on the street. I must admit, on my first solo show i was dead scared. I almost fainted twice, and almost threw up, but, at the end emerged victorius and finished the show succesfully. That was probably one of the maximum experience moments in my performing history. Definitely a level-up moment. The show evolved a lot since then, and it's on a quite respectable performing level currently.
I started performing Monsieur Cric in 2015, and still perform it when I have the chance.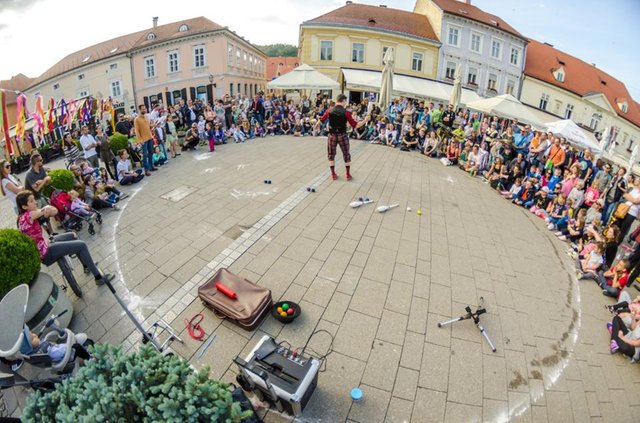 Monsieur Cric on Cu'Fus festival in Samobor, year 2017.
Before I continue with the street shows, I'd just like to have a few honorable mentions in this gallery that were quite fun and interesting. So, I'm also performing on medieval festivals sometimes, there's quite a few of them in Croatia. We have an extensive medieval legacy of beautiful castles and ruins from long-dead royalty, so practically every town or village that has one on them also has a medieval festival. Hordes of knights in full plate armors, bowmen, peasants, kings and queens. Very fun to go back in time every now and then.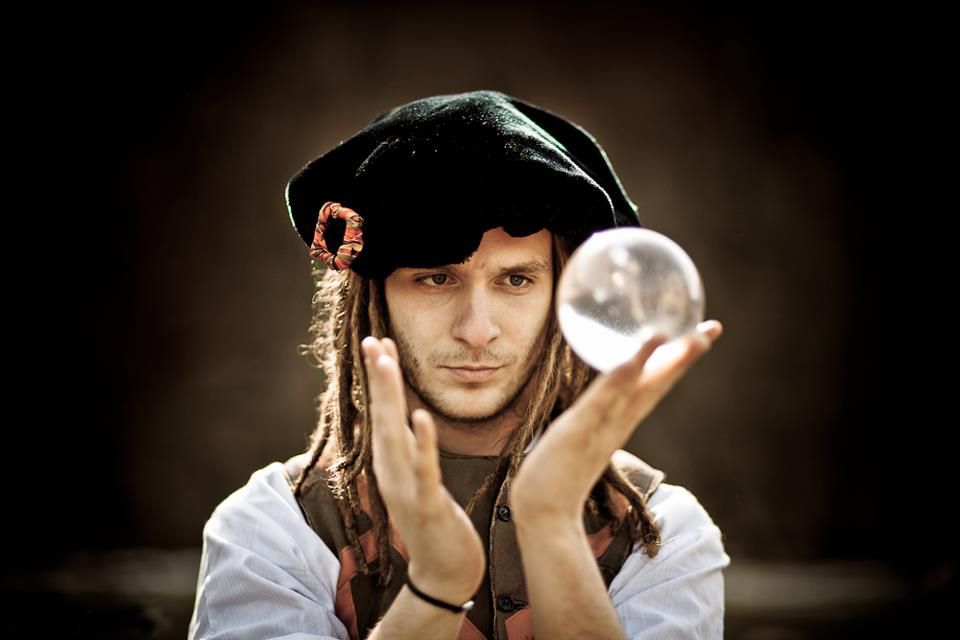 Medieval battle in Samobor, year 2014.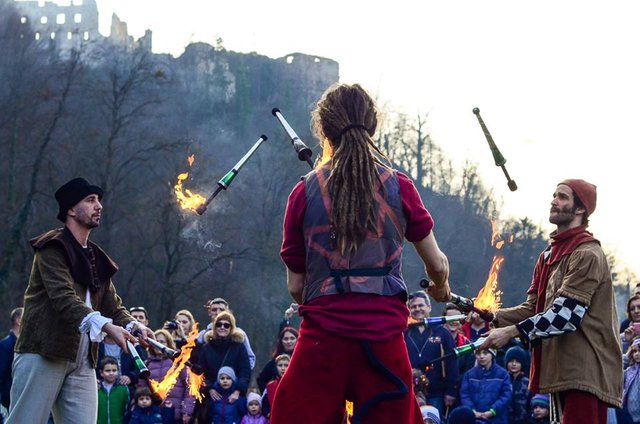 Fire passing on medieval battle in Samobor, year 2015. (yes, I had dreadlocks back then :D)
One of the most epic moments in my history was the last day of Lost Theory festival (back then still in Croatia) 2013. We performed and organized the circus part of the festival for a few years, and usually there was a burning of a big hay sculpture on the last day. Before the burning, all circus artists doing with fire would come together and made a massive fireshow around the sculpture.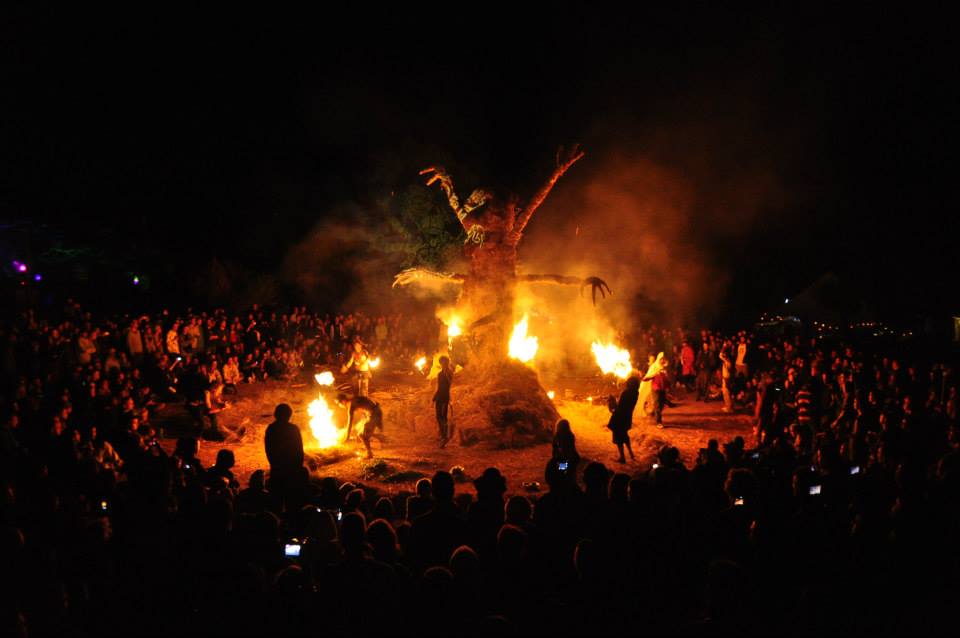 Burning of the hay monkey, Lost Theory Festival, year 2013.
I had the honors of being the guy that starts the monkey on fire as you can see. :)
One more honorable mention before the street show is a stage act with my acro flyer Anđela, with whom I did some really crazy acro stuff, but unfortunately we don't practice because she's too busy with studying. One day we'll train again, I hope! :)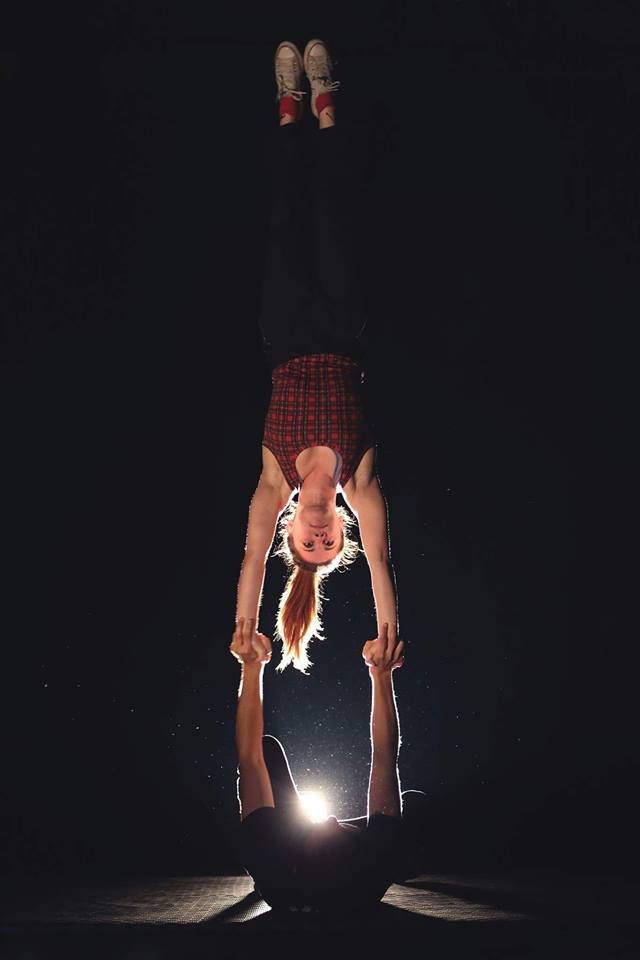 Low hand to hand, DZIU Medika, Zagreb, year 2016.
So, 2016 was the year when I met (and fell very much in love in) Diana. She was really kicking ass with hula hoop then, and we started doing acro practically from the moment we met, so we decided to make a duo until the summer. And we did. And we called it 'El Cric' (the name which actually came before Monsieur Cric, my show was called 'Alex' for the first year, which was a complete and utter disaster if you ask me now, so I changed the name later, after our duo). First summer we didnt have a car, so we traveled around Istria on a moped, completely overloaded with stuff for the show. Fire hoop, regular hoop, backpack with clothes to change after the show, other props in the suitcase, omg. But, we were very very pumped, so we really didn't care. For us (and the pedestrians and drivers that saw us on the way :D) the show started the moment when we sat on the moped with all these stuff. El Cric is definitely the show that I'm enjoying the most so far, because it's technically very sharp, and we have crazy characters with love/hate relationship, which really makes it spicy to watch. We managed to buy a used car in the meantime, so it's a bit easier to go around. But we went to perform last summer with a moped once, just for the fun. :)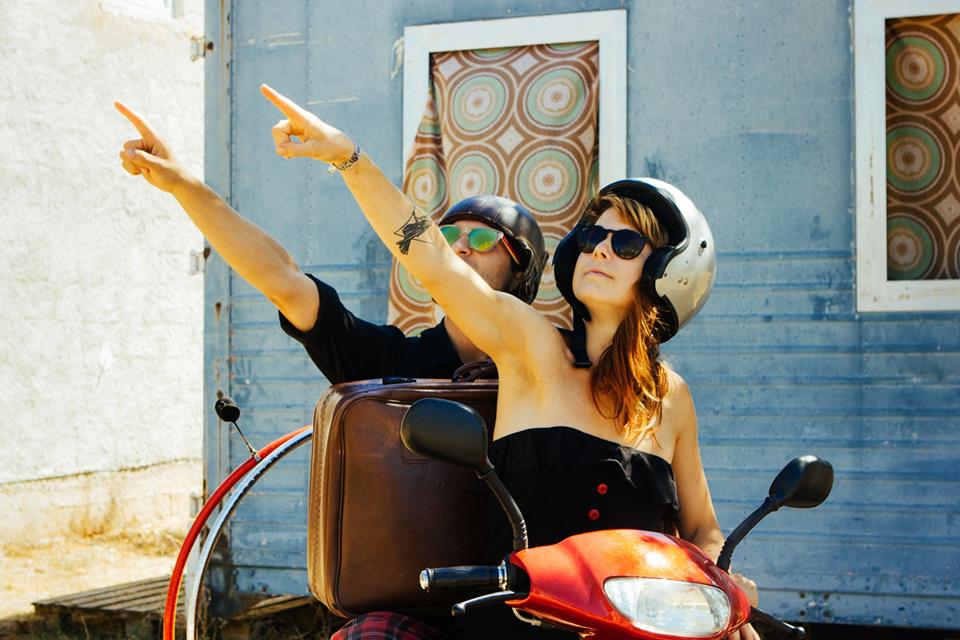 El Cric before the show, Istria, year 2016.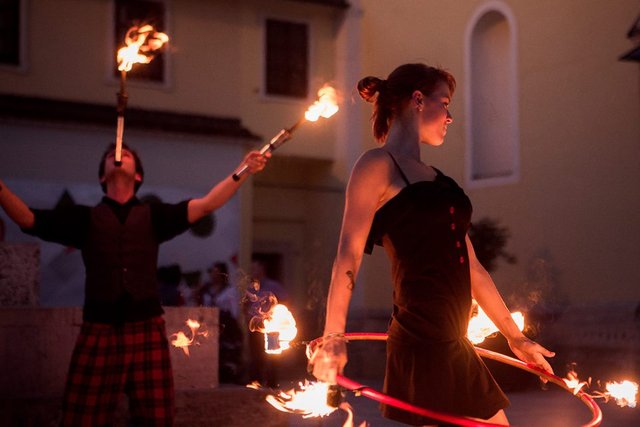 El Cric on Špancirfest festival, Varaždin, year 2016.
We came to the last performance that I want to write about here today, and that is 'Las Calaveras' fire performance. This is a quartet fireshow (Diana, Tatjana, Matija and me) with a lot of burning props, partner acrobatics, and some crazy characters. We created this show in 2017, and it's still in the development process to make it even better than the last year. We played it just a few times since we made it, and it's currently in the upgrade phase. It's really great to perform such a big show, because there's really less pressure when there's four of you, but you still have a feeling of doing something grand. Everything is burning for almost half an hour. Craaazy. It is also the most complex show, because you have to coordinate and synchronize four performers at a time all the time. But the hard work and training definitely pays off with the majestic feeling at the end.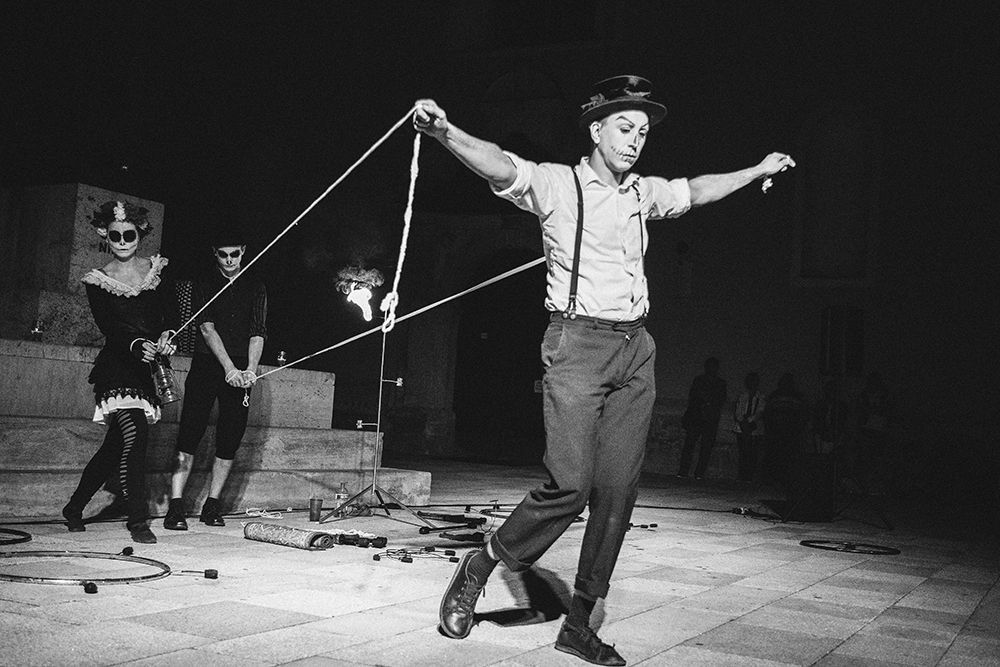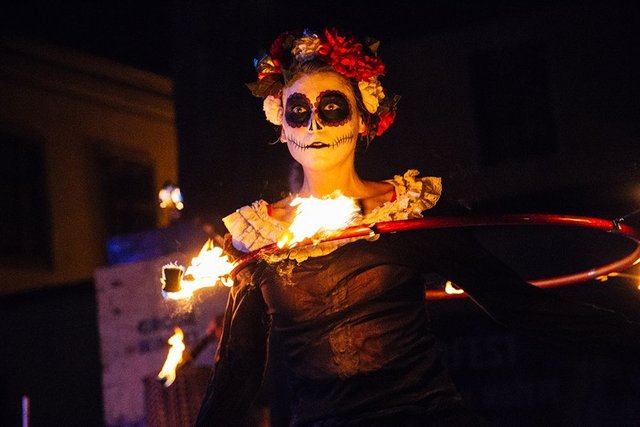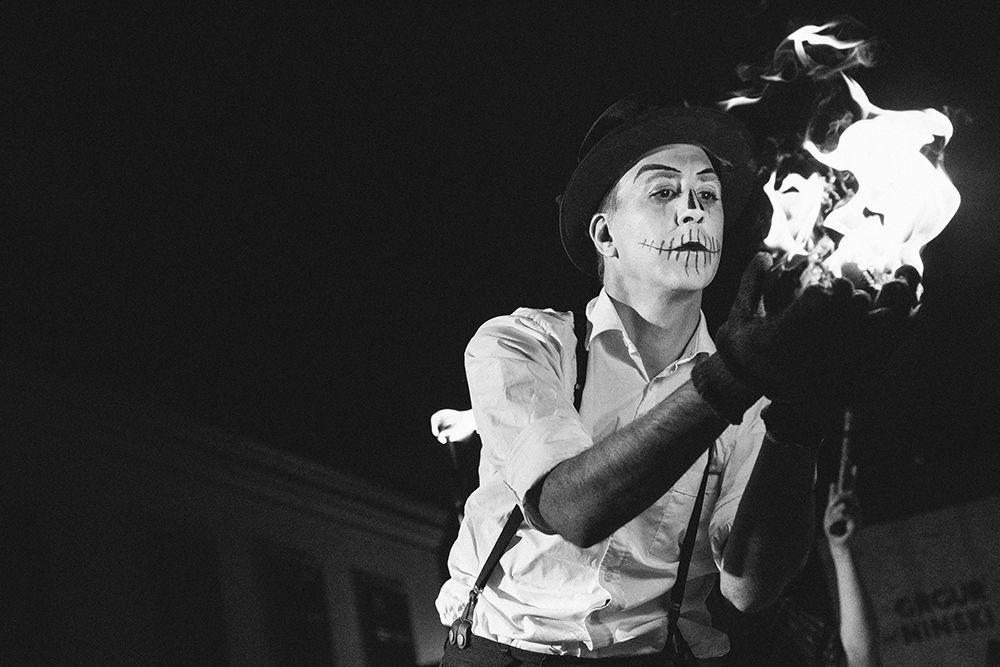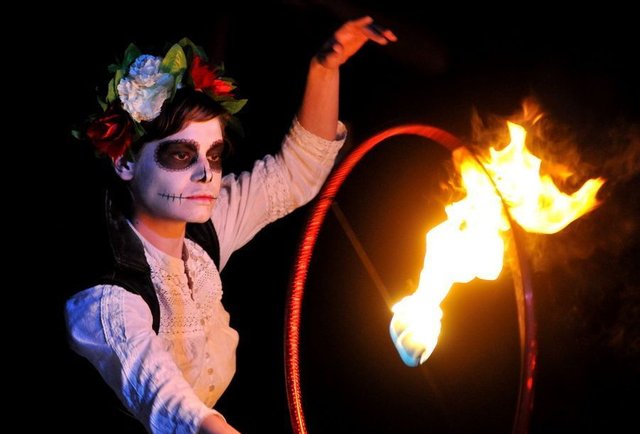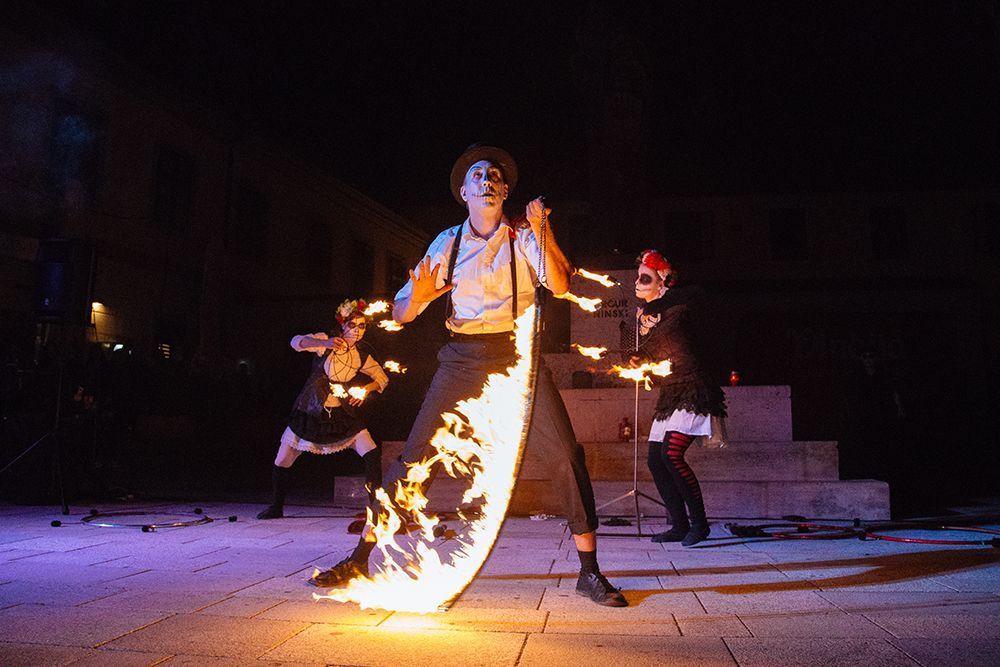 All the photos are from Špancirfest festival, Varaždin, year 2017.
So, this is about it for now, I hope you enjoyed this voyage with me. :)
Have a nice day everyone!