There are three best friends in the university that met each other during their matriculation, the friendship wasn't what they choose to be but the friendship that found them due to their horoscope of the day. These wonderful friendship didn't just make them closer but brought the families of these girls closer. Although not all parents are the same, some are ash while some are calm in situations but these once where really calm and down to earth.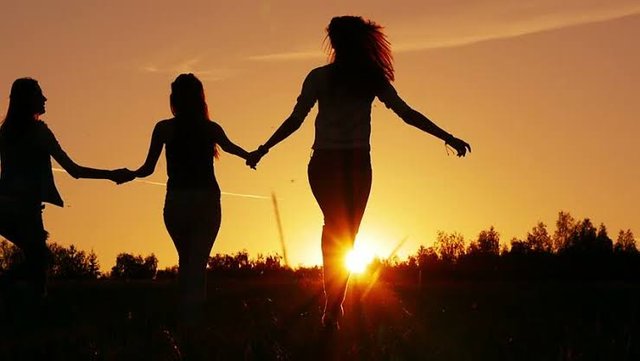 Image credit
The three friends grew older and bigger and their bond was stronger, two can not sit comfortable without the remaining one sitting with them. Here comes their adult age, they wish to disvirgin at the same time, funny enough they wanted just one guy to disvirgin them, that indeed is not possible for one night. Funny enough it was just one guy that disvirgin them, let me tell you how it happened.
It all happened assive it was planned, here comes the school head boy John, who happen to be three of them crush (timara, tiana, titi). It was their school week and everyone is on party mood, John was a womanizer and was ready to sleep with as much number of girls that night. He got a little bit tipsy and could talk to anyone what ever he wanted.
Titi for the first time took alcohol, and she was feeling dizzy, John took advantage of her and talk to her to be her gf just for that night she could not resist, saying no and with excitement she accepted John, which landed her in john hostel bed room and she had fun 😊, loosing her virginity. Tiana was consine about titi whereabouts and she excuses timara in search of titi going out to her hostel room, John saw her and excuses her for a drink but she grew more likeness in John, and accepted he's request, not so fast John gave her a kiss and rush her to the nearest free dark place, she had mix feelings and lost her flower. She wasn't angry because she wanted to know how it feels.
Timara was watching a pirates movie, she wouldn't want to show her friends what she was watching, she headed to the rest room where she sighted John adjusting he's trouser, her thought was to have John not knowing John is ready to take as much girls he can, both eyes stunt at each other and John with he's sweet words talk her to the bathroom and three friends where down just one night same John, their old funny joke idea of disvirgin same day happened unknowingly to them.
All story of how they disvirgin was know after their graduation year, they only laugh at each other.