When Warranties Are Worth It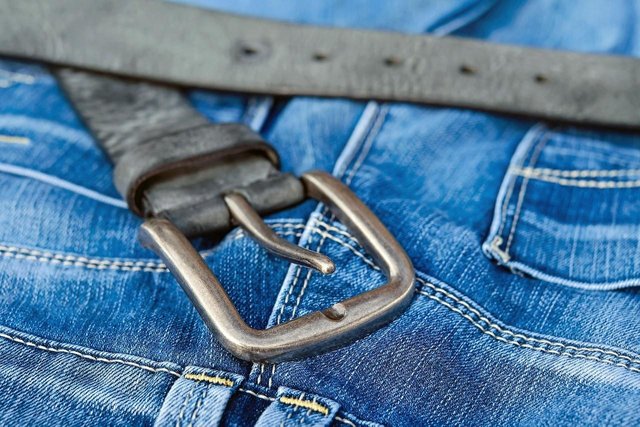 Image taken by couleur at pixabay
The Big Man wears cheap Wrangler work jeans that I buy him from Wal-Mart. The men on his dad's side of the family are known for wearing out pants quickly, especially by putting holes in their seats. Because of this, he has told me it's not worth spending a lot of money on work pants.
Well, I used to get ones that were $18 a pair. You can't expect much from jeans that are $18. I can't say they were the most flattering. Sure they may be work pants, but they are almost the only jeans I see him in!
One day, I happened to notice they had a different Wrangler style for $20. They advertised that they "flexed for comfort." Hey, maybe that the reason he's ripping his pants so much; they don't have enough enough give. They also looked a bit fancier, so I bought him a couple pairs.
He wore them to work. They seemed to hold up just fine. Plus, they were much more flattering than the other pairs. Those extra $2 were worth it! Some time later, I thought I'd pick out more.
Where did they go? I saw empty shelving where they previously sat. I asked an employee who looked to be restocking inventory. She said they were moved to the clearance rack to make room for the new line. New line? When she wasn't looking, I searched her stock cart. Sure enough, I found a couple new pairs in the Big Man's size! Same jeans, but the material was different. I can't remember if the new ones had more or less spandex than the last, but that was the only difference.
He wore his new jeans to work. I couldn't believe it! He put a hole right next to the back pocket. I thought for sure he had to have caught them on something, but he said he didn't. Of course they would change things and make them junk! Although the other new pair was holding up fine. Maybe it was just a defect?
I still had the tags laying around that came on the jeans. I learned Wrangler offers a 1 year warranty on all their jeans. Just visit the website or call the toll-free number. I'm glad I decided to call because the customer service lady sent a pre-paid label to my email address! Well, what is there to lose?! He couldn't wear them anymore anyways. Either they don't do a thing or we actually get a new pair. And it didn't cost us any extra.
I sent in the washed pair of pants with the attachment they needed me to fill out. I was told it could take up to 4-6 weeks to process after they recieved my box. I figured if I was going to hear back, it wouldn't be until mid-September.
Funny thing was, I was just wondering to myself about those jeans today. I was trying to remember when to expect anything or if I was going to hear back at all. Later on, FedEx came rolling on in. What in the world? I didn't order anything. Maybe the Big Man did? Nope, has my name on it. I opened it as soon as I brought it inside. Look at that! A new pair of jeans!
Maybe they really were defective. Or maybe they figured they were only $20, so it's not that big of a deal to replace. No idea, but sometimes those warranties are worth it! Especially if they are "free". (Not appliance warranties. We all know they clunk out right after that warranty expires.)