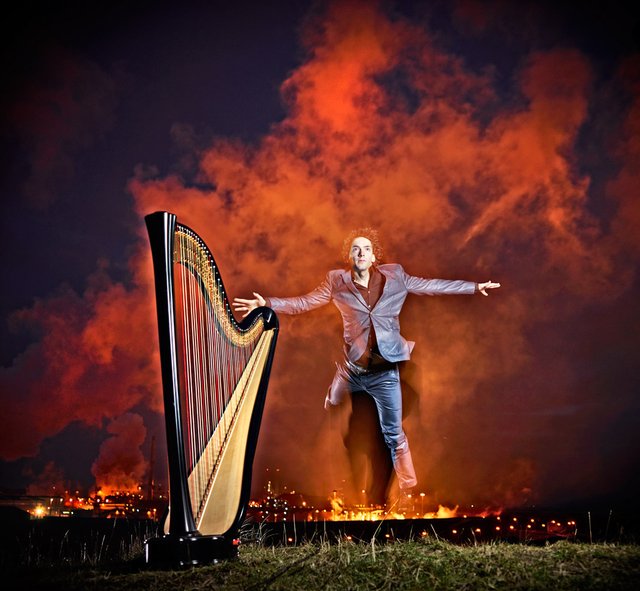 Remy van Kesteren | Copyright Merlijn Doomernik (source)
I guess we all have these days. No appetite to do something else than hanging out on our sofa. When the phone rings, we let it ring. When we feel like reading, deciding it cost to much energy to search for a good book. Almost to lazy to switch on the television... and then... we found the switch...
Zipper-Dee-Zapping between 100 channels...
and then suddenly
WHAM-Er-Dee-BHAM!
...an immediate shift of the brains to total FOCUS!
That happened with me last week Monday evening when I heard this Dutch harp artist playing on his new and most unique harp. The play button is there to be pressed, so please do and then read on.
Improve session by Remy van Kesteren (source youtube)
Did you hear - and see - the differences?

This guy - Remy van Kesteren - was playing on his newest harp. The most unique harp in the world. It is bigger than any other harp. It has two extra strings in the low, the bass section. It has a much richer sound to any other harp. It has a foot peddle to mute the strings, no hands and arms are needed anymore. It is a 'classical' and electronic harp in one, it is designed to allow amplification!
I do like string instruments a lot, but I do listen to harpists way too little! Maybe because the harp is not too well known instrument. Maybe because the harp is not a often used instrument in classical music. Maybe because the harp is not that well covered in media...
Fact is, I was very pleased my laziness brought Remy to my attention.
With some research, I discovered Remy is a very special artist. He is fighting the establishment. He is constantly moving boundaries. He is innovative. He brings the harp to new levels. And his music is absolutely GREAT!
Check this one out; Skip the interview part when you don't understand Dutch; Go straight to minute 5:40.
Improve session by Remy van Kesteren (source youtube)
And listen to this one... This is Remy being unconventional: playing the harp in a band setting; performing in Amsterdam's pop/rock/band temple 'Paradiso'.
Remy van Kesteren and his band @ Paradiso Amsterdam (source youtube)
Are you as mesmerised as I?

Artist: Remy van Kesteren
Album: Tomorrow Eyes
Year: 2016
Country: Netherlands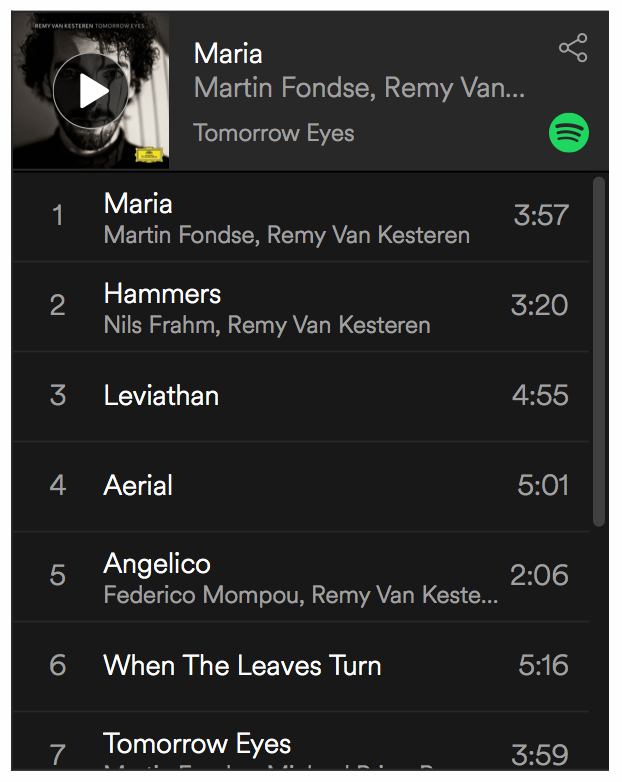 album "Tomorrow Eyes" @ spotify (source spotify)
Tracks
Maria
Hammers
Leviathan
Aerial
Angelico
When The Leaves Turn
Tomorrow Eyes
Nana
Franck
Ties
Refugee
Artist Music
Artist Discography
Artist Gigs
Artist Website

This weekend, the fifth edition of the Dutch Harp festival is held at TivoliVredenburg in Utrecht (the Netherlands); Brought alive by Remy; Check it out here.