What About Little John? Part Six
A true story.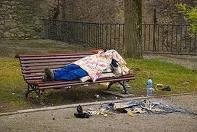 Little John is just one of many that I chose to meet, talk to and get to know. John is not a young boy. He was about thirty-five, six-three and well over two hundred pounds when we met. He must be in his mid-forties now.
Today I am writing about feet. The ones exposed to forty and fifty degree weather even in the rain.
Stepping in to help and knowing when to step out of the way.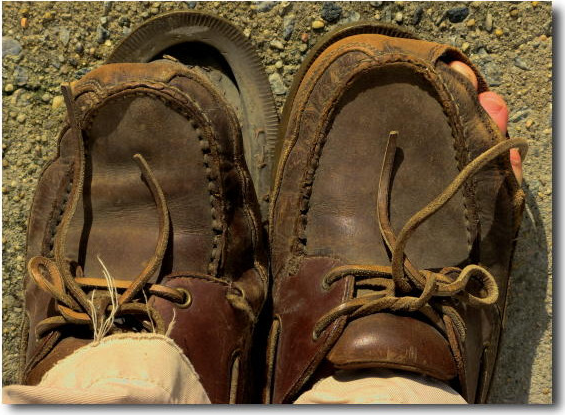 It broke my heart to see his open-bottom shoes.
It is one thing to stand and talk to the man face to face or take him to the grocery store. It is another to see his feet popping out the sides of his shoes. I would have given him a pair of my shoes, but Little John is a couple sizes bigger than any shoes I have. I am not sure if he has ever had new shoes but I know there is a good size shoe store only five blocks from the park, right near the train station.
That day I handed John five hundred and told him to get himself some shoes. I also told him where and that they would be expecting him. After leaving, I stopped at the shoe store to tell them that a large lumberjack of a man with many layers would be stopping in. I had purchased many pairs of shoes for my children at the same store. They know me and would be kind to John.
The following week I went to see him and he had his new brand name sneakers. I don't believe he could dance, but he was making some moves. I inquired about his ID and asked if he had talked to his son. He had the ID in process but the topic of his long lost son had him stuttering and looking downward. I did not push, but offered to take him to a place and pay for the call.
When I left him, I pulled out a couple hundred to hand to him, as usual the money came from my back pocket. To my surprise, he held the money as if it were a book, about stomach level, and his thank you was not as jovial as it had always been. I left him that day, hoping that he would recall some of our previous conversations on business and money. I found myself wondering how he had been able to survive before we had met.
In coming weeks I had taken him to the grocery store again and he was a bit more veracious in filling the cart, which did not bother me. I asked him to make sure he had some extra things to share or trade with others. Smiles and a Thank you were abundant on grocery days, but the other Fridays were starting to seem more like a transaction, even a hint of disappointment.
It seemed that my arrival was required. If I did not arrive early enough to chat, he was a bit annoyed and expressed a missed expectation of sorts in his own way. It came out in partial sentences with stuttered beginnings. I had not lowered the amount I was giving him, and I was still concerned about his well being. I had been talking to him about getting a place to live, but my questions about that met a shrug.
I know from experience that anyone of any class generally grows into a new, higher, salary or hourly wage. As it turns out, so did my friend. Before his new shoes were a month old, Little John had taken up smoking. I had seen him on his bench one rainy Friday as I passed him in a taxi. Despite the apparent degradation of our friendship, and his new found habit, I did not plan on giving up on him.
Find out how an ex-smoker deals John in part seven and here on Steemit.
Not @done yet. To be continued...
Update: Little John is telling his story on Steemit
Read the Spoiler or go to his steemit account "La Vida de Juan" - @LVJ