Hans Christian Andersen and his journeys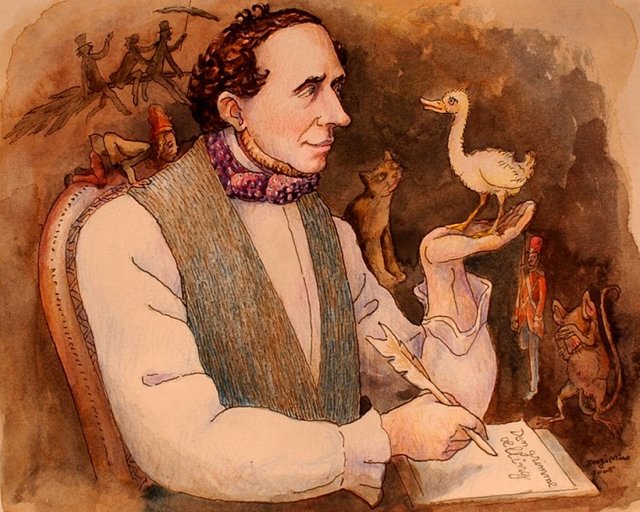 The writer was born on 2 April 1805 in Odense in Denmark. His family is modest, but his father thinks his ancestors have a higher social standing and even noblemen. Hans Christian early shows his imagination, fueled by his parents' indulgence and the superstition of his mother. He made a small puppet theater and clothes for his dolls and read every piece he could manage. Among the playwrights they read are William Shakespeare and Ludwig Holberg. In 1816, Andersen's father dies and he has to start taking care of himself. He stops going to school and starts work as an apprentice, weaver and tailor, later works in a cigarette factory. On Easter in 1819, he received his first communion at the St. Knuts Cathedral in Odense and began to direct his attention to the future.
Fourteen-year-old Hans Christian Andersen goes to Copenhagen to seek work as an actor. At that time he had a good soprano voice and was accepted at the Royal Theater, but when his voice changes from age he loses his place. A colleague from his theater says he has poetic talents and he's serious about writing. The musicians Christoph Weiss and Sibboni, and later the poet Friedrich Hoege Gouldberg (1771-1852), are very friendly to the young Hans. Later, Andersen finds a new protector in the face of Jonas Colin, who sends him at his own expense at the Slagelse school. At that time he had already published his first story, "Specter in the Grave of Palault" (1822). Andersen was not a very good student, he did not have a great desire to study and did not stay in Slagelsa, but moved to another school in Elsinor until 1827. For that period, Andersen says he was the darkest and bitter of his life. Colin finally agreed that he was already educated, and Andersen returned to Copenhagen.
At an early age, Andersen noted in his diaries a desire for sexual abstinence. Andersen often falls in love with women who have been unable to keep in touch, and this impossibility is reflected in many of his works. In his diaries we read: "God almighty, I have only you! You lead my fate and I have to give in to your hands. Give me joy! Give me a woman! My blood wants love as well as my heart. "As a young man, Andersen falls in love with a girl named Ryborg Voight, but his love is unrequited. After his death, his letter was found in a special pouch on his chest. Objects of the unrecognized feelings of the writer are also Sophie Yorkstein, the daughter of a famous physician, and Louise Colin, the youngest daughter of his patron Jonas Colin. The tale "Slaveit" is an expression of his feelings for Yeni Lind and becomes an occasion for her nickname "The Slave of Sweden". Andersen has great difficulty in dealing with the opposite sex. She suggests Lind's marriage in a letter that she handed to her at the station after one of their meetings. But this love is unrelated, and Lind writes in a letter in 1844: "Farewell and let the Lord bless and protect my brother, just as his beloved sister Yeni desires."
Andersen most likely feels homosexual feelings. In a letter to Edvard Colin, she says, "You're like a beautiful calabrian. My feelings for you are those of a woman. The femininity of my nature and our relationship must be kept secret. "Colin, who is heterosexual, writes in his memoirs," I could not answer his feelings, and that caused him a lot of suffering. "Andersen's expression and feelings Danish dancer Harald Scharf and Karl Alexander, Grand Duke of Saxony-Weimar-Eisenach. In the spring of 1872, Andersen was seriously injured in falling from his bed in his home. Shortly afterwards, symptoms of liver cancer begin to develop. The writer died on Aug. 4, 1875, in the Rollhead, near Copenhagen, home of his close friend, banker Moritz Melchior. Shortly before his death, Andersen chose the music for his funeral, insisting that "rhythm will be suitable for small feet, because there will be more children in the cortism." Andersen is buried in Assistens Cemetery in the Neurozen district of Copenhagen. Before his death, Andersen is world-renowned. The Danish government declares him a national wealth and pays him a special annual pension. The life of a writer's monument, which is still in the gardens of Rosenbor Castle, is still planned. It is believed that Andersen's oldest tale is The Loose Candle written between 1819 and 1823 when he is still a student. The manuscript was discovered by accident at the end of 2012 at the National Archive of Fün Island in Odense.