I have a boyfriend. I love him so much. But we have a small problem, he has a "dragon".
We have been together for three years. For all this time, that we are together, he cheated on me five times. Last year, on my birthday, a big company gathered. Lets'go to Cafe. Usually we gather at my house. At first everything was fine. My boyfriend at all called me affectionately by the name (Alyonushka) and showed me how he loves me. Smiles, kisses and other signs of attention. Everyone envies me, because the best guy is mine. When the evening came to the point when it was all right, my "dragon" had one head turning away from me. He began to show interest in my girlfriend. I'm no longer small and react to it like a mosquito in the summer. Not very pleasant, but what can you do if it is so. We all danced. It was fun. Sveta, my brother's wife, tells me:
"Let's go, we'll walk to the river." I'll smoke, you'll just make me company. We leave the cafe, turn the corner, the music abruptly subsides. The sounds of nature are heard. Crickets, pleasant smells, immediately feels cool from the water. It's dark, but the paths are visible. Svetlana lights up a cigarette and shows me that a couple is sitting nearby on the grass, and that let's go around them so that they do not interfere. We go behind a couple and go down to the river. We sit down on the warm sand. I lay down on my back and stare my eyes at the sky. Darkness and stars. The feeling is that the stars are below, and you hang on the ceiling and can fall right into the sky. A little scary, but more pleasant. I suggest Svet to dip in the river. She tells me that there is no swimsuit.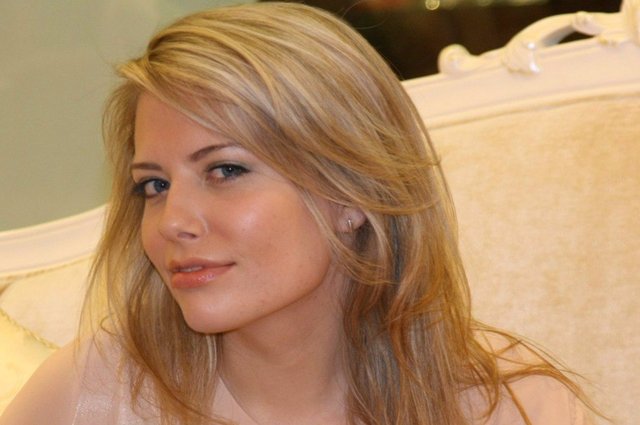 Well, then you smoke, and I swim. I can and without a bathing suit. I'm giving up, and I'm already sailing to the island. We are so excited. We swim to the island. Then back. I come out of the water, I dress, my mood is super.
I look at Svetlana. Svetlana behaves nervously. I notice it right away and I understand what's wrong. I wait until she starts telling me where my boyfriend was and what she saw. It's strange, this does not happen. We return to the cafe, and I already have an interest. So what happened after all? What Svetlana saw was something that she does not want to tell me. And I remember the couple we saw on the way to the river.
I have a question, why on my brother, exactly the same shirt as the guy we saw when we went down to the water. The question of who was there, and who saw Svetlana, decided on his own. That's just not clear why she was sad. I go up to her and ask her directly.
"Do not you understand that guys can not be remade?" And she told me that she understands everything. But something happened. She cried and began the story.
I sit, smoke, my husband comes to me and, not recognizing me, as an outsider asks to smoke. I recognized him only by voice. I'm stretching the lighter. He lights up and leaves for another. Goes to another girl, leaving me alone. Am I a stranger to him? I heard him talking to me. As with a stranger. The fact that he did not recognize me, I understand, but, what I heard, I can not get out of my head. She said that she felt abandoned and asked me not to tell him anything.
Walking on, the mood is spoiled. I'm looking for my boyfriend's eyes. It is nowhere to be found. I begin to ask who saw him. It turns out that no one has seen him for a long time. Thought starts to creep into my head. Together with them comes the idea of ​​where the girlfriend to whom my boyfriend showed interest. And it, too, for some reason does not. Appear in the head of uneasy thoughts. I take Sveta's hand and lead to the table to share and "my joy."
Imagine, my Andrey is not here, and there are no girlfriends either. And for a long time already it here did not see. Sveta starts to calm me.

Come on, - he says, - we'll smoke. We are already walking along a familiar path. We get down to the river. Svetlana lights, I undress and jump into the water. Swam to the island. I take a breath, I swim back. I swim to the shore, and then suddenly someone grabs me from behind and turns to face me. Next come the words of my boyfriend's voice:

Wow, you're already without a bra? Then he looks me in the face, and, realizing that he has indicated himself, mechanically asks:

And you here, what are you doing? To which I also ask him:

And you here whom caught? He says with astonishment that he is swimming with my brother's wife and in what way could I suspect him?
"Where were you more than an hour?" - I continue the interrogation. He said that he was preparing a surprise and that now everything will be visible. Indeed, the sky lit up with flashes of fireworks. Salute was for me. I calmed down and realized that this year he "disappointed me". I did not get any unpleasant surprises, although I was already ready.