Good evening Steemians
In this series of articles I want to put a spotlight on a specific cryptocurrency and write about the details in all these aspects:
Aim of the currency

Technical details

Market position

Forecast
The cryptocurrency in focus will be chosen at random, although I am for sure following all recent news in the cryptocurrency world and am taking always one of the most interesting ones.
In this 3rd article of the series, the spotlight will be on ZenCash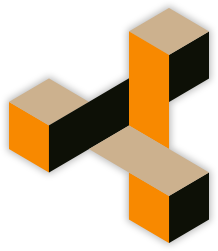 PictureSource
Aim of the Currency
What is this currency about? What does it do differently than the rest?
Where is the unique selling point and at what audience is this coin targeted?
All that questions and more will be answered in the following paragraph.
ZenCash is the first forked Cryptocurrency that is covered in this series. It has been created by a chainsplit from ZClassic, which has been initially forked from ZCash. From these codebases, ZenCash inherits quite a few characteristics, especially the zero knowledge encryption part using zK-SNARKS. In difference to ZCash and ZClassic, Zencash puts the focus on the encrypted and secure communication capabilities that can be enabled with this protocol and can be even enriched further by using the IPFS (Inter Planetary File System). In fact, this is advertised as being an easy to use full encrypted, anonymous, worldwide available communication platform.
Further developments in the direction of domain fronting will make ZenCash useable even in crypto-hostile environments.
ZenCash is a very recent cryptocurrency, the Whitepaper has been written in May 2017 and it was launched at May 30th, 2017.
Technical Details
ZenCash bases on Zclassic and ZCash which inherits part of the code of Bitcoin, but with a lot of additions especially in communication section.
So like ZCash, ZenCash is a PoW (Proof-of-Work) Coin, meaning that the new blocks are getting mined by using computational power. The mining uses an algorithm called Equihash, which is deemed ASIC-Proof and can best be mined with modern GPUs (graphic processing units).
It is still possible to have a positive ROI when mining ZenCash, even though prices have settled a bit already if you want to check for yourself take a look at this link.
It also shares the same maximum amount of coins, 21 Million ZEN can be mined. 88% of the mining rewards going directly to the miners, while 8,5% is going to the Zen Foundation (a nonprofit entity) and 3,5% are awarded to the maintainers of the secure nodes.
The main difference between ZenCash and ZCash is basically the possibility to send or receive messages and files(IPFS) in an anonymous and completely encrypted way. Also, the possibility to use ZenCash in hostile environments using domain fronting is unique to ZenCash.
Market Position
At the time of writing this article(11/16/2017) ZenCash is placed 87th in market capitalization, with the total value of 57.883.796 $
ZenCash was in general not very much affected from the centralization issues to Bitcoin, to take leverage of the latest Fork. It was very stable during the last months but having a major jump from 10$ to 25$ once first rumors where spread that a working Secure Node has been in the testnet already. This would mark a major improvement in ZenCash and would, since there is 3,5% of block rewards redirected to, also make for another income possibility.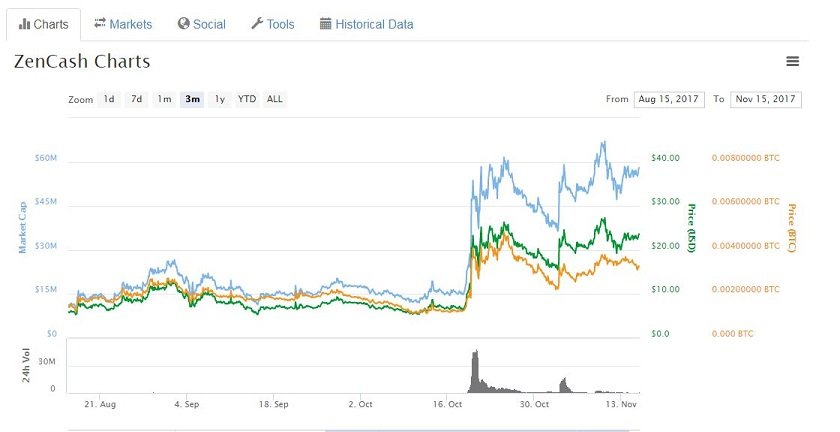 GraphSource
If we are looking back further we see the quite bumpy start end of May 2017, in the middle of the surge that all cryptocurrencies had in this period of time. It was getting a bit quiet around ZenCash which can be seen in the period until August, when first rumors spread, only followed by the massive surge in October.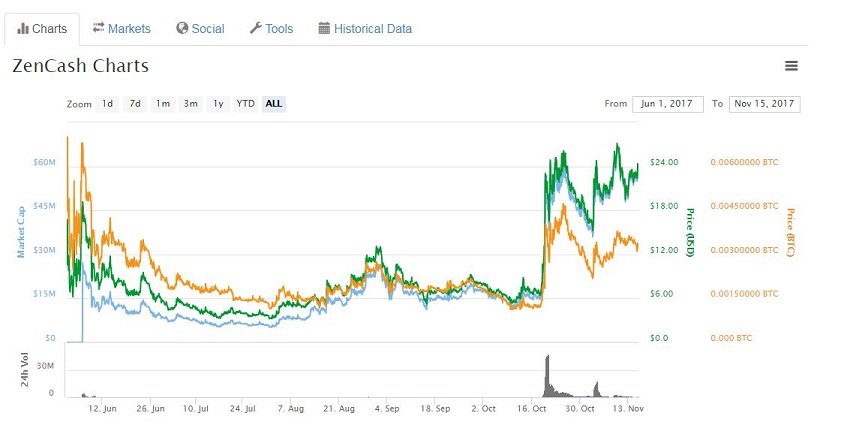 GraphSource
Forecast
The Idea setting up a new cryptocurrency, using the advantages that ZCash and ZClassic already implemented, and setting on top of this a whole suite of communication options and a enhanced resilience through Secure Nodes is making sense in many ways. With ZenCash it is possible to have total anonymity and privacy while sending money, messages and files around the globe.
In times where this all is a real asset, ZenCash will see a lot of love from investors for this possibilities.
Conclusion
ZenCash pushes the inventions into privacy and anonymity even further than ZCash initially wanted to. It will more or less all be depending on the development team and their ability to deliver what they promised in the roadmap.
If they can not only test but deliver the Secure Nodes soon we for sure will see another raise in price.
Last but not least there are also some drawbacks and they should not be unmentioned:
PoW Coin, mining can be seen as a waste of energy.

8,5% of block rewards directly going to Zen Blockchain Foundation.

3,5% of block rewards redirected to maintainers of Secure Nodes.

Privacy of transaction has been also viewed with criticism.

Privacy of messaging has also been seen with criticism
Authored by: @jedigeiss