Invite STORROR to 3Speak and Earn Rewards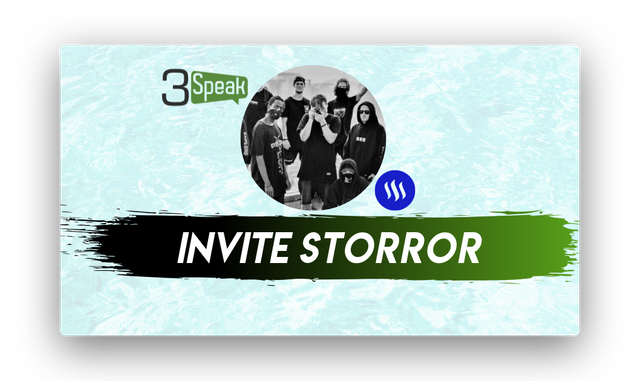 Hello Everyone,
We are here again with an open task available to all the STEEMians. This time, with your help, we would like to invite STORROR which is one of the most famous parkour/freerunning athelete group to 3Speak. They do not make money from YouTube, so why not we welcome them to the blockchain of opportunities. They have 4.6M Subscribers just on Youtube which is why It would be great to have them onboard.
this videos gives a short brief on why storror is demonitized
About STORROR
Storror is a collective of seven elite athletes with big individual characters who were drawn together by a shared innate passion for movement and love of adventure. After growing up together and developing their skills for over a decade, the boys have built the most iconic brand in parkour with an enthusiastic following to match. The boys pride themselves on creating the most forward thinking and exciting parkour content available on the web.
Source: https://www.youtube.com/user/StorrorBlog/about
YouTube: https://www.youtube.com/user/StorrorBlog
Website: https://storror.com/
Email: [email protected]
REWARDS
Every valid entry is eligible for a small upvote on their comment based on our own discretion.
If Storror comes on 3Speak through your referral and/or mentions the username(who invited them to 3Speak) in their first video or anywhere on STEEM then the referrer will get 2 Full Upvotes from OD in their future posts.
TASK DURATION
Start date: 22- Aug- 2019
End date: 29 - Aug- 2019 12AM UTC
MANDATORY GUIDELINES
Upvote & Resteem this post if you are participating.
TO DO
Invite Storror to join 3Speak. You can do this by multiple ways. For ex: You can write a tweet to their official account or probably make a video message by tagging them on their other social media accounts like Facebook and Instagram. You can choose to DM them on their official accounts. You can also write an email to the management.
Please be creative with your invitation. You can talk about how it is beneficial for them if they join 3Speak.
Always provide a link to 3Speak in your message: https://3speak.online/
Provide screenshots in the comment section for the proof of your Invitation. If they reply, that's a bonus. You can use multiple ways to invite Storror but please include all screenshots in a single comment under this post.
Upvote and Resteem.
NOTE - BEWARE!
Please do not use multiple accounts to make multiple comments. Only one comment per user is allowed.
No spamming allowed.
In case you are not sure what you are doing, please do not participate.
Do not mention anything in comments unless it is related to the task itself.
If you do not adhere to above points of this section, you might risk getting downvoted.
---