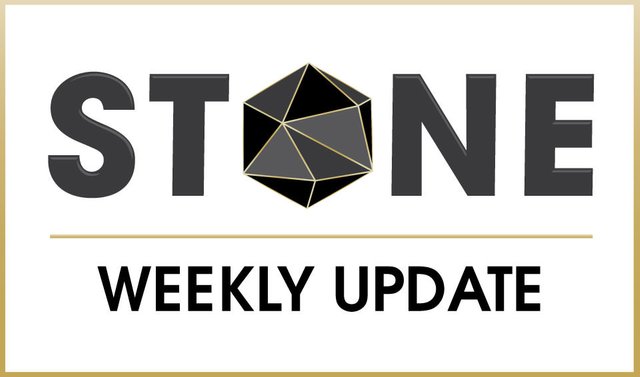 Greetings STONEr's!
We've been working in the backround and noticed the discord channel getting a little quiet, so we've decided to begin weekly updates!
We'll try to maintain a consistant format, but keep in mind that this will be a weekly, so there may be some weeks without substantial news. However, we'll do our best to stay consistent and transparent with a regular interval on Friday's or Saturday's.
Each week we'll notate a few specific categories and highlight our biggest milestones and promotions. Well, let's get to it!
Highlights
As most of you know already, STONE is competing in the MasternodeMeBro18 tournement against Deviant Coin. As of right now we are trailing slightly behind at 42%.
As STONEr's, we know all too well about being the "underdog", so we are asking for every community member masternode holder or not to please take a moment to show some love!
You can vote here: MasternodeMeBro18
To help incentivise the STONEr Nation, as promised, we're announcing our giveaway GRAND PRIZE, timeline, and rules!
If you have spent time getting to know CryptoTYM, you know that he has been an avid miner for some time, starting with his first Bitcoin Asic USB miner in 2015. How does this relate to the giveaway you might ask? Well STONEr's, we're going to give away a beautiful ready to mine (or game) AMD rx580 GPU straight from CryptoTYM's rig and ship it anywhere in the world to the lucky winner!
Find out how you can win a FREE rx580 below! What about those of you that do not win? We'll also be giving away lot's of other prizes including FREE STONE!
Development
On the development front, CryptoTYM has been chipping away at the code for the STONEm platform. As stated in our last community update "The Current State of STONE", the process is slow going due to lack of funding and available core team members. The current core team has discussed the possibility of releasing the platform as an open source project in order to drive community development interest and speed up the beta launch. We may be asking for a community vote in the near future so keep an eye out!
We're also excited to annouce the wallet is currently undergoing multi-lingual translation so we can cater to a world wide audience! The best part about this is that it's completely FREE!
Promotions
This is probably going to be the main buzz topic, so let's get right down to the rules of the giveaway!
How to win the AMD rx580:
STONE must receive at least 800 votes in the MasternodeMeBro18 tournement or WIN the final round.
Each STONEr must send 10 STONE to the donation address. We will use your address to complete a random drawing LIVE on DJ Stoned show after the tournement! The address is listed below:
Sctto2iRzgXGp5G58PamuD7K4r69mbQSAS
The winner must listen to the show live or recording and respond directly to CryptoTYM within 72 hours. If the winner does not reply we will announce a backup grand prize winner.
So you just found out about STONE and showed love by voting, but you don't have any STONE. There are 2 ways to get STONE so you can make sure you're eligible to win the rx580:
Join the STONE Discord and let us know you voted! One of our community liasons will Tip you with the STONE tip bot. Make sure to participate in the discord to keep earning FREE STONE!
You can buy stone on either Crypto-Bridge or Crex24.
OK great, now that we've got the rules out of the way, get out there and vote STONE! We only have until Sunday, October 21st at 12:00pm MST!!
Bounties
5 STONE for voting for us in MasternodeMeBro18. Join the discord and show proof, and get 5 STONE sent directly to you via our tipbot. You can access the tipbot help by typing "!tip"
More prizes will be added to the voting promotion and will be announced in next week's uopdate.
More to come!
Community Inspriation
DJ STONED runs his Crypto Weekly show in the STONE Discord with regular air drops, music(live requests!) and Crypto news. Follow him on Twitter and come participate LIVE! @djstonedcoin
Shout-outs
Community member @helo has been a huge help for STONE so far, most recently he's facilitated the wallet translation project! Big thanks to him for this!!
Socials