Being honest pays off. Always. Although the temptation to take a shortcut (even for "a good cause") may arise from time to time, staying on the right course is always, always, always the best way forward.
Let's look at the Netcoins contest. If you don't know what this contest is about, well, it's about including another crypto asset in Netcoins' portfolio, which means this asset will be promoted across a wide retailers audience, which may start to accept payments in it. This will obviously snowball into more demand for the asset, which, in turn, will positively affect the price. The contest is simply a voting procedure, with a few basic rules.
I already wrote about this, here and here.
As I was going to cast my vote again today (you can vote every 24 hours) I saw this announcement on Netcoins page:
---

---
I have no info at this moment about any of the communities behind the assets cheating, but the mere fact that there is an announcement about that implies there is something going on.
And seeing that STEEM actually climbed 2 positions, being now second after PAC, means the fraudulent votes weren't removed from it, but from other assets.
---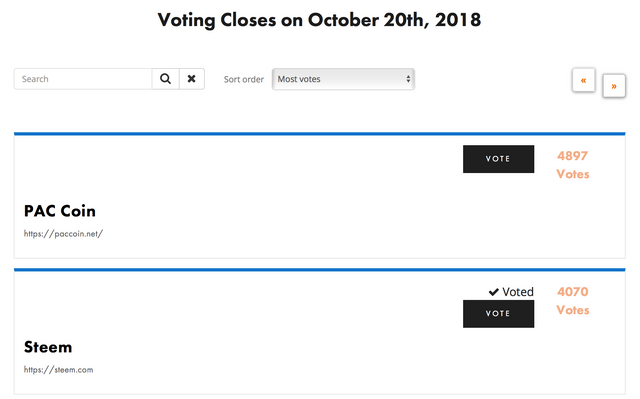 ---
So, once again, remember to vote and support this responsibly and correctly.
Cast your vote every 24 hours, spread the word, activate your friends and followers, write content about it, resteem content about it and make sure we're pushing STEEM higher not by casting fake votes, but by the sheer power of this community.
Steem on!
---
I'm a serial entrepreneur, blogger and ultrarunner. You can find me mainly on my blog at Dragos Roua where I write about productivity, business, relationships and running. Here on Steemit you may stay updated by following me @dragosroua.


---
Wanna know when you're getting paid?
I know the feeling. That's why I created steem.supply, an easy to use and accurate tool for calculating your Steemit rewards
It's free to use, but if you think this is a useful addition, I'd appreciate your witness vote.
Thank you!
Psst: new to Steemit? Start Here