The last 10 days the whole total market cap seems to be permanently blocked around 220 Billion $.
Being BITCOIN price the main indicator for considering a Market reversal, I used to write about it daily, forgetting sometimes about other Cryptos or Altcoins which have sufficient "entity" to behave by their own in a more independent way from BITCOIN, so not fully following BTC trend on their moves.
It is the case of altcoins as MONERO, RIPPLE or, in a great extent, STELLAR...
Contrarily to other projects, STELLAR team have never stopped the development of projects, announcing partneships and future evolutions. One example is the clear bet of the STELLAR team for the development of the Decentralized Exchanges (read about the launching of StellarX or the recent announcement of a partnership with a multi-billion dollar company Colliers International, a global leader in real asset services and investment management company to target the trillions of dollars worth of real estate market ripe for tokenization. (Source).
Additionally, the Institutional Interest about STELLAR seems that has grown during the past few months instead of RIPPLE, which is its main competitor altcoin.
Regarding XLM/USD Chart, I am really surprised on how stable can be this altcoin. Unlike other big altcoins which during this long correction have lost sometimes more than 80% at the present time, is the case of RIPPLE, CARDANO or IOTA for instance, STELLAR price today represents a lost of only 30%.
Also the XLM/BTC chart provides us with good signals about STELLAR stability and future projection: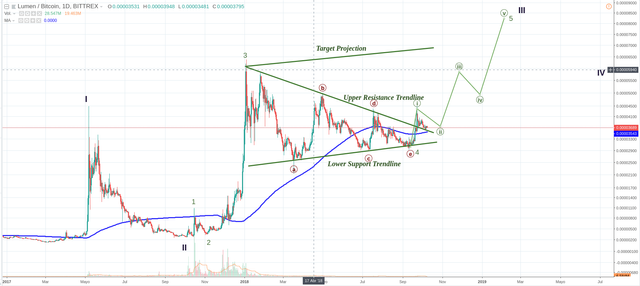 STELLAR, as the rest of altcoins, has been correcting, following a triangular pattern, with a minimum value of 2135 Satoshis on Mid March (a) and a continuous succession of rebounds (b, c, d, e) within a symmetrical triangle and a final breakage on September 21st, upwards...
Since then, the upper resistance trendline has become a consistent "ground" and also the 200DMA is now supporting the price strongly...
Counting Elliott Waves, I see a high likelihood on STELLAR been building a 5th wave after the 4th long corrective wave (ending on "e" at the triangular pattern) occurred during this year.
If the EW count in Roman numbers is fine, the completion of the 5th green wave will bring STELLAR to a minimum target of 7000 Satoshis and still will remain a IVth corrective wave and a Vth Bullish wave to climb much higher next year.
If you change to XLM/USD chart and set the Logarithmic Scale there, the projection is...OUTSTANDING!?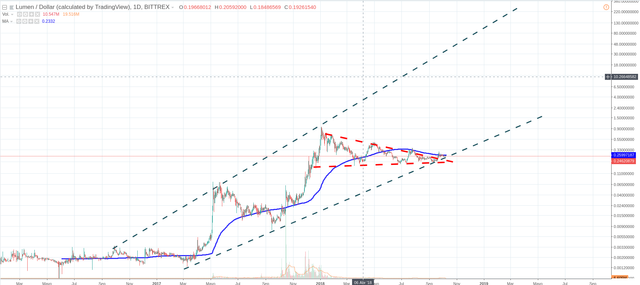 Now, coming back to the reality, IMO, Technically and projectwise, having this "panaroma" in front of me , I think STELLAR is one of the best altcoins now to invest on.
Enjoy!
---
---
*Disclaimer: This is just my personal point of view, please, do your own assessment and act consequently.
Neither this post nor myself is responsible of any of your profit/losses obtained as a result of this information.
---
---
Published on



by toofasteddie
---