Stellar Gets Islamic Finance Certification
One of the crypto currency, Stellar Lumens (XLM), managed to get the predicate of Sharia. Actually, what is the advantage of XLM so that it can get this stamp?



Stellar Lumens, the sixth largest crypto currency by market capitalization, has received Sharia certification from Islamic scholars. Predicates proved by the Shariah Review Bureau (SRB) certificate apply to the Stellar Blockchain network, which is implemented on financial products.
With the certificate, Stellar Lumens now has access to Middle East and Southeast Asian markets whose people are showing high interest in Sharia banking. In addition, Reuters also noted that the increase in Stellar Lumens in the Middle East has surpassed its main rival, the Ripple (XRP).

Islam provides opportunities for Crypto Syariah Currency
The acceptance of Blockchain products in the Middle East shows that Muslims are willing to open up and do not want to miss the use of future technology. Mansoor Ahmed, assistant general manager at the Shariah Review Bureau, states that the problem is not an agreement for integration of Blockchain technology.
During this time, the concern of the scholars is the possibility of delay in verifying payment. For example, Bitcoin has a verification time span of up to 5 hours, and Ethereum has a 30 minute latency. Stellar Lumens is able to cover the shortfall by providing instant transactions.
Stellar Lumens is also able to offer services beyond cross-border transfers, such as: Wadiah, Sukuk (Sharia Bonds), Taqaful (Islamic Insurance), Ijarah (Leasing), and Murabahah (Sale-Purchase between bank and customer).
Although the Middle East and North Africa is one of the areas in the world with many rich people, but there are still people who still do not have access to banking facilities.
In an effort to resolve the issue, the United Arab Emirates, Saudi Arabia and Bahrain have been looking for ways to partner with Ripple's financial company. But with Stellar who has gained Syariah validity, the crypto currency has the opportunity to shift Ripple in the Middle East market.

Stellar Lumens Buy Interest Increases
A week ago, Stellar (XLM) remained ranked seventh with a total market valuation of 3.9 billion US dollars. Then during the past week, market valuations rose sharply to the level of 5.6 billion US Dollar, shifting Litecoin with a total market capitalization of 4.9 billion US Dollar.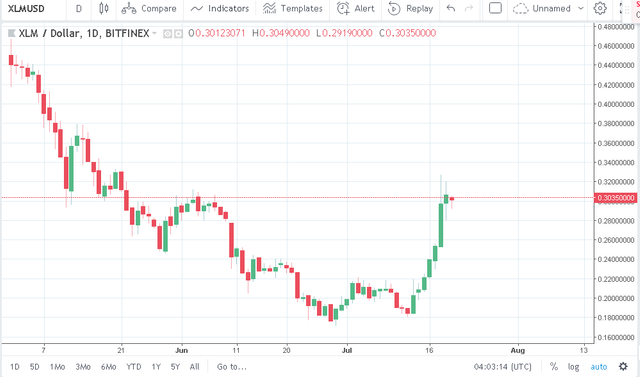 Stellar was able to rise from the level of 0.18 US Dollar to the level of 0.32 US Dollar in just a week. The movement was a near 100% increase in a short time. This indicates that interest in buying XLM crypto currency is still very strong.
reference