Two weeks ago, on September 22nd, we had our post-mortem meetup for our previous Borneo Blockchain Summit event that was held on the 8th September 2018. Our Steem Ambassador @danieldoughty and @veenang initiated this post-mortem meetup for us to give comments, suggestion, share experience, knowledge etc.
It was nice to meet the volunteers once again after the success of BBS.
@danieldoughty
thanked each and everyone of the volunteers for doing a good job and surpassing his expectation during the event. He said:
"If in a battle full of enemies and I lose, I'll not worry of dying because I definitely confident my team will win".
The meetup proceeds with each of the volunteer giving their personal opinion, suggestion and comment of the event. Here are some of the comments that I remembered:
"I noticed that there are so many people interested in Steemit. However, they don't have idea what Steemit is all about..."
by @audreyclaire
"Need more time to promote the event. Many people interested to join the event ..."
by @gelfire
"Need to improve more on food arrangement and co-ordination. Suggested to use Walkie-talkie next year...".
by @zamifara
"I really proud of our volunteers. They work selflessly, dedicating their time and effort to make the event a success..."
by @veenang
There are always room for improvement. It's insanity continuing to do things the same way and expecting different results. With this in mind, we come to a conclusion that we will try to improve to excel next year with better venue, better arrangement and better in everything.
We continued our post-mortem meetup with some updates on @steemxp and the founder of @steemxp @danieldoughty shared on his proposal for the Southeast Asia community news press. Check out his proposal here and please do give your feedback on what do you think of his proposal.
We wrap-up our post-mortem meetup with @danieldoughty suggesting an outing for the volunteers as an appreciation for all their hardwork and support to make the BBS2018 a success. Venue and date to be decide later.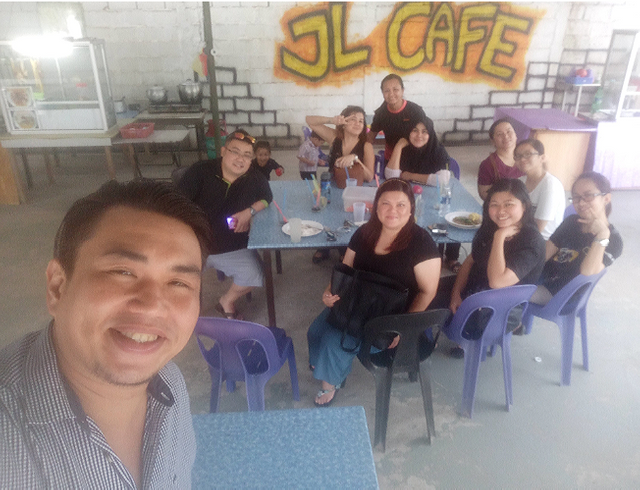 Photo courtesy of @danieldoughty
Here are the attendees for the meetup: Our Steem Ambassadors as mentioned above, @danieldoughty @veenang @melindajamulis @nytrie @viverridae @gelfire @audreyclaire and mini audreyclaire @celo769 and little @mathewdoughty
Last but not the least, thank you to our Steem Witness @bitrocker and also @teammalaysia @karenwong @aaronleang and @awesomianist @buzz.lightyear . Big thank you to our sponsors, @fundition @myach @steemhunt @curie @sndbox and partners for making the event possible. Without their generosity and continuous support, we at @steemxp wouldn't be where we are today.
Can't wait for the next Borneo Blockchain Summit 2019!