Steem Women Club Community Contest #8 ' Handicrafts ' Time to Show Ingenuity || Knitted baby shoes. Pure tenderness! ♥️♥️
---
Thank you God, for a new dawn and for a new day at work. Always, always your plans are better than mine... ✨✨✨
---
Hello.!!
I hadn't looked around here for a long time, I see that many things have changed and they have taken good movement. It would be interesting to get involved again with Steemit, thanks for the invitation to my friend and dear @carolinacardoza.
---
For my entry into the contest, I have decided to make some cute little shoes for a newborn. They are fully woven, decorated with a pair of Gross ribbon bows and flower buttons.
They are simply a cute, striking and very cute piece. Our babies should always be flirtatious!
Without further ado, let's get to work!
🙌🙌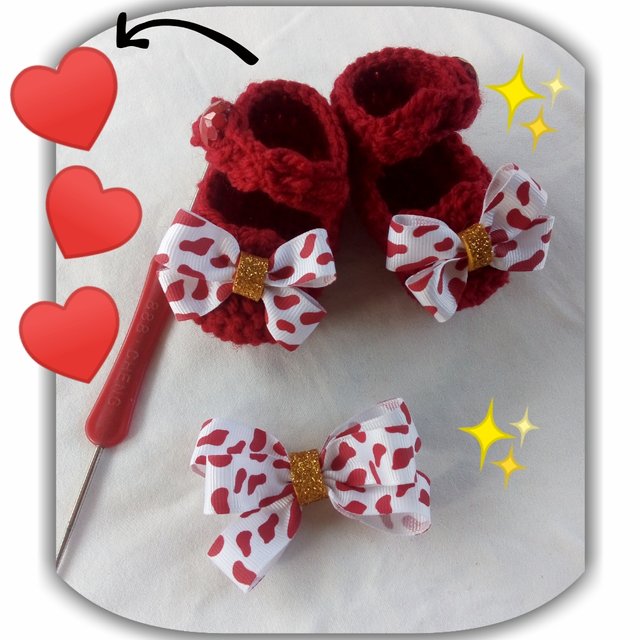 ---
✂️✂️✂️✂️✂️✂️
Materials:
Red stamen.
Gross tape.
Knitting needle.
Needle and sewing thread.
A couple of buttons.
Pair of scissors.
Silicone.
A small strip of metallic foami.
---
✂️✂️✂️✂️✂️✂️
Step by Step:
A.- We start with a chain of chains, there would be 13 in total. See figure 1. We will mount 4 rows on these, midpoint. See figures 2 and 3. Now, after finishing the base, we start the height points. We will make 4 chains of height and a double crochet. See figure 4.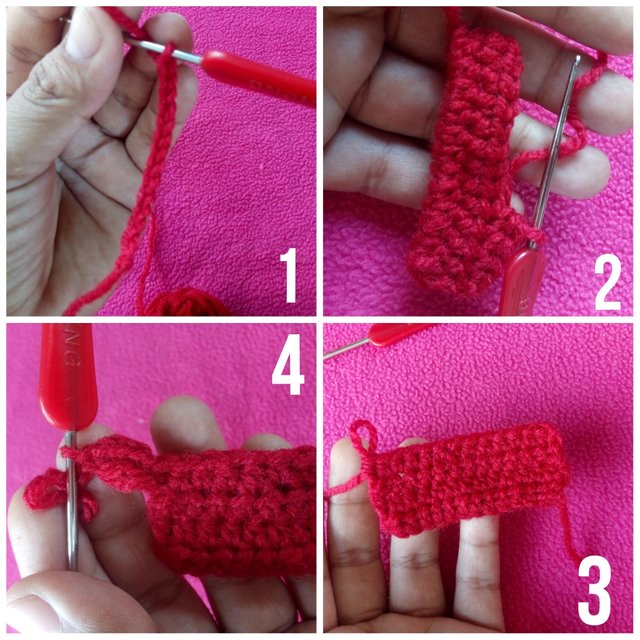 B.- We will fill the entire contour of the template with double crochet. See figure 5. At the end of the first round, we will add another round, with the same chains in height and the double crochet would go over the first ones that we have already done. See figure 6, it should look like this. Then, we measure where we will place the ankle strap zone, and we start a row of 3 chains in height followed by double crochet. On this, we add a row of midpoint. See figure 7. Now, we will assemble the strap that will hug the baby's ankle, I have assembled this strap with 3 chains in height and a couple of double crochet, we turn and repeat the process until we achieve the desired length. See figure 8.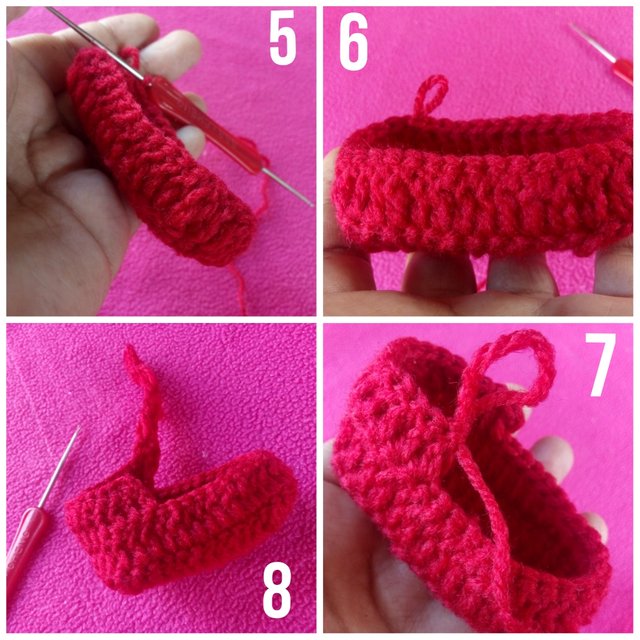 C.- At this point, I have knitted a single shoe, obviously the same steps and number of stitches are used for the other. This is something that must be exact, so that both pieces are equal in size. See figure 9. We will now close at the top and thus give it a touch of slippers, see figures 10 and 11. We will make a pair of loops with the Gross ribbon and the metallic foami, see figure 12. And we glue them on the front part of the little shoe.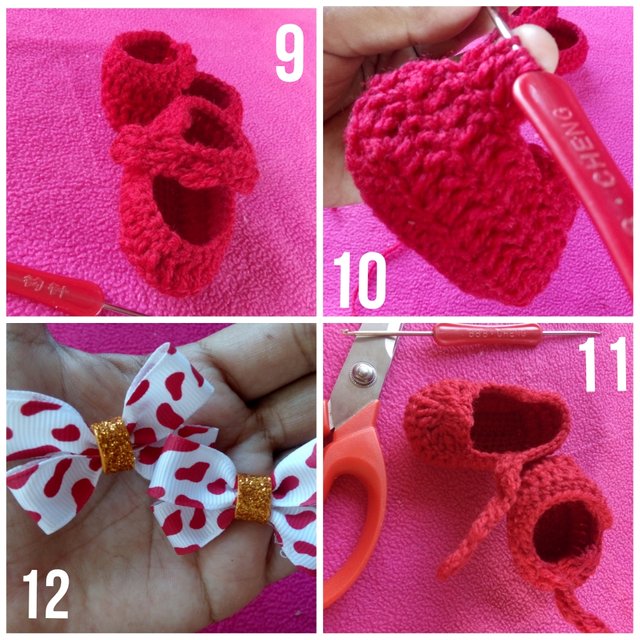 These little shoes are accompanied by a Gross ribbon bow, the same one that I used for the shoes. We will do it as follows:
D.- We will cut 3 portions of ribbons of equal sizes. See figure 13. We will join both ends in the middle, and taking a needle and thread, we will cross them. See figure 14. We will gather and tie a knot. We place a metallic foami ribbon in the center. See figure 15. This loop can be used for a headband or an alligator clip.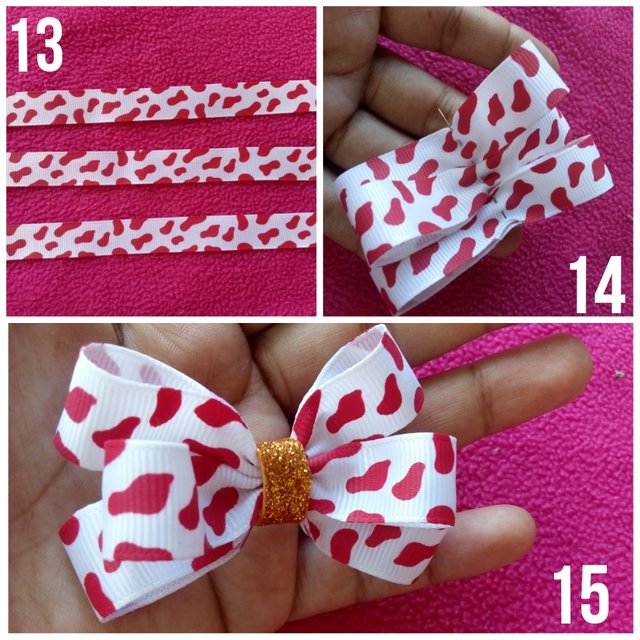 ---
Our ready parts, take a look: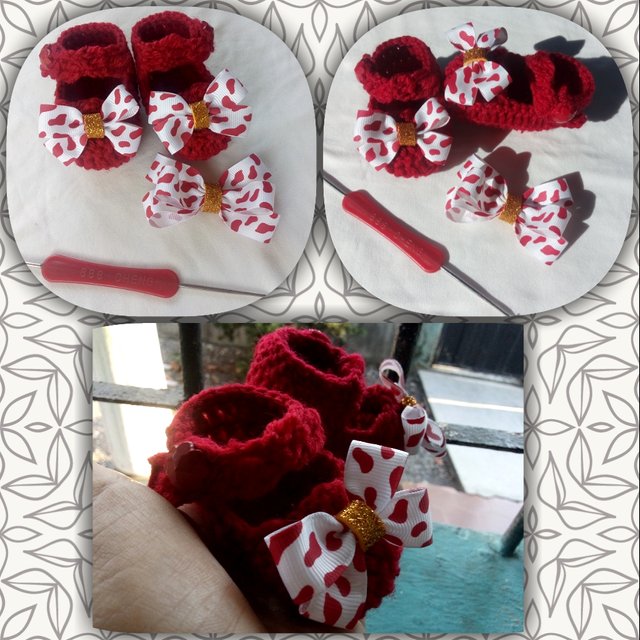 ---
What do you think? From my side, lovely ones. ! They are so cute, let's say in my town.
For this lively initiative I would like to invite: @karolines and @crazydani; both excellent at craft and DIY.
---
Greetings and thanks for your time.