Hello Steemit peoples! Whats going on? Hope all are having blessed days! We steemtuner here with a great announcement. Guess what? Yes, its radio talk show time at steemtuner.
You must have already know about our Thursday talk show. It starts with curation competition After that we discuss various topics related to steemit. Moreover, there is also question-answer sessions also at our radio talk show. We bring experienced guest to our talk show mostly to deliver their knowledge & experience of steemit.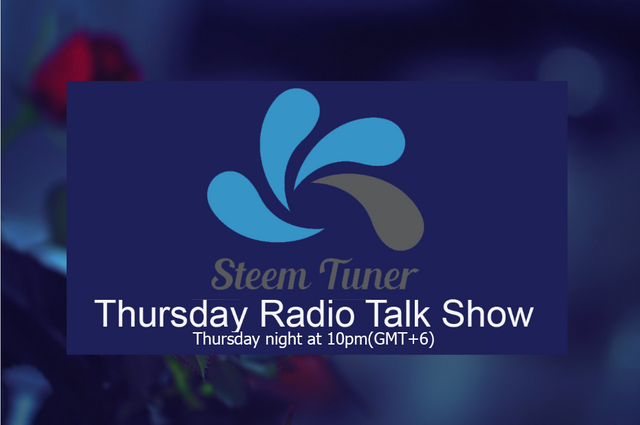 You can also join thursday #weeklycuration & you have to be present at Radio Talkshow to present your contribution on voice.
The theme of this community is.........
You! The Architect of your destiny.
With this theme, we are moving forward. This community is growing up fast. The motive of this community is to help Steemians all over the world. We will talk about steemit youth development.
There is no barrier to join this talk show. No matter where are you from and who you are. You can join us. Solve your queries. We are here to help. We grow together by sharing knowledge.
TALK SHOW HOST: @STEEMTUNER
LOCATION: Steem Tuner Discord Voice
TIME: 10pm Bangladesh Time.
DATE: 01/08/2018
GOAL OF STEEM TUNER COMMUNITY
Steem Tuner is a community of Bangladesh to support globally all the steemians. Our mission is to empower all the steemians. We are encouraging people and bringing them here on steemit to free them from the unemployment problem. We find many steemians who need support to develop their skills. Many of them have some special talent but they are not getting the opportunity to show the talent they have. We are arranging #show-us-your-hidden-talent through our @steemtuner community on discord. So that we can give them the opportunity to bring out their talent. Our future goal is to empower them on steemit.
NB: @steemtuner community needs strength from all of you. If you would like to Delegate some sp to support @steemtuner community project you can do so by clicking on the following links: 10, 20, 50, 50, 100, 200, 300, 500, 1000
JOIN OUR DISCORD CHANNEL BY CLICKING ON LOGO