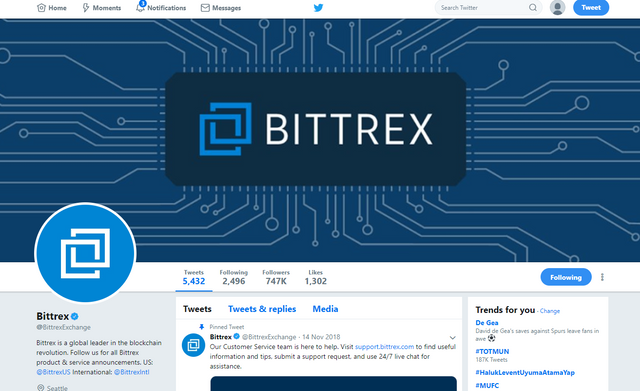 The earlier night my shocking assistant @purepinag stepped me in a post, where she was sharing a Twitter post that @bittrex had beginning late posted
They asked "We should hear it. What USD feature match would you have to see in 2019?"
Unmistakably, the most ideal reaction is STEEM.
I figure this would stun, for two or three reasons.
It would pass on new customers to Steemit (FOR SURE!)
It would make life less requesting the Steemit customer who isn't hugely alright with the crypto exchanges. Remember how startling it was the fundamental event when you changed over your STEEM/SBD to your close to money?
The less requesting it is for customers to execute, the better!
Over the long haul, the refinement in STEEM to BTC takes some figuring, and I am typically so horrible that I will stuff it up and move my STEEM for a tenth of what I may require, and having it be explicitly joined with USD would basically be mind blowing!
Snap https://twitter.com/bittrexexchange/status/1083857350421856264?s=21 to incite @bittrex that they have to arrange USD with STEEM! Our voices check!
I saw different answers were requesting a coin called NOAH coin, yet just a couple of requesting STEEM. So we ought to just ahead and let them comprehend that STEEM is the rule solid solution for their demand!
I approach some incredible Steemians to get the word around @sumonsha, @ikrahch, @chireerocks, @madushanka, @tania12