Jambo! Welcome to Kenya. Your adventure begins with a welcome meeting at 6 pm. You can arrive at any time as there are no activities planned until this important meeting. Please ask the hotel reception where it will take place. If you can't arrange a flight that will arrive in time for this, consider arriving a day early so you are able to attend. If you are going to be late, please inform the hotel reception. We'll be collecting your insurance details and next of kin information at this meeting, so please ensure you have these to give to your leader. If you arrive early, perhaps head out and explore the National Museum of Kenya, the Karen Blixen Museum or the highly recommended Bomas of Kenya where traditional homesteads of several Kenyan tribes are displayed at an outdoor village.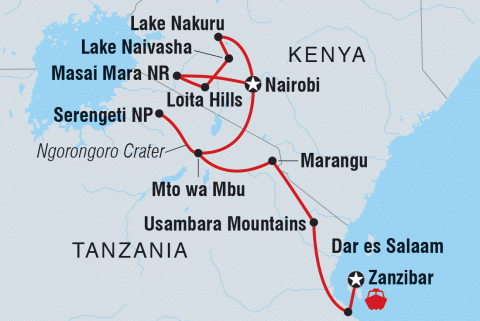 Unravel the complexities of beautiful East Africa.
Find the best of East Africa on this Intrepid adventure as you traverse across Kenya and into Tanzania. Discover the wildlife, history, people, culture and beauty of this incredible spot. Begin your adventure in the busy heart of Kenya – Nairobi – and then turn your attention to the wild as you see flamingos in Lake Nakuru, game and wildlife in the Ngorongoro Crater and the Serengeti, and all manner of birds and beast as you travel the wide-open plains. Swap the savanna for a higher elevation when you visit Usambara Mountains, and then leave all your cares behind as you relax on the endless white sands of the beaches in Zanzibar. Leave this East Africa adventure with a deeper understanding and appreciation of this fabulously intricate and enchanting part of the world.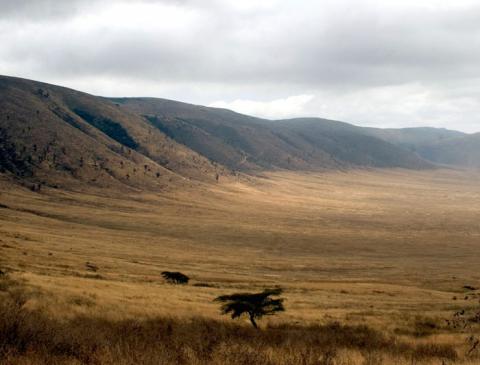 Why we love this trip
• Experience Kenya's tribal life with Maasai warriors at an overnight village visit in Loita Hills
• Spot Black and White Rhino in Lake Nakuru National Park
• Explore the stunning Serengeti and discover animals unlike any you have ever seen
• Partake in community activities in Mto wa Mbu with a guided stroll around the farming areas
• Wander around Stone Town's bustling bazaars and fragrant spice markets and receive a guided tour of the spice plantations