My alarm ringed and tired I opened my eyes. I barely could keep my eyes open since we went back so late yesterday. It took me a few minutes before I was able to stand up to walk downstairs. When I arrived downstairs, Jhon asked me how the Steem Summit was yesterday.. Oh yeah that's true, that was where we went Yesterday! Thoughts were going to my mind. I remember that the Steem Summit finished and we wanted to go out, what time did we came back? How much did I drink? I don't remember it all.. I only remember one crazy dream.. What happened to me yesterday?
The Summit was a day filled with knowledge, passion and most of all: Excitement.
It started like the common event, we, @Belvaj and I walked into Aspace, the place where Steem Summit was located. We signed up and I looked around for faces I recognized. This time, I didn't recognize a lot of people, lots less than expected. I attended the 6th Steemit meetup in Cebu as well, but most of those people who attended that time were probably busy. It is good as well to see new faces, a sign that the Cebu community is growing!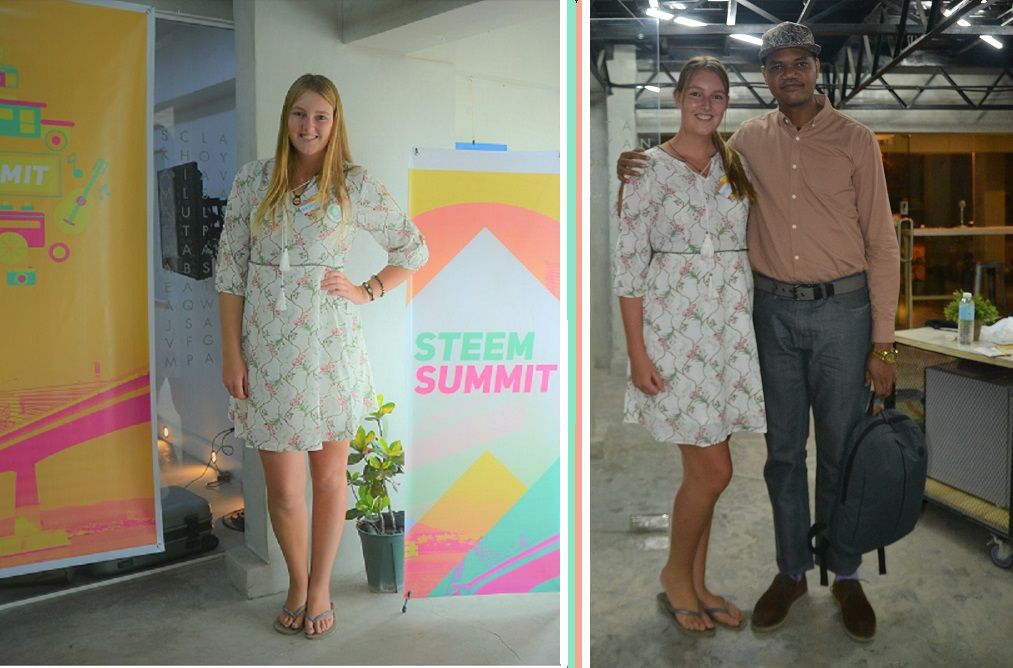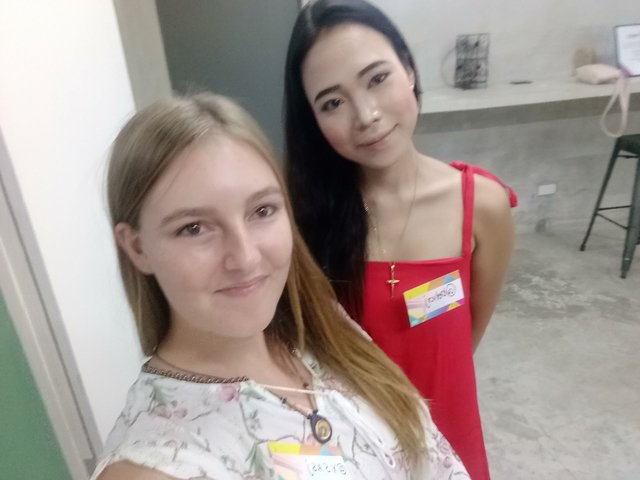 With beautiful and sweet @Belvaj
We looked a little bit around before we took our chair. @thegaillery @legendairyll @Honeyletsgo and @ybanezkim26 were the organizers of the event. I am a big fan of especially Kim as a blogger so I expected a lot of this event. Kim is a blogger who inspires lots of people to make their blogs as qualitative as possible and gives a lot of tips about how to make a curie worthy blog. It is definitely worth it to check out Kim's page!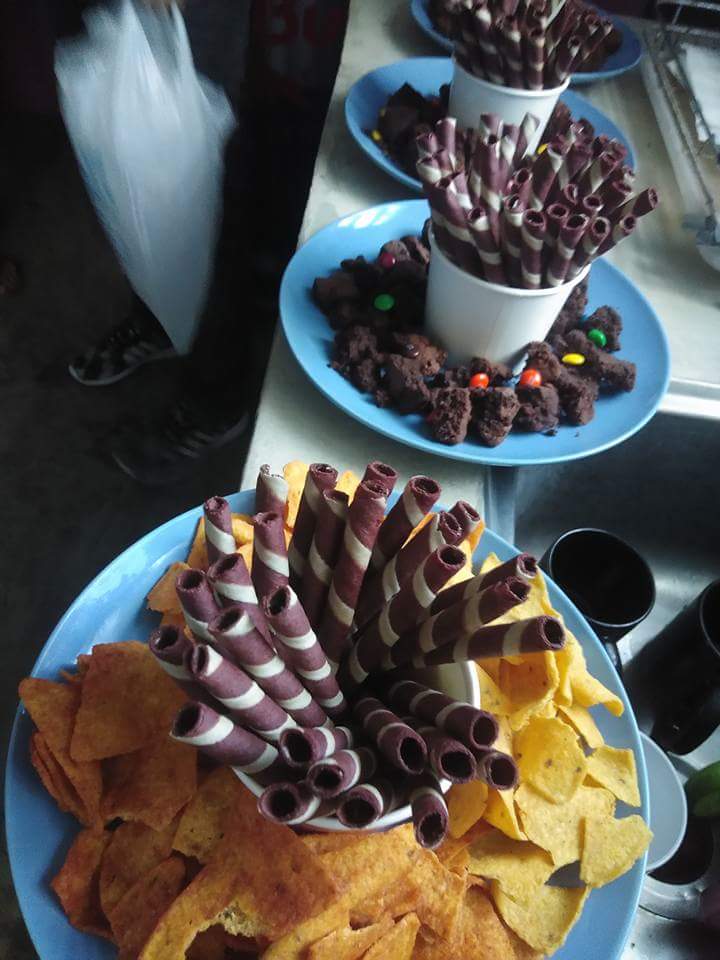 The food they served us, food is always good:p)
We sat down and right next to us was this wall with the winning pictures of the photo contest. I didn't know about this contest so sad enough I wasn't able to join, but the winning pictures are looking great. Good to see those Cebuano talents!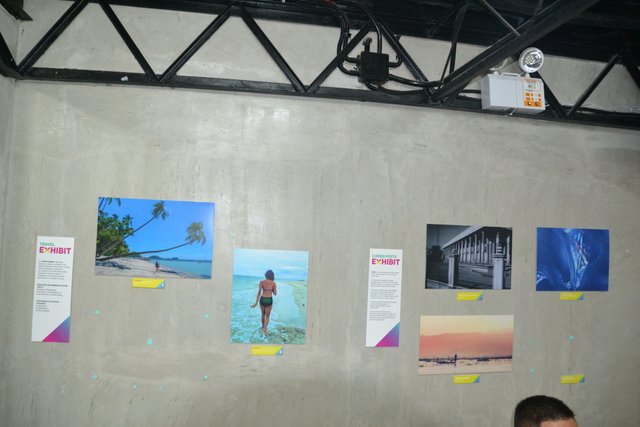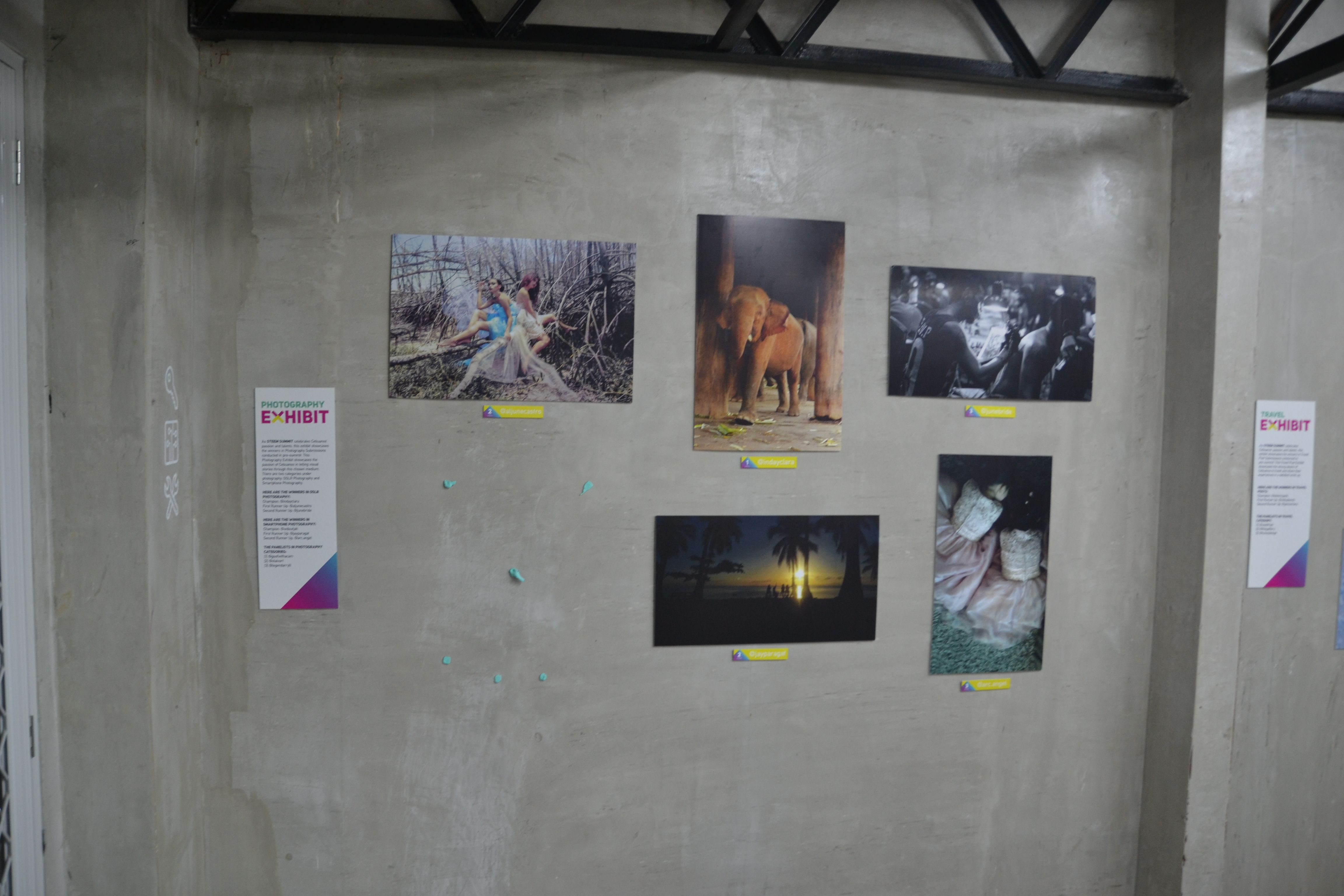 The winning pictures of the photography contest
We walked in right before the start time (The event was 1pm until 7pm) and almost immediately after we found our seat, @thegaillery announced the summit was about to start and the first she handed the microphone over to the Senn brothers. Nathan started the story of his life, that he started to be into programming at an age of just 11 years old. After he finished his high school, he decided not to study and started working while still practicing his programming skills. Now, much later, he never got a college degree but reached more than many others in life, he left USA to live in Davao, south of Philippines to work on his life changing project: Krypt(/)n1a.
If I hear that kind of stories, I always feel a bit disappointed in myself. Some young people developed their skills, and have the motivation to get the best out of them self, they fight for their goals and reach their dreams. And I? I am just a bit traveling around and enjoying my life. It isn't a bad lifestyle though. Anyway, let's go on.
The Senn brothers wanted to share who wanted their still quite new crypto currency called Supercoin and the story behind it, @Kryptonia. This is a way to earn money with your social media pages instead of big companys like Facebook who get all the money. I will definitely check it out!


The Senn Brothers discussing Krypton(/)n1a with us
After a long talk of sharing knowledge, it was time for the Steemit beatbox community of @Jaderpogi to show off their skills and bring back the energy in the public. All of the guys were quite shy and uncomfortable when they had to talk on the stage, some didn't even say their name! But all of them, when they started Beatboxing they didn't sound shy anymore! All of them were pretty amazing beat boxers and I could barely believe the sound I heard was nothing else than Beatboxing!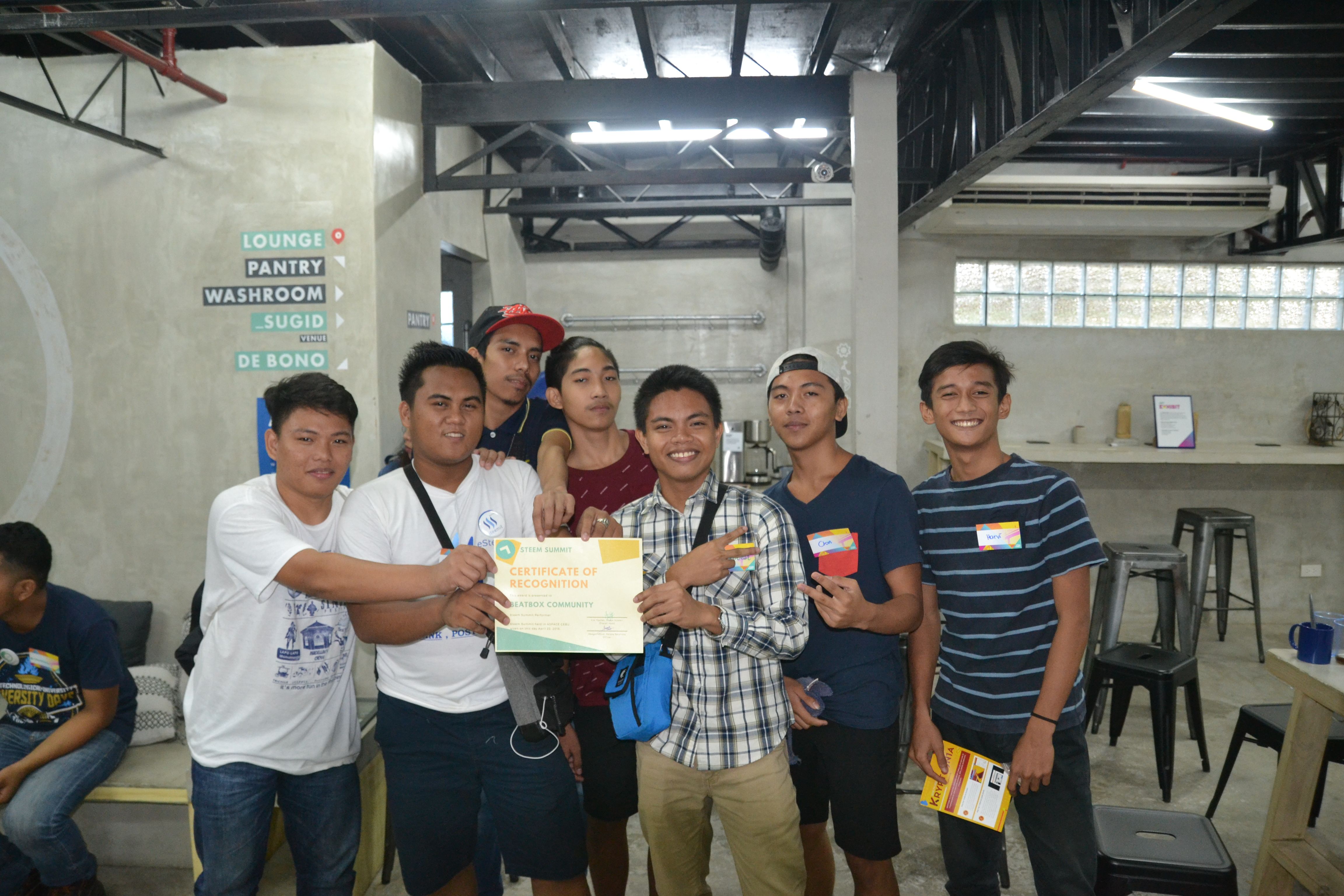 @Jaderpogi and his very talented community
But if the excitement wasn't high enough, @anneporter from this coming from the neighboring island, Negros decided to put the level a bit higher. While she was setting up her pole, all of the guys started to get a smile on their face, and I as well actually, Anne was going to do pole dancing! In my opinion, pole dancing is such an underrated sport. There is so much strength needed to hang on the pole, horizontal while holding the pole only with two hands. I would definitely not be able to do that with my chicken power and clumsiness .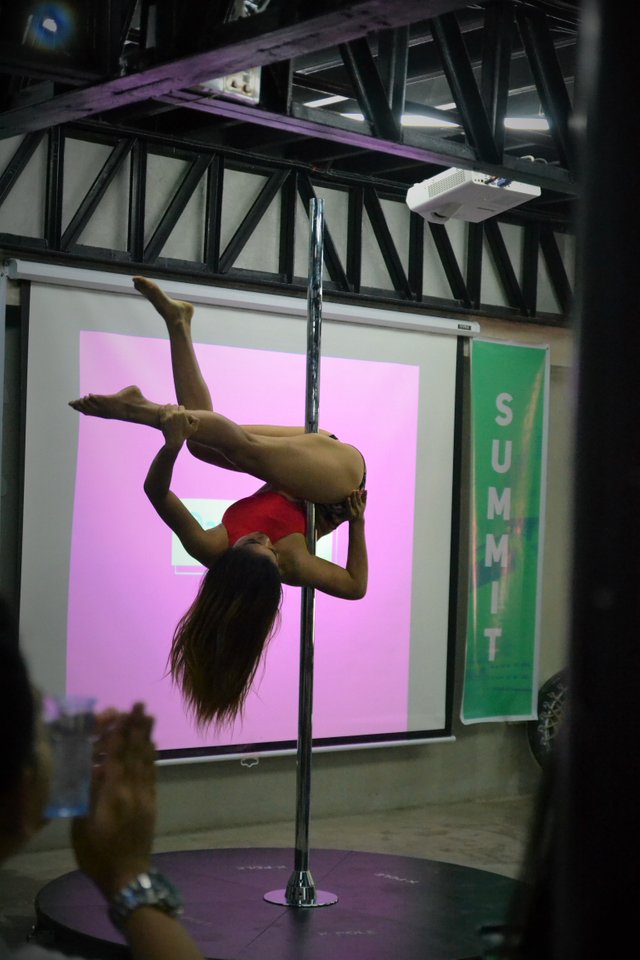 Anne showing of here talent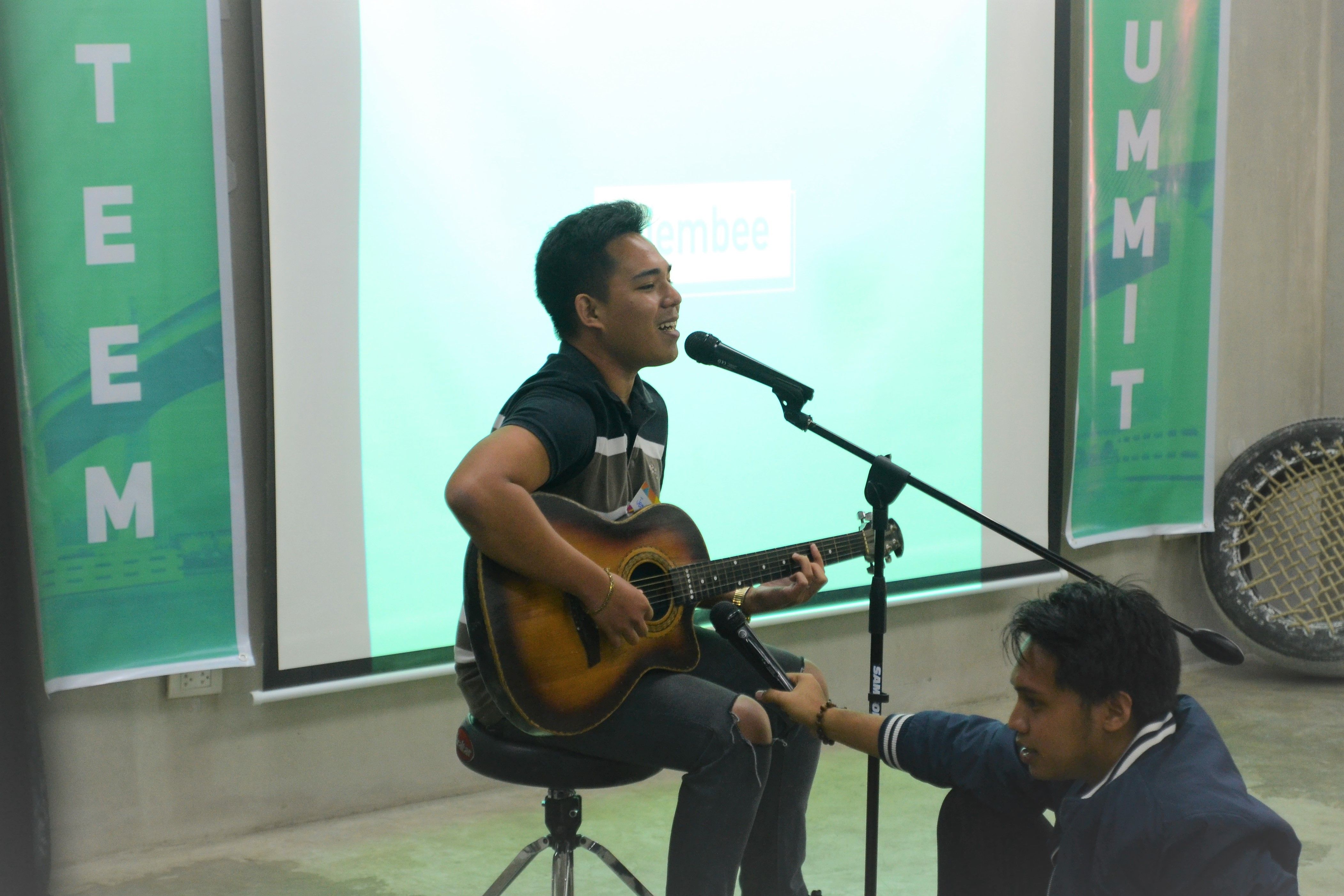 And we got the opportunity to listen to @Jembee 's beautiful voice
All those talents are findable on steemit, and so much more! Steemit gives those people the change to share their hidden talents, and to inspire others with it! Steemit make them bloom like flowers, right here on the stage! It is amazing to see all those talents, blooming up because of Steemit. Please check out their pages because the talents here are worth it to get noticed!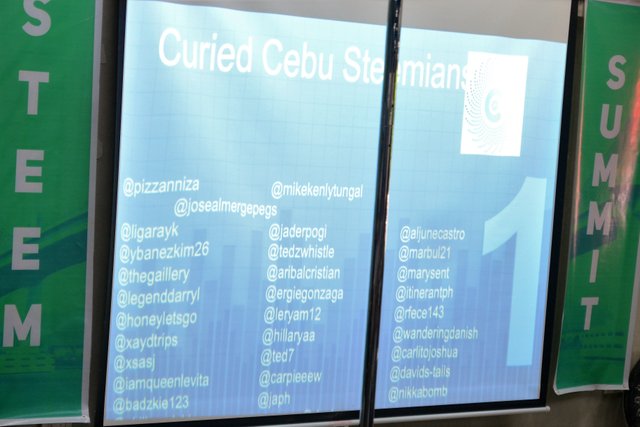 Proud to see my name between those Curied Steemians! Thank you Jassenn for nominating me and @Curie for approving my post twice!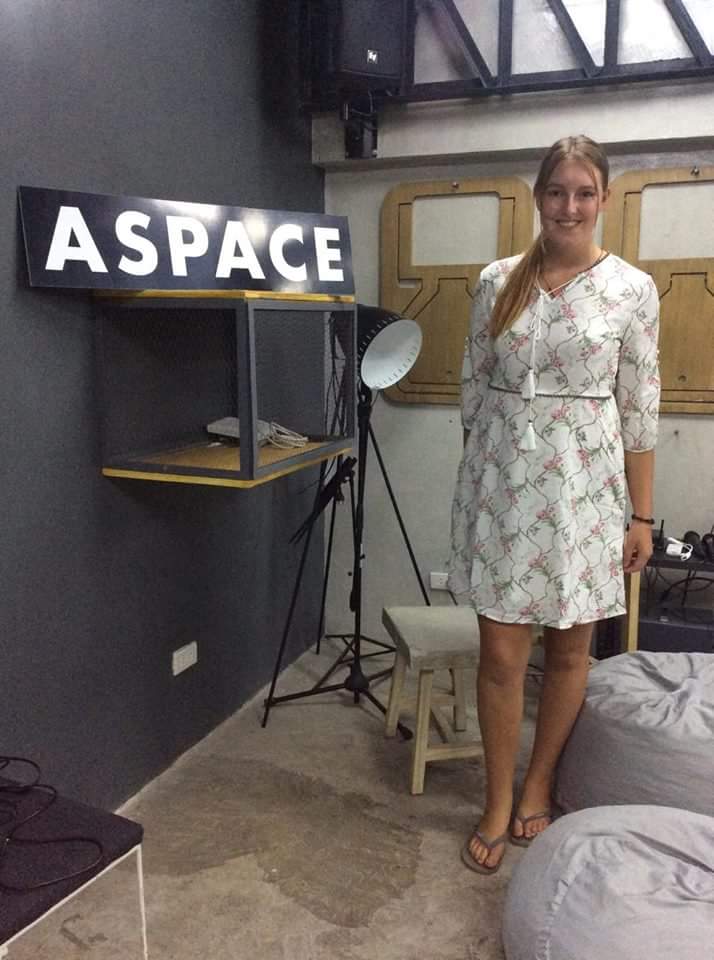 Thanks to Aspace for the location of the event*
We got two video messages from @Sndbox, a great community which focus especially on helping communities to grow because that is what Steemit needs, connections with other people. And we on the Summit are all bloggers from the same community, supported by sndbox to let us grow, as bloggers and as community. I hope when I am back in Holland, the @Alldutch community will also start growing and blooming up!
When the event finished and everyone was slowly dropping out and we were about to go home as well. But @Surpassinggoogle sended one of the guys a message we had to stay because he send a very important person to us in his name. That sounds promising! Pizza deliverer? What's better than a fresh, warm pizza overloaded with melted cheese? all eyes turned to the door… Terry aka @Surpassinggooge came in! That was the last thing I expected but definitely better than pizza! Everyone of the small group which was still left in Aspace walked to Terry and people asked if they could make a picture with him while @belvaj and I were standing behind while watching all the overexcited people. Terry probably saw me standing there with my camera in my hand, and called me over for a picture as well!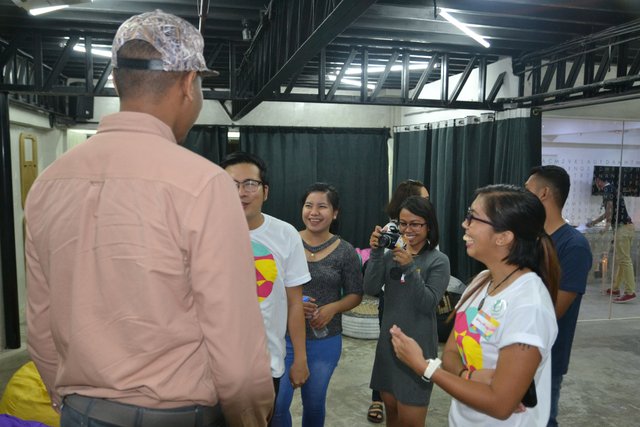 All those smiling faces, staring at Terry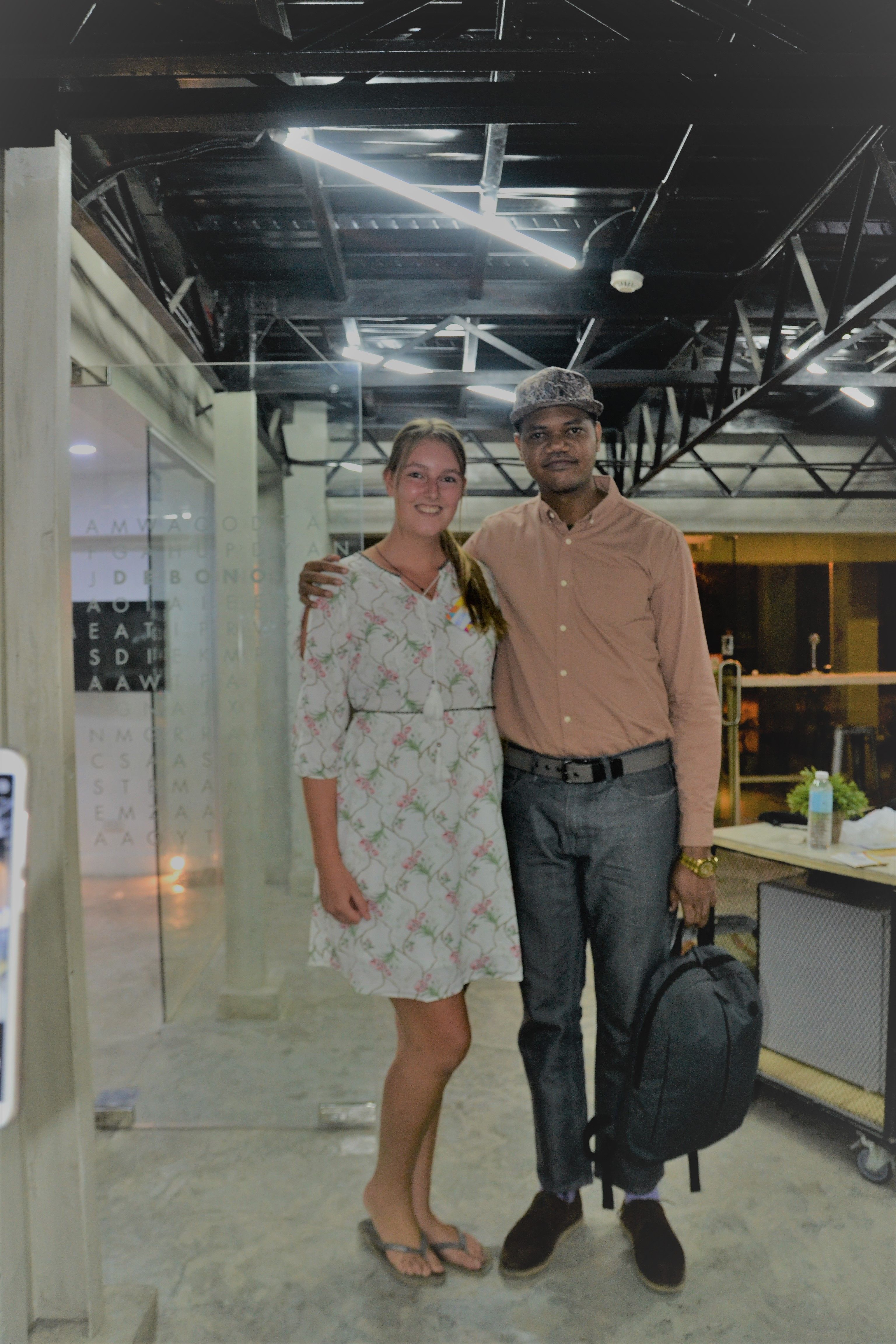 With Terry, Finally a person who is taller than I am :p
While we thought the event was over, time to go home, the most exciting meeting was actually just about to start while we sat down at the table with Terry! He took the sit at the head of the table and we started talking. I am following Terry already for a while and he was even a better talker than expected! His words are smooth and he had his words perfectly ready while everyone was quiet. Nobody felt like taking the word away from Terry, except some questions but we all wanted the same, listening what Surpassinggoogle had to say. This is were everybody was waiting for from the start of their steemit journey!
It can not think else than everyone agrees with one thing: Terry has a very good heart. He isn't out on the money, he doesn't want to be famous for the attention, he just want to share his words, love and positive energy to make the world a better place. "We can not change world, but we can adjust it" as Terry said, and that is what he tries to do. I believe he helped already a lot of steemians out, donated money to people who needed it and gave people advice and loving words. "you are awesome" and "stay awesome" are sentences he use a lot and I see people taking it over. They spread Terry's positive vibes around steemit. Terry mentioned that the vibe he felt this evening is amazing and I believe he is an important aspect in this vibe!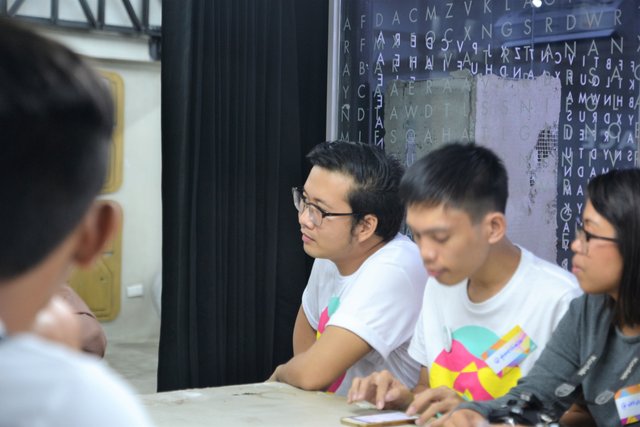 This guy, listening very concentrated to Terry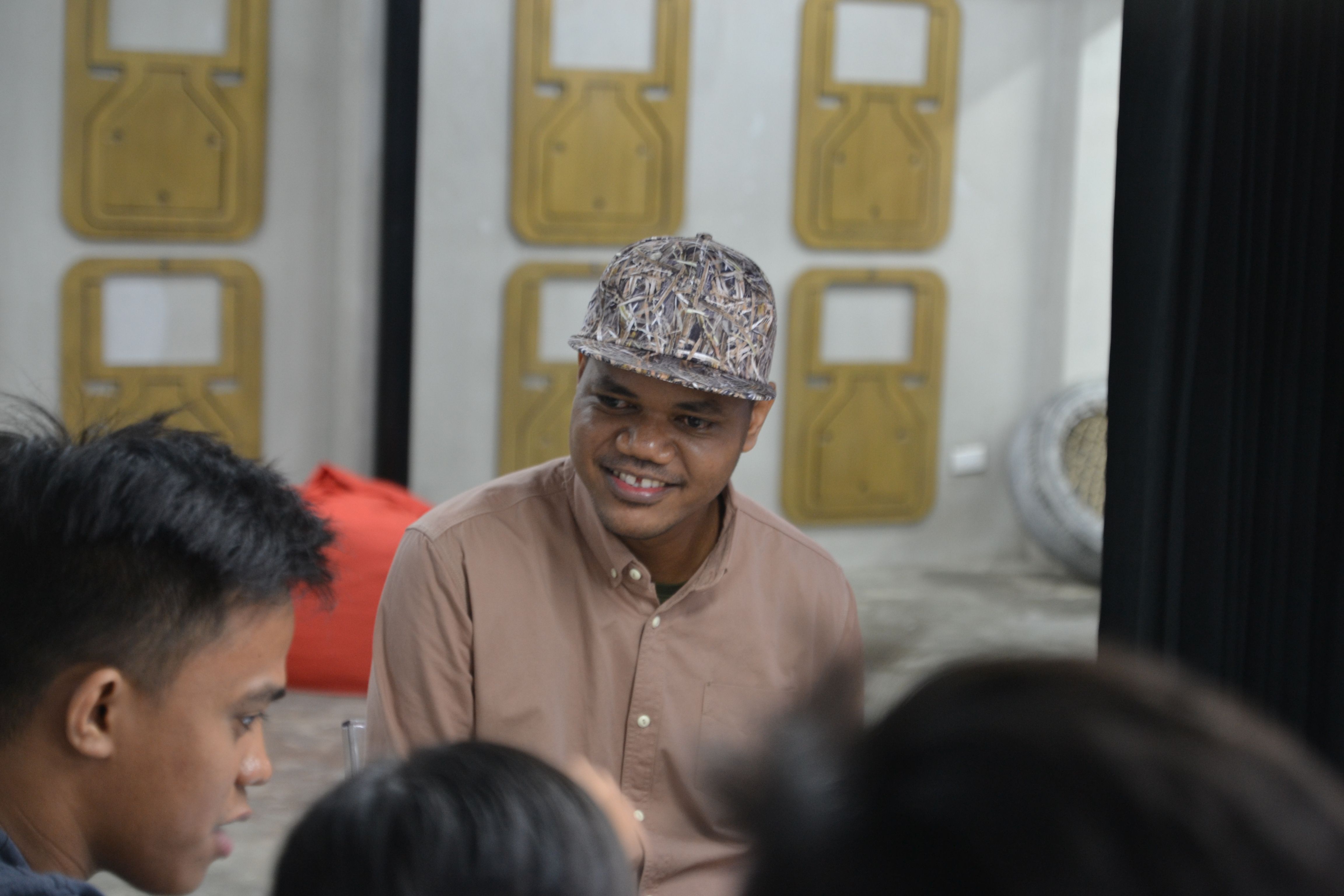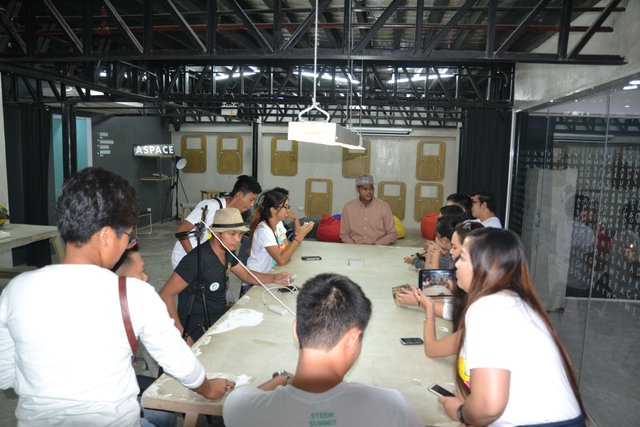 Terry, who is sharing his inspiring stories with us
As we were listening for hours, it was already 8 and we had to leave Aspace and we decide to transfer to a restaurant to get diner were I was sitting next to @xaydtrips, a passionated scuba diver with really cool blogs about the ocean! I am happy I met you and I recommend everyone to check out her blog, especially if you are into scuba diving and marine life! Sitting at the other side of me was @Surpassinggoogle, I couldn't be more blessed than sitting next to those two super interesting people during the diner.
When the restaurant was about closing, everyone left. @Belvaj, @Jassennassaj and I were supposed to go out, and we were so glad to hear Terry wanted to join us! A little bit insure, we were discussing to which bar we had to take him, but we ended up by Cubana, one of my favorite bars, quite noisy but I love their bands there! We were all so blessed we had more time to spend with Terry, and I also feel blessed that I could spend more time with Jassenn and Belva while drinking a few beers.
All in all, It wasn't a dream when I checked my phone! Surpassing is real! It sounds only like a dream though, I didn't had to drink too much for that! But I had to check my phone for that I could believe it. ''It was real Sha! Wake up'' Is what Belva texted me later when I told her I thought it was a dream. A very weird dream. I would normally say ''Sha, Keep dreaming it will never happen'' But this weird dream was true.. Dreams can come true!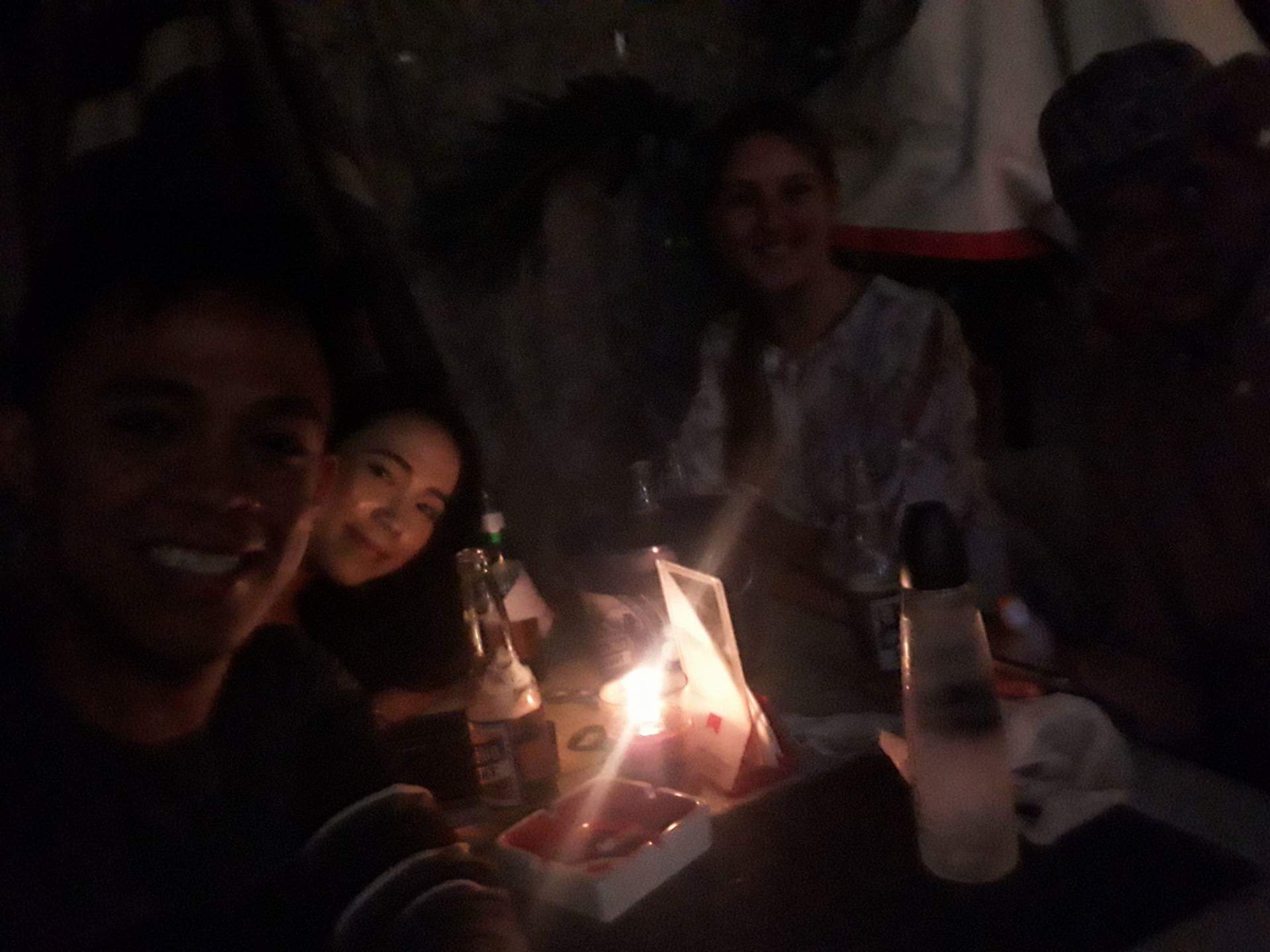 With Terry, Jassenn and Belva at Cubanas to prove myself it wasn't a dream, very dark picture but a memory which stays always bright in my mind!
I would like to thank the sponsors, @sndbox @Donkeypong @Kryptonia an Aspace for making this day possible for us, an event of a few, a day I will never forget. And of course all those people from the organisation, all those talents who performed and beautiful minds I had a chat with.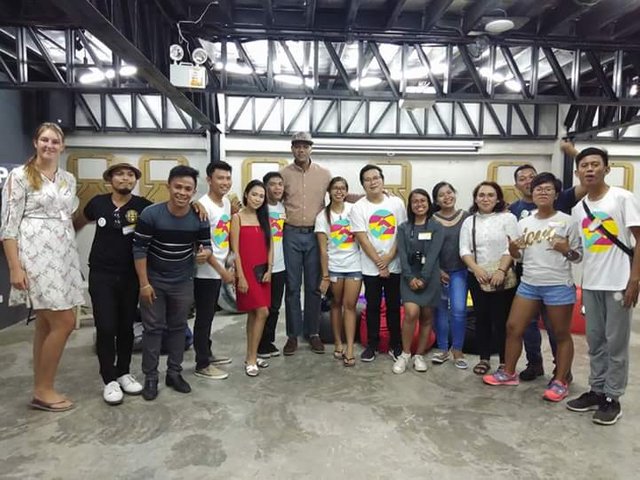 Thank you steemians for sharing this day with me!
Love,
Sha